EOS Accounts Blacklist Details
EOS Accounts Blacklist Details
by @controllinghand
by @andcjane
by @summerskin
Special thanks to @a3t from @eostribe (if it wasn't for her this group and report would not even exist)
(Members of EOS BP Compliance Data/Research Group)
If you like this type of information join our TG Channel for more details
Updated 7/1/2018
6/30/2018
Let me start out by saying, our MOTTO is "Skeptical Truth Seekers"
Our agenda is fact-based evidence applied in seeking this truth. We are also human and make mistakes, so if anyone finds any errors in this data please bring it to our attention. We are always trying to improve and strive to seek the truth in all we do.
The end goal is to strengthen the EOS community and not tear it down. We invite you to join us in this journey.
What about this blacklist
There has been a lot talk around the accounts that were frozen or blacklisted. How many accounts were blacklisted? Was it seven, 27 or more? Many people in the EOS community are talking about helping out the people who were allegedly hacked. No matter what side of the argument you lean, it is important that we all understand the data in question. As the old adage goes, information is power.
We were provided a list from one of the BPs that is part of the top 21. Thanks to eos42freedom.
With that information, we were able to do a deeper investigation into the 34 accounts that were frozen. We used multiple sources/explorers including, https://eospark.com/MainNet , https://eosflare.io/ Then we compiled all our findings into a spreadsheet that is open to the public for review here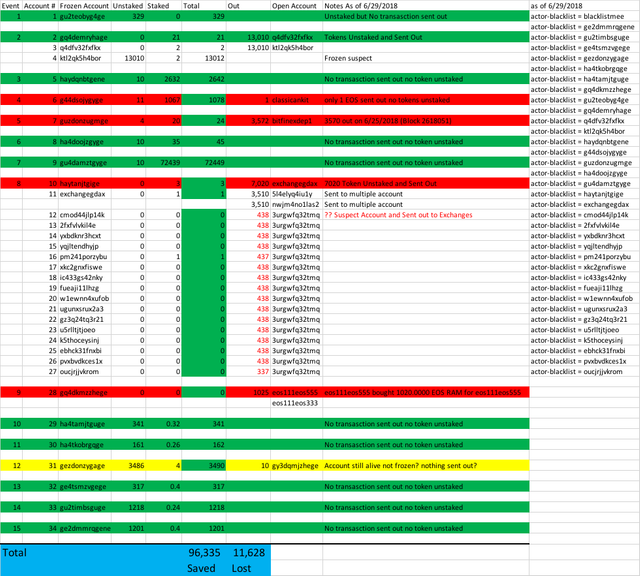 You will notice that we have grouped these 34 accounts into 15 events. Each event has its own story to tell.
Event 1: EOS were un-staked but no EOS left the account.
Event 2: EOS were un-staked and 13010 EOS were sent to a suspect account. However, the suspect account was also frozen.
Event 3: EOS were un-staked but no EOS left the account.
Event 4: Only 1 EOS was sent to a suspect account.
Event 5: This is a very controversial event. Originally only two EOS left this account and then it was frozen. However, on the 25th of June, one of the block producers failed to add the blacklist to the config file and processed block number #2618051, which resulted in 3570 EOS leaving this account.
Event 6: EOS were un-staked but no EOS left the account.
Event 7: EOS were un-staked but no EOS left the account.
Event 8: We call this the Spaghetti Event. 7020 EOS left the account which was divided and sent to multiple accounts eventually ending up going to exchanges. Feel free to walk through all of the transactions. Suffice it to say, the source account lost his/her tokens.
Event 9: We call this event the RAM Buyer. Whoever is eos111eos555 decided to take the 1024.6465 EOS and buy RAM.
Event 10: EOS were Un-staked but no EOS left the account.
Event 11: EOS were Un-staked but no EOS left the account.
Event 12: This is an odd event because the receiving account has not spent the 10 EOS and still holds over 8000 EOS. I'm not sure what to make of this event and is why it is highlighted in yellow.
Event 13: EOS were Un-staked but no EOS left the account.
Event 14: EOS were Un-staked but no EOS left the account.
Event 15: EOS were Un-staked but no EOS left the account.
Summary:
Out of the 15 events, only 5 accounts lost EOS. There has been talk about what to do with this and we're not here to say what needs to be done. We are just trying to provide data that we all can use together. The EOS community can and should decide what is best.
A walk through how we compiled this data.
Let's walk through Event 2.
Step 1
Lookup source account in this case "gq4demryhage"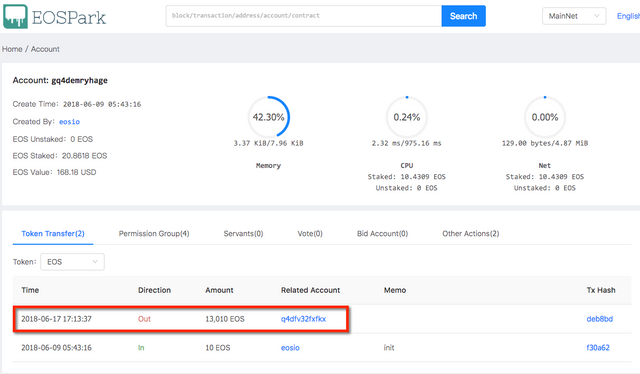 Notice that 13,010 EOS was sent out on 2018-06-17 to q4dfv32fxfkx
Step 2 follow the trail
Lookup q4dfv32fxfkx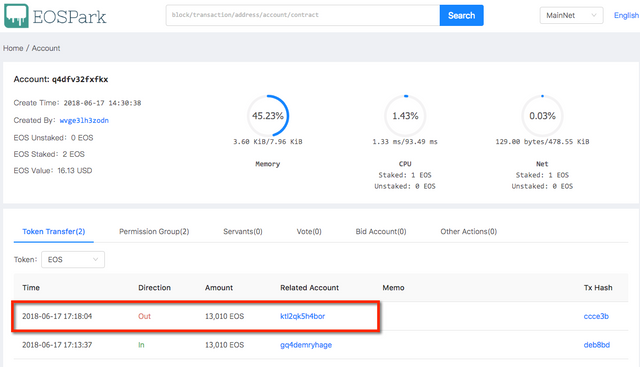 Notice that EOS was then sent to account ktl2qk5h4bor
Step 3 follow the trail some more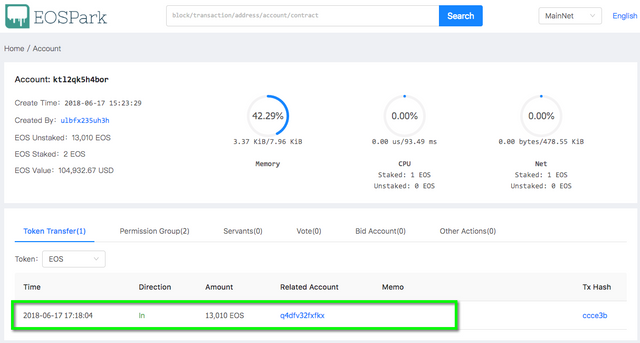 Notice the account frozen with no transactions since.
Next let me walk you through event 9 "The RAM buyer".
Step 1 look up source account


Notice on 6/21/2018 EOS was sent to eos111eos555
Step 2 look up suspect account and see what they did


Yep that's right they bought RAM with the stolen EOS.
Final thoughts
EOS has built in a protection mechanism with the stake and un-stake capability. This has already saved more crypto that we can imagine.
96,335 EOS were saved.
11,628 EOS were lost.
Not all 34 accounts were source accounts
For those accounts that lost tokens and were sold off to exchanges. The exchanges should be able to backtrack the transactions and identify the suspect accounts. We can provide those transactions to the exchanges.
Please provide any feedback to this post. We look forward to the EOS community thoughts on this matter.
Your humble "skeptical truth seeker" servants
~CJ, SLG, KR
Thanks
---
A huge thanks to https://steemit.com/@a3t who was the mastermind behind the formation of the EOS BP Compliance data/research group. Without her help and direction this report would have never seen the light of day.
And the @EOSTribe team has gone above an beyond to keep the EOS community strong by coming up with awesome idea like the Valor Genesis Fund. Please join in.
Please consider what they are doing for the EOS Community and vote.