So I bought some EOS tokens via ICO and tried to claim them the other day, but didn't have enough ETH left in my wallet to pay for the tx fee. MetaMask advised me I'd need a little over 0.04 ETH to claim my tokens - this seemed a little expensive, but I'd seen max fee quotes like this before that ended up being a lot cheaper, so I shrugged it off. I wasn't too fussed about claiming the tokens right away: I figured I would be buying more soon anyway, and if the tx did happen to cost that much, I may as well wait and bundle my claims together ...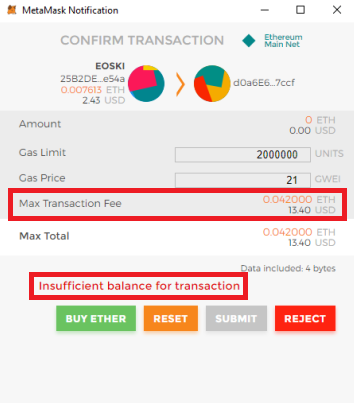 So I decided to buy a little more EOS today and figured I may as well claim the last lot of tokens too. I checked the max TX fee and bought enough ETH to cover that and my EOS purchase. I placed my bid in today's round and even left an extra .01 ETH in the wallet just in case. The auction ended a little while ago, I paid a fair rate for my second lot of tokens and was excited to finally claim the first lot. I hit the claim button and accepted the tx in MetaMask. Nothing could stop me this time, I'd come prepared ... Or so I thought.
5m later the tx is out of pending, my ETH balance has been drained by 0.04, but still no ICO tokens - just the 50 I bought on exchange: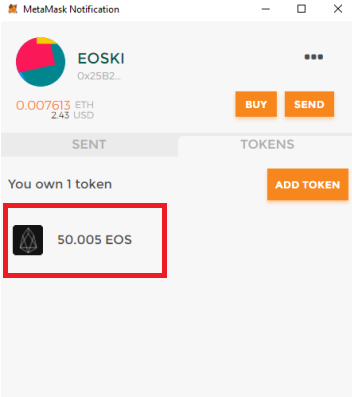 I thought I'd investigate and see what had happened, so I went back to the main MetaMask screen and clicked my apparently
successful transaction
. Every thing looked good at first, but then I noticed the red warning sign and a rather irritating, unapologetic message from the network:

Out of gas Ethereum? So you are telling me that not only does it cost $13 bloody US Dollars to interact with one of your "smart" contracts, but sometimes even that doesn't cut it and you just lose money? The network message may as well have said "We just fucked you in the ass, have a nice day :)" ...
I am pissed off right now Vitalik. It's not the $13, it's the bloody principle of the thing. With Steem as my witness; some way, some how, I will be getting my $13 back. This I swear to you.
I demand satisfaction!


Stay tuned for part two where I attempt to negotiate a $13.54 refund with The Ethereum Foundation.
---
20% of the liquid rewards from this post will be split with @centerlink for the communal benefit of #TeamAustralia

Team Aus footer by the amazing @bearone
---

This post was brought to you by @msp-creativebot