Hi I present WAVES and how it works.
THE WAVES PLATFORM WALLET
The WAVES lite client has an offline storage option and users can run it on any device in the browser, so it is simple with no blockchain download, instant connections, and the ability to import and set up quickly on different devices.It is possible to import/recover an account on any device by using the unique seed from which each account address is generated, so accounts are accessible from any device. This is particularly useful in the case of hardware failure. In addition to the unique seed users encrypt access to their account with a password. Offline storage for the lite client and 2fa will be implemented in a later phase of development.
1- Download wallet :
a) For Chrome:
https://chrome.google.com/webstore/detail/wavesliteapp/kfmcaklajknfekomaflnhkjjkcjabogm
b) From Github:
https://github.com/wavesplatform/WavesGUI/releases
c) Android Waves Wallet:
https://play.google.com/store/apps/details?id=com.wavesplatform.wallet
d)IOS Waves wallet:
https://itunes.apple.com/us/app/waves-wallet/id1233158971?mt=8
Note: Instructions on mobile version are different than desktop version. Read carefully before the installation on your mobile.This tutorial explains the desktop version.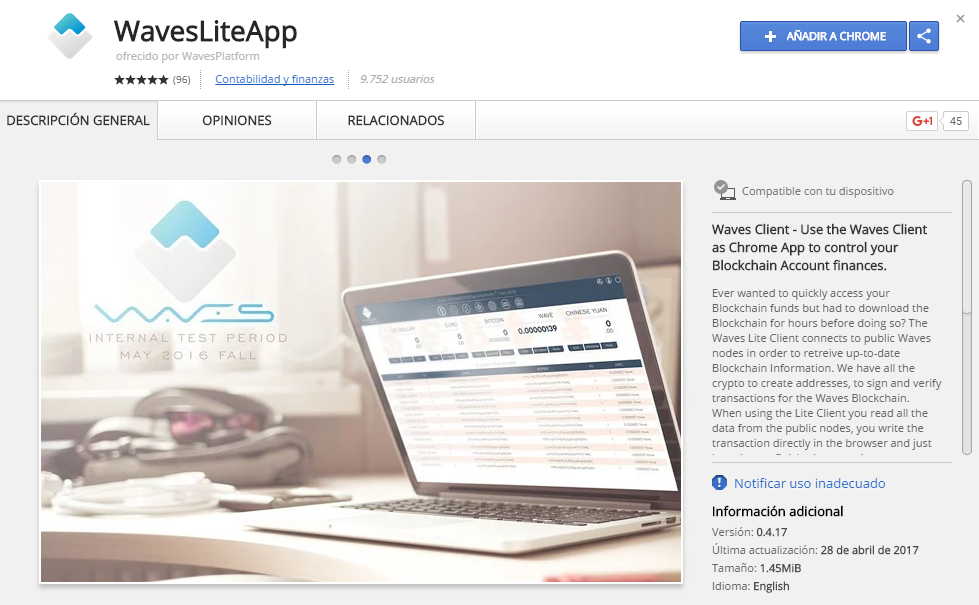 2- Create your wallet:
Open the App downloaded on your browser and click on New Account.(you must click on extensions in your Chrome browser)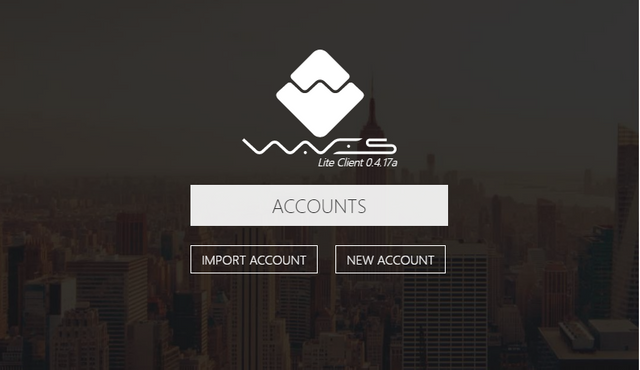 3- Read the Notice and click on I understand: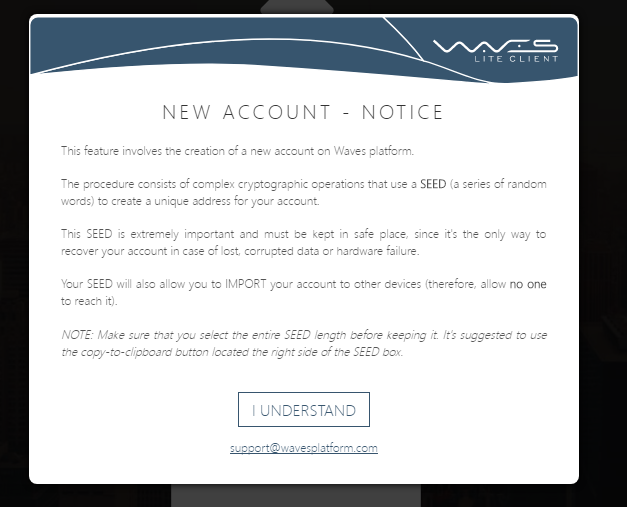 4-The SEED
a)Copy in a safe place the Wallet Seed: Is the seed that you will need to have access to your wallet and your tokens.Yo will have access to your wallet on your PC or on your mobile with that seed.Is the only way to recover your account.
b)Type the name of your wallet and a strong password.
c)Click on Register.
5- Where to buy WAVES?
If you still don´t have waves on your wallet you can buy it on exchanges like Bittrex or with the same Decentralized Exchange(DEX) that you will find in your LiteClientApp
a) Link to Bittrex https://bittrex.com/Market/Index?MarketName=BTC-WAVES (you must create an account on the Exchange)
Once you buyed your waves on the exchanges you can send the tokens to your Waves wallet address.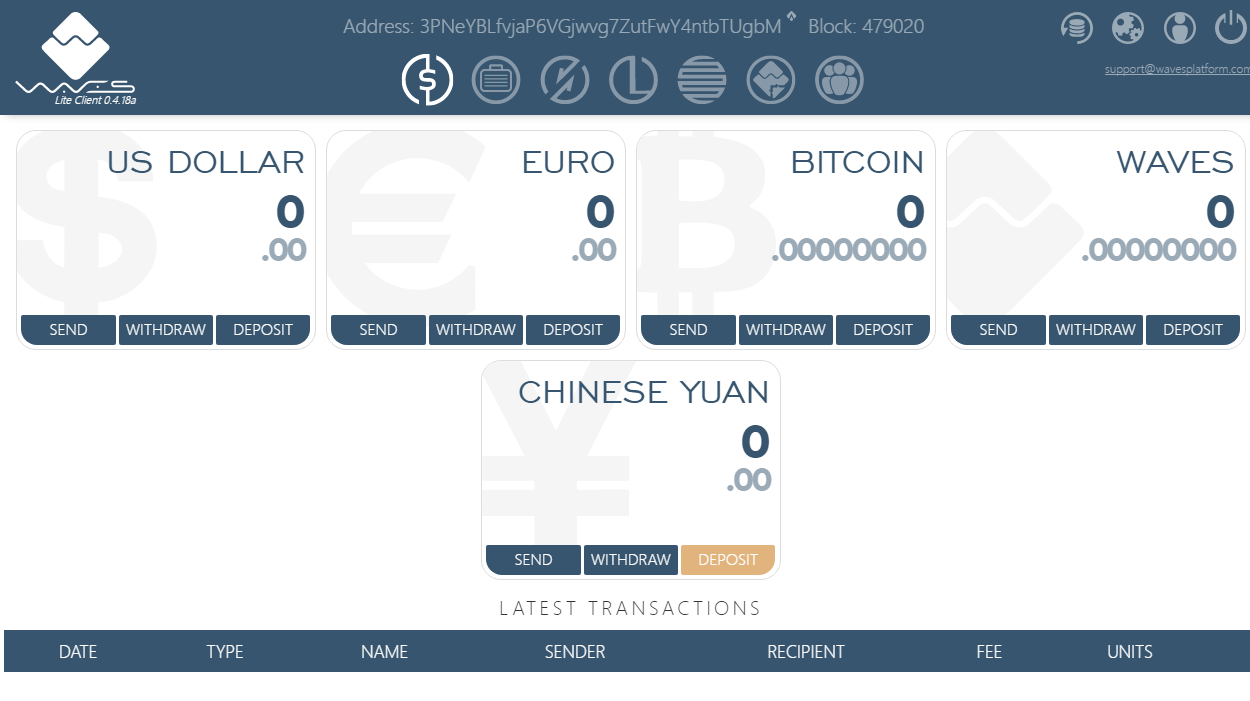 6- Send and Buy WAVES
Once you have waves in your wallet you can send it to another address by clicking on SEND
You can buy it with your credit card too by clicking on DEPOSIT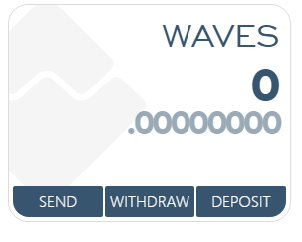 7- Send BITCOIN to your WAVES WALLET
If you have BTC you can send to your wallet by clicking on DEPOSIT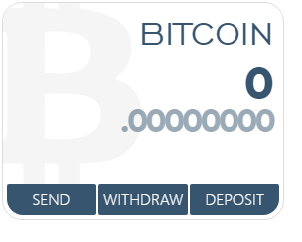 You must send your BTC to the address that appears on the new window:
Waves Platform is using a Gateway to recieve your BTC on your Waves wallet.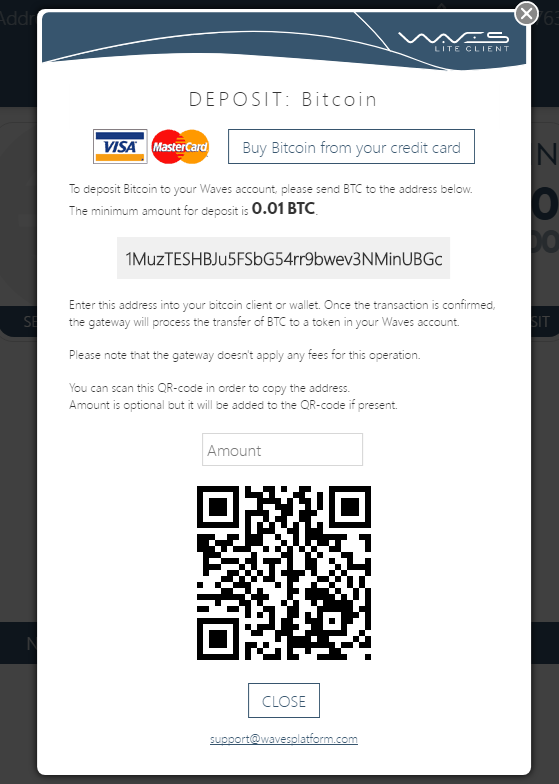 8- Send Dollars and Euros to your Waves Wallet
Click Deposit on the DOLLAR AND EURO TAB

A new pop up with the instructions will appear.If you want to be verified you must click on In order to get verified follow the link: and then follow the Instructions.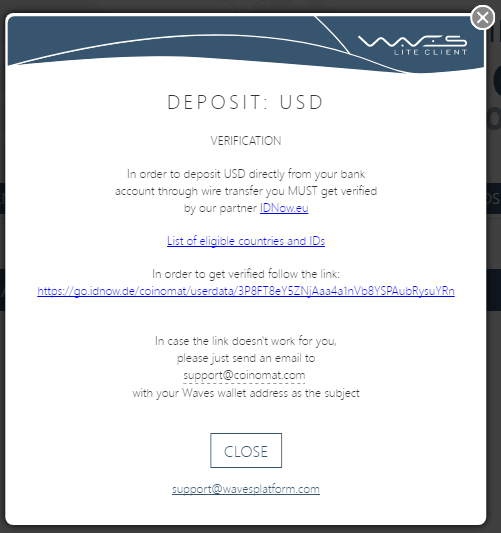 or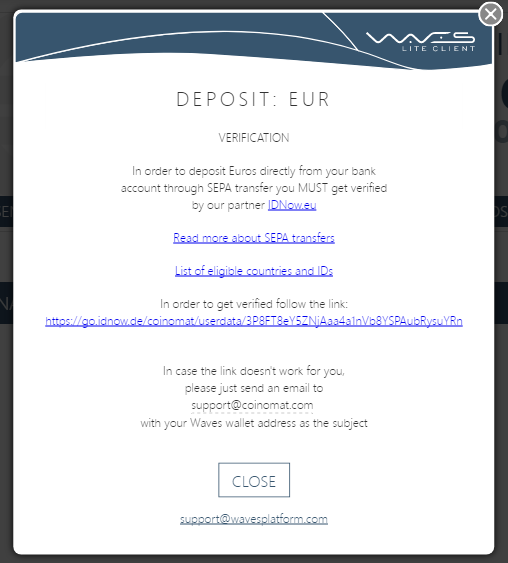 9- The Decentralized Exchange
Once you have your BTC or EUROS you can buy Waves with the Decentralized Exchange that you have on your LiteClientApp:
Click on the 3th Icon
You can buy and sell another tokens that are running on the Waves Platform:
In your lite client go to the DEX tab you will see the default Waves | WAV/BTC | Bitcoin stuff on the top (Waves and Bitcoin are quite pale in colour). Click to the pale Bitcoin box and start typing the token that you want to trade. A dropdown menu will appear and you will see the asset. Click to that and there you go, you can see the trades.

THE FULL NODE ON WAVES PLATFORM
If you are a lite client user only (with no blockchain download) you will be able also to receive rewards from the network by leasing your balance to a full node (which requires full blockchain download). The rewards from the full node's activities will be shared between all users leasing their balance to it.
The minimum requirements to run a full node is to have 10k waves. The same incentives apply to everyone who has a balance above 0. The bigger the balance, the bigger the share from the reward pool a user receives.
Users with lower balances may choose to lease their balance to full node, which validates blocks more often than they would.
WavesfullNode provides a professional, powerfull and secure node hosted in Digital Ocean Datacenter 24/7.Waves Platform provides Leased Proof of Stake(LPOS), is one of the most important features in the platform, allowing anyone to receive interest on their holdings by leasing their mining power to a full node, while having tokens secured in the personal account all the time. If you are holding Waves tokens, you will be able to lend them and recieve rewards from all the transactions of WavesfullNode.
10-How to lease your WAVES?
Click on the 4th Icon:

a)Copy and past this address on the recipient: this is an example : 3P4MRJvttkghWsXxGZ61kqd2M79GtLujoey
b)Type the number of Waves that you want to lease.
c) Click on LEASE

11- Account Info Backup:
Is very important to have a backup saved of your wallet:
Click on the 1ST Icon on the top right corner:

Copy your Backup on a safe place: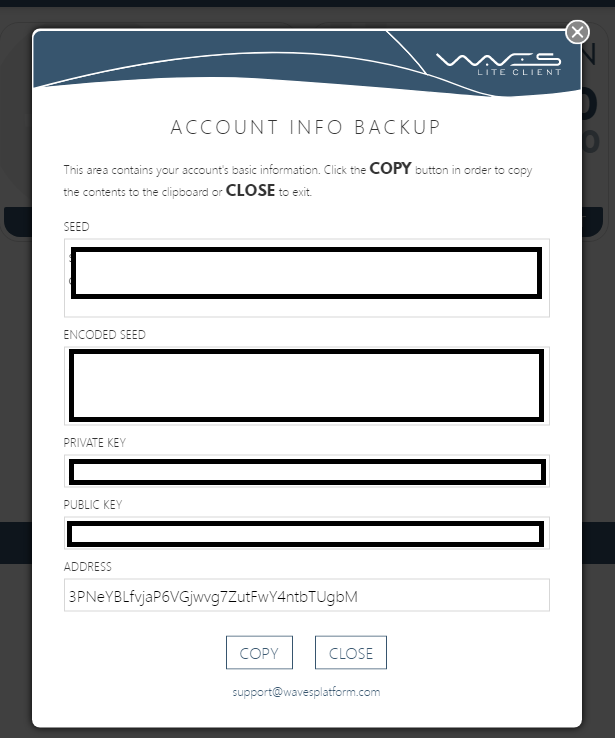 SEE in the next cryptoChapter