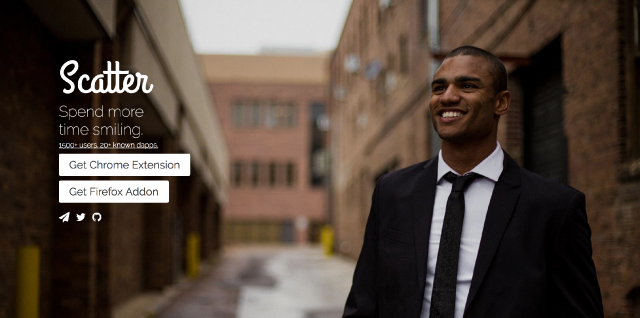 Source
---
The world of cryptocurrencies is expanding as each day passes. Sometimes its hard to tell the ground from the sky and it's only getting more confusing with each passing day. Of the many cryptocurrencies on the market most people in the scene know some of the biggest names which include Bitcoin, Ethereum, EOS and XRP.
The EOS ecosystem has exploded by leaps and bounds over the past six months and if you don't have an account yet, I'd strongly urge you to get one.
Over the past six months people became competent in accessing their EOS genesis snapshot accounts and creating new ones. The two most popular ways to access an account if you already have one are probably either Scatter Wallet or the Greymass EOS-Vote tool.
Some prefer Greymass EOS-Vote tool while others like the flexibility of the Scatter wallet. Both have got the green light from major BPs as being safe to use and both have advantages and disadvantages.
First let me explain how to vote for block producers that are responsible for building the EOS ecosystem (this assumes you already have an EOS account)
Voting for an EOS Block Producer
Step 1:
First you'll need to learn how to find your EOS account information. It is easy to do this in fact and will only take a minute. To locate your account information you only need to know your ERC20 Ethereum address, the one you have your EOS placeholder tokens in.
Use the following tool to identify your account: https://eosauthority.com/account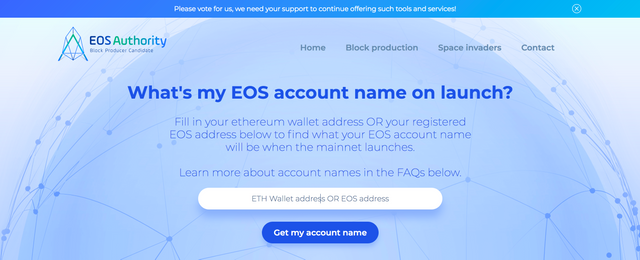 Now that you've found your account, copy down the account name and put it somewhere safe.
Step 2:
In order to proceed further, you must know your EOS private key. You should have received this key when you registered your ETH address. If you are using Exodus wallet in the developers menu (assets) you will see an option that says EOS Mainnet in which you can find your EOS private key.

Now you should have your account name and your EOS private key somewhere secure. Lets get to the voting!
BuildTeam is a Block Producer Candidate and as such takes security and the well-being of the community into consideration as our first priority. We would not recommend a tool before undergoing a comprehensive audit of its code. Based on our research there is only one voting tool we would recommend at the moment. This is the EOS-Voter tool made by Greymass.
For a full outline of the tool from developers click on the link below:
https://steemit.com/eos/@greymass/announcing-eos-voter-an-eos-block-producer-voting-tool-and-light-wallet
The tool stores your private key locally if you wish and provides an added level of password protected encryption. We have audited the code and can verify it is indeed safe to use.
However we would advise that you use caution and only download it from their official github repository!
Here is where you can find the latest version on github: https://github.com/greymass/eos-voter/releases
Step 3:
Once you have downloaded the Greymass EOS-Voter tool and installed it, you should be ready to connect it to your account so you can proceed to vote.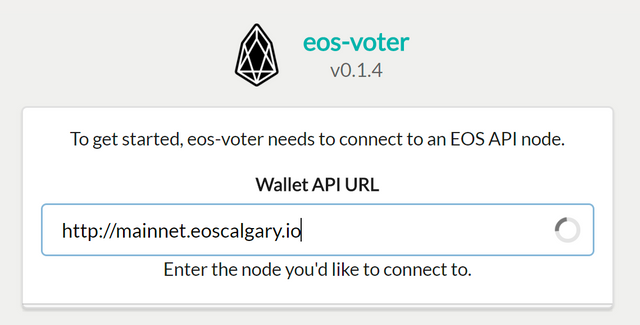 If you want to change the connection setting at some point in the future, you can do so by clicking on the gear icon at the top left corner of the producer voting screen:
Next, enter your account name and EOS private key into the appropriate fields, and click the big green button:

Or if you prefer to save the wallet for next time:

---
You will see initially the account has no votes cast: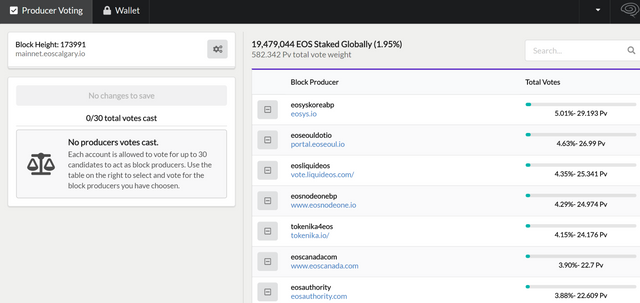 You may vote on up to 30 BPs, simply tick the box next to the ones you want, such as our very own buildteameos (we are about halfway down the list):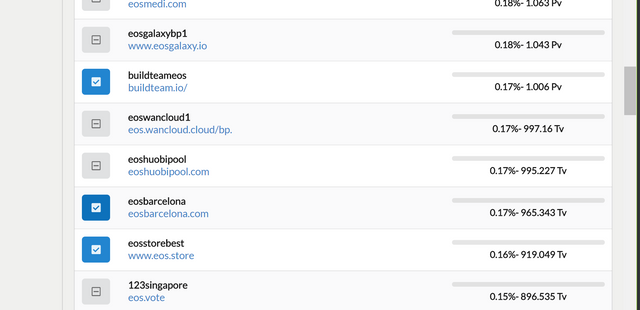 If you're having trouble finding your favorite BPs, you can use the search box to filter the list:

When done selecting BPs, simply click the "Submit changes to blockchain" button: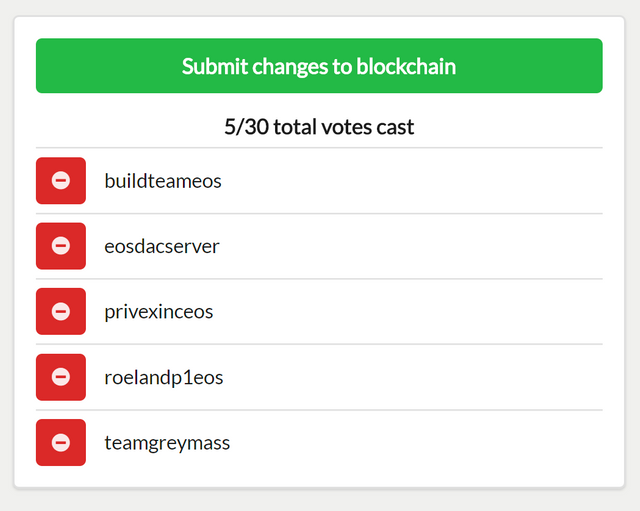 Finally, go ahead and confirm your vote: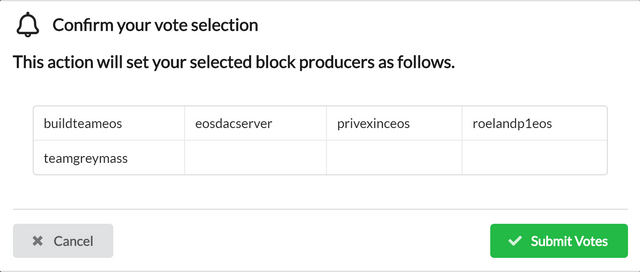 You will get a confirmation message that looks like this:

Step 4:
Now that you have made your votes for BPs, check out the Wallet feature.
Clicking on the Wallet tab at top of screen shows you some nice details about your account such as your token balance, tokens staked, and system resources available for consumption: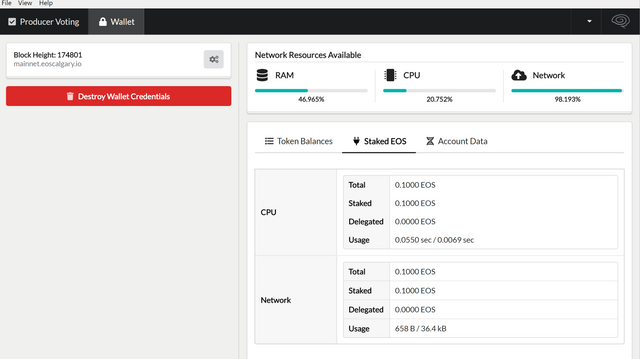 Now that I've taught readers how to access their account using a software wallet, I will now take you on a tour of EOSToolkit and walk through some of the functionality it makes possible when it comes to using your EOS account to perform useful tasks on the EOS Mainnet.
Lets get started!
---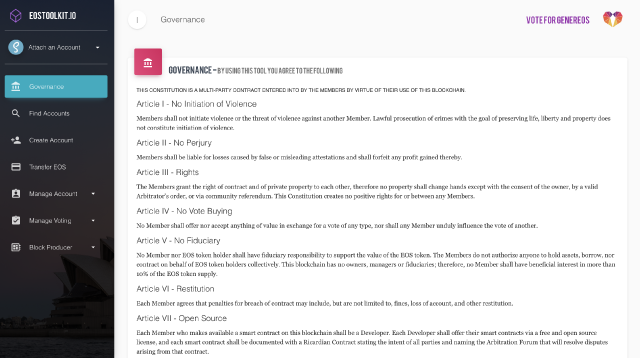 Source
---
1.) Connecting Genereos EOSToolkit to Scatter
First you'll want to go to the official EOSToolkit website using Google Chrome:
As you can see the home page covers governance and terms that you agree to when using the tool. Take a minute to read through the terms so you understand the agreement being made before using the EOSToolkit.
After making yourself aware of the terms of use, proceed to click on the dropdown menu arrow in the top left corner next to the menu item 'Attach an Account'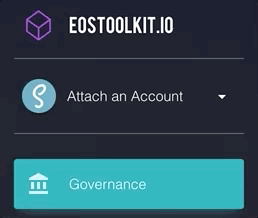 Click on the option that says '+ Connect Account'
Remember that this tutorial assumes you've already connected Scatter to your EOS account.
After clicking on '+ Connect Account' a window will pop-up that looks like this: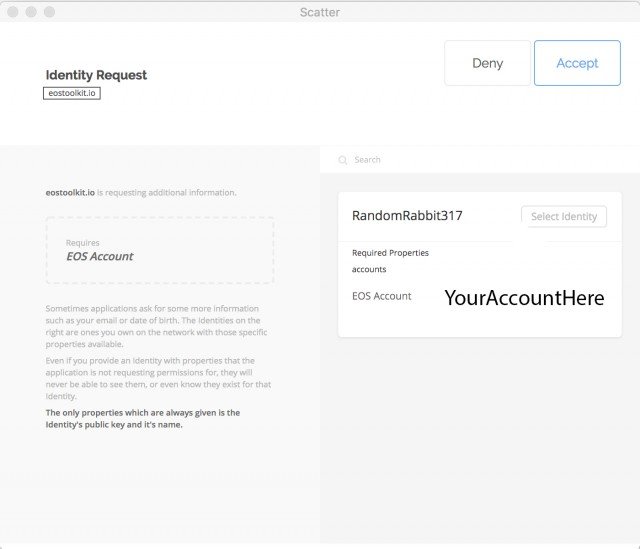 Now you will need to click on the button that says 'Select Identity' in the middle right part of the screen.
Then you will need to click the blue outlined button in the top right corner 'Accept'
The window will go away and you'll now be back to the home screen of the EOSToolkit with it showing your account is connected: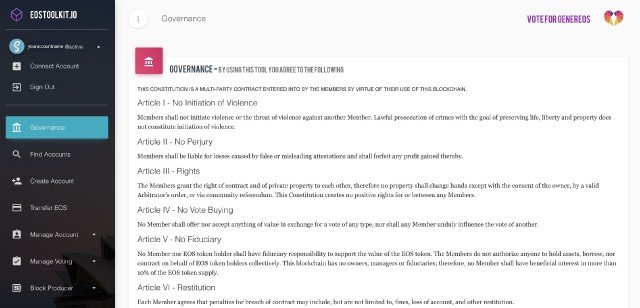 Now the real fun begins!
1.) Using Genereos Toolkit to Create an EOS Account:
Step 1:
Before you create an account, make sure the account you would like to register is available. You can do this by clicking 'Find Accounts' in the navigation pannel and entering your requested account name in the 'Search Account' field.
Remember to be certain that the name you would like to create must be 12 characters (letters or numbers are acceptable).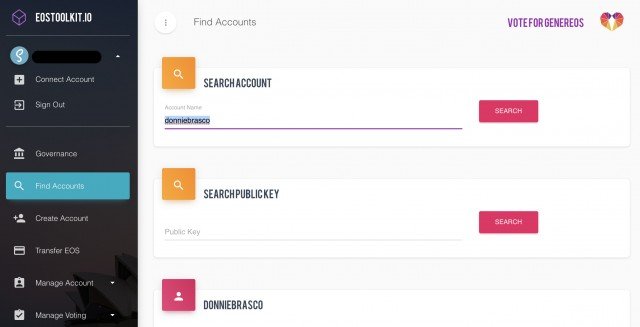 As you can see the account 'donniebrasco' has already been taken as it appeared under the 'SEARCHPUBLICKEY' field.
Assuming it is not able to find your desired account you should be able to register it. Now you are ready to create your account.
Click on the button that says 'Create Account' on the left side navigation panel.
You'll get to a screen that looks like this: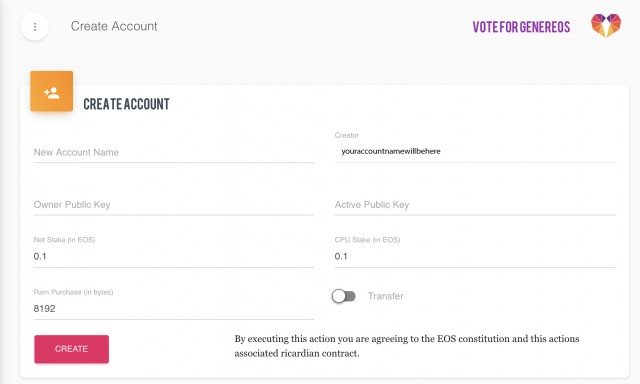 Enter your desired account name in the 'New Account Name' field, the 'Creator' field will already be pre-populated with your Scatter attached EOS account.
Now before we go any further, we will need to make keys for your new account. In the top right corner of your screen you should see the Scatter logo.
Click on the scatter logo and you will see this menu: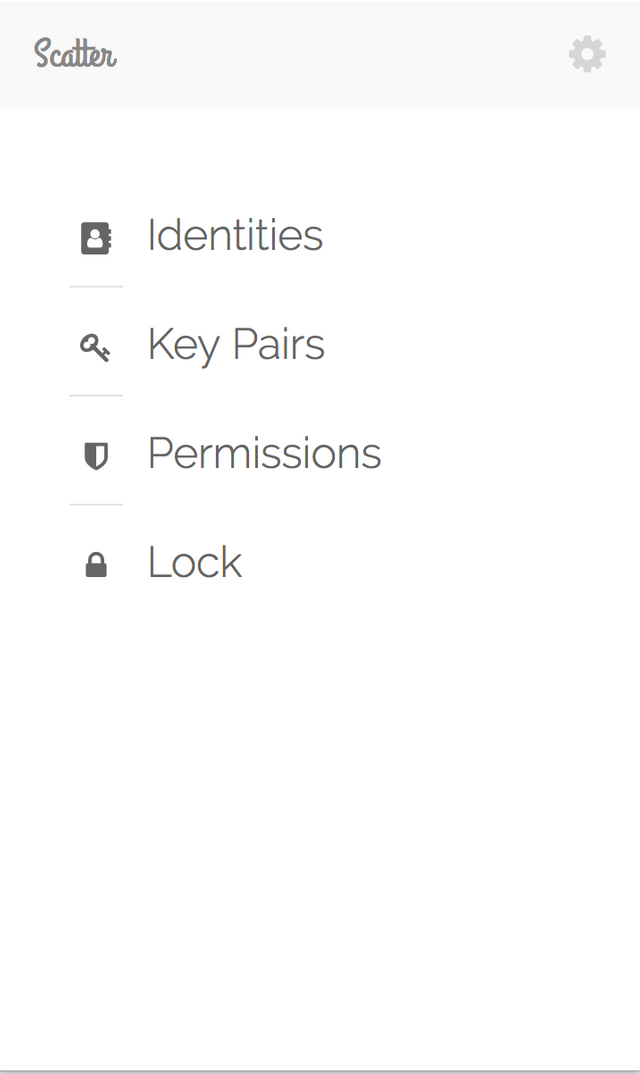 You will need to generate a brand new private key and public key for your account so click on the button titled 'Key Pairs' and you will see this next screen:
Click on the 'New' button to create a brand new keypair for your new account.
Now click on the button that says 'Generate Key Pair' and if you'd like to save this new pair in Scatter, enter the new account name you intend to create.
These will be the credentials for a new account. Click the 'Copy' button to save the keys to your clipboard. Then if you want to keep this account in Scatter as an extra precaution, click 'Save' and it will take you to the key pair screen showing you the new credentials. You are now finally ready to finish the account creation process!
You will need to copy down your private and public key somewhere safe. After creating my key pair and pasting it into a safe location, this is what it looked like:
Private Key: 5K8RgxxxxxxxxxxxxxxxxxxxxxxxxxxxxxxxxxxxxJoWWy2
Public Key: EOS8kN8PQVxxxxxxxxxxxxxxxxxxxxxxxxxxxwMKj3MKj8Q1
Now back to EOSToolkit to finish creating a new account: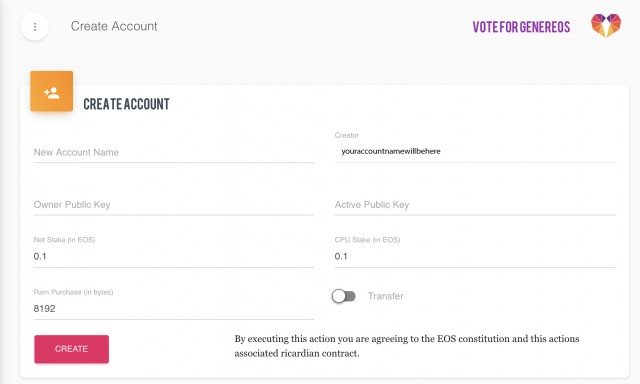 1.) Enter your new account name.
3.) Paste in the public key you received into both fields (or if you prefer create an additional public key for your active key and write it down in a safe location)
4.) If you select the 'Transfer' toggle the EOS you will be staking will be sent to the new account.
Personally I prefer this option so I would activate this toggle as I like my accounts to be fully operational without delegation. I may be able to go into this in more detail in a future tutorial.
5.) Click 'CREATE'
6.) A new window will pop-up with a contract you will need to accept to finish the account creation.
7.) Congratulations, you've just made your first EOS account!
---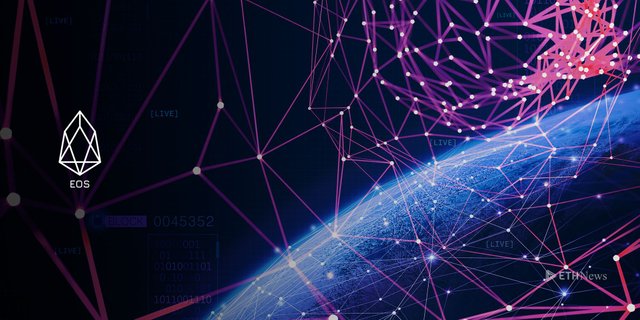 Source
---
Wrapping it all up!
So at this point I've taught my readers how to access their EOS account using both an application wallet and an online wallet. I've taught readers how to vote for block producers and increase the overall potential of the ecosystem by using the right to vote that comes with their eos tokens. I've also taught readers how to create a new EOS account.
In future articles I'll discuss the EOS ecosystem in more detail regarding all the cool new decentralized applications that are available. In the meantime, I'm happy to answer any questions you may have about all of this.
Please share your thoughts and comments below.
Thanks for reading!
Authored by: Techblogger
Click on the coin to join our Discord Chat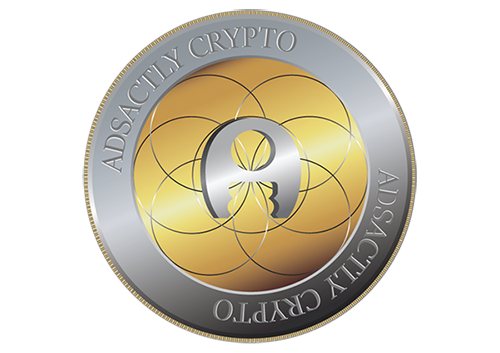 ---
Vote @adsactly-witness for Steem witness!
Witness proposal is here:



Go To Steem Witness Page
In the bottom of the page type: adsactly-witness and press vote.



Use small letters and no "@" sign. Or, click here to vote directly!
Thank you!

---