Thank you to everyone who took the time to design awesome EOSTalk Meetup Promo Cards. It's great to see the creativity flowing and all the unique concepts submitted in our second EOS-related art challenge.
We were really happy with all the entries submitted, however, the team was keeping an eye our for a few key details to give the edge in design too. We definitely needed a clean, modern design that helped give the feel of EOS.IO and the EOSTalk branding as it has been evolving. We are also planning a secondary use for the design as as dual-purpose Meetup promo card and cold storage paper wallet where event attendees can go home with EOSBit tokens in their hands, so flexibility in the design to adapt to that purpose was also considered.
🏆 Now on to the winners...
1st Place


@wens
PRIZE: 30 BeyondBit + 30 EOSBit
This design just screams "EOS.IO" and has a very stylish, clean, and modern design that works well with the EOSTalk Meetup Slide Deck being created by the team. A slight increase in the size of the content blocks and this design will give event organizers exactly what they need. We also loved the mirrored EOS logos and rays from the photo behind the EOSTalk logo that reminds us of the EOS Angels project logo.
https://steemit.com/eos-project/@wens/2nd-design-for-eostalk-meetup-card
2nd Place


@danyelk
PRIZE: 20 BeyondBit + 20 EOSBit
Another great set of design options from Danyel. Bright, open and clean designs that accent the "talk" theme of EOSTalk. The open design will work well as an event promo card and a paper wallet with minimal editing.
https://steemit.com/eos-project/@danyelk/my-entry-for-the-community-art-challenge-2-eostalk-meetup-cards
3rd Place


@blueberryfoxy
PRIZE: 10 BeyondBit + 10 EOSBit
This design has a cool techno vibe that works well with the crypto community, it also has a nice balance of design and clean space for the organizers to add in event information. This will also work well with our paper wallet concept with just a few slight modifications.
https://steemit.com/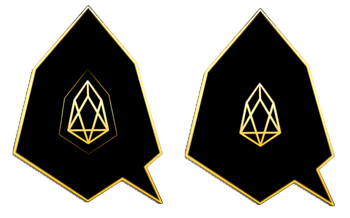 EOSTalk Logos
Thank you to @edxserverus for taking the time to redraw the EOSTalk logo in Hi-rez for everyone. We truly appreciate the initiative you took on that and your generosity for sharing it with the community.
REWARD: 5 BeyondBit + 5 EOSBit
Plus, ALL other genuine entries recieved generous upvote rewards on the contest post.
---
What are Beyondbit and EOSBit?
Beyondbit and EOSBit started as a conversations in the BeyondBitcoin hangout series shortly after Steem was launched historically in those very hangouts. It began as "community tokens" or "tag coins". These cross-chain tokens give their holders the power to Summon a Whalevote to posts without having to pay for attention. And they are only given to people who Participate in Challenges, Win Contests and do other things of value for the community!
BeyondBit and EOSBit tokens are on BitShares! So make sure you have a BitShares/OpenLedger account to receive and send them for upvotes on your Steem posts!
HOLD on to your EOSBit!
These powerful cross-chain tokens will be very valuable in the future once EOS.IO has launched and associated DApps are brought online. We encourage you to participate in as many challenges as you are capable of and save up your EOSBit!
---

Join the BeyondBitcoin Communities
Please join in the discussions with us by becoming a member in ANY or ALL of the BeyondBitcoin and Bitshares communities. We have a wealth of knowledge and information waiting for you.
EOSTalk Discord
EOS.IO related community and topic discussions.
https://discord.gg/WaN27D2
Whaleshares Discord
Steemit community discussions, contests and events.
https://discord.gg/E9Rm9yT
Bitshares Discord
Bishares development community and discussions.
https://discord.gg/z2MSfWg
---