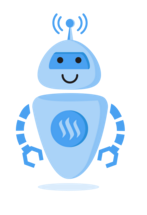 Hi how is the steemit community ?, today I would like to share with you how to use steem bot traker in order to get information about voting bots and other options to promote your publications in Steem. The voting robots are based on bids, the user can send any amount of SBD above the minimum and once the bot account reaches 100% voting power divides a vote among all offers, the value of the The vote that the bot makes depends on the investment made. It can be exemplified in the following way; if two users make an offer of 2.5SBD and a user makes 5SBD, the first two will get 25% of the vote and the last 50%, of course the value of the vote is given by the voting power of the bot. Here is the link to the page:
https://steembottracker.com/#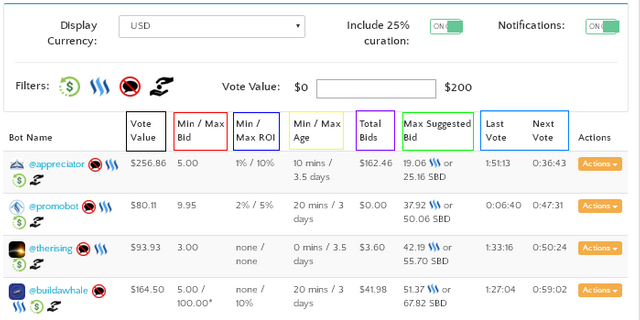 In the box you will find the names of the bots, as you get closer the time of the vote you will increase your position. In the black box the value of the vote of the bot is identified, in the red the amount min and max of offer that accepts, in the blue the percentage of min and max of retribution, in the yellow the time min and max in which the vote can be made, in purple the current total offer, in green the range of offer suggested, in light blue the time that the last vote was announced and when the next vote was held.

By clicking on the Acttions and details button you can see the following box: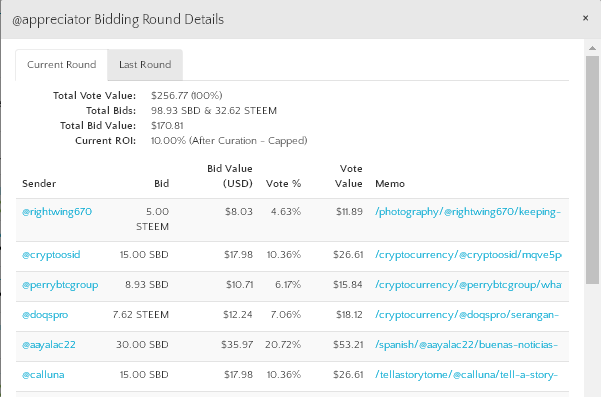 Where you can observe the behavior of the round that is currently taking place and the last thing that happened, but you have to pay even more detail to the percentage% since this being positive determines the gains that the bot will give to your investment, but if It is negative, it will represent a loss.
imagenes de: https://steembottracker.com/#