CHEESECAKE RECIPE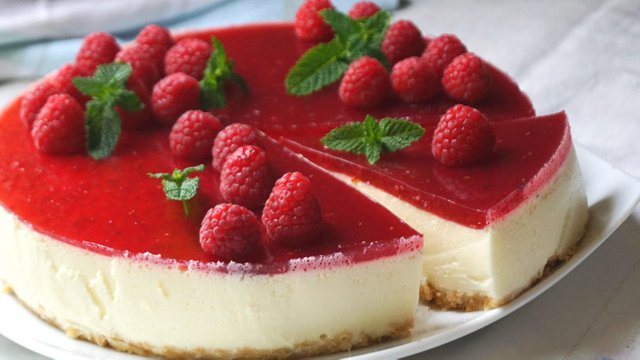 The cheesecake is a classic among the classics of desserts. It consists of a cheesecake made on a cookie base and covered with red fruit jam. It's very easy to make and with ingredients available to everyone. But it will take a while to allow everything to set well. The more hours the better. Let's take a closer look at the cheesecake recipe. The ingredients I give below are for a cake of about 18-20cm in diameter
INGREDIENTS TO MAKE A CHEESECAKE
100g of biscuits
50g of butter
500g cream cheese, or cheese spreads
500 whipping cream
100g of sugar
8 sheets of neutral gelatine (or 15g of gelatine powder)
300g of strawberry jam
RECIPE FOR THE CHEESECAKE:
1.- We prepare the base of the cake. To do this, we put the biscuits in a shredder. We beat them well. Then add the butter at room temperature and beat again. It'll look like some kind of fine grit
2.- We put this mixture in the bottom of a removable cake mould. If you grease it with oil or butter first, it's better. Easier to dismantle
3.- We crush everything uniformly in the bottom of the mold. Try not to leave any gaps because the cake will be on top, and we don't want you to sneak in. Once this is done, put the mold in the refrigerator while we carry out the following steps
4.- In a casserole put the cream, the cheese to spread and the sugar. We heat and stir constantly, without it coming to the boil at any time. This burns very easily.
5.- When all the ingredients have been well integrated, without lumps, add 6 sheets of the gelatine (about 12g if it is powder), following the manufacturer's instructions. Generally, it should be soaked in water before use. We integrate it with the rest of the ingredients
6.- We put all this mixture on a cookie base. Let it rest for 10 minutes and then put it in the fridge for an hour.
7.- After a while, we prepare the top cover. In another pot put the jam and heat it. When it is about to boil, add the rest of the gelatin. Mix well and put on top of the cake. The cake will not be fully curdled yet, but it will be enough to hold this layer. Put back in the fridge and leave for a minimum of 6 hours. If it's a whole night, better (8 to 12 hours)
That's how easy it is to make this cheesecake without an oven or cold oven. One of the most basic desserts to make but, that always gives good results.