Sold out of pies, but plenty of colourful bars available - The top 10 categories by votes from your account.
---
Anything tailor made to each of us is going to go down well. That's what's so valuable about them. A lot of data gets pulled, but when it doesn't specially have anything to do with us, it's just abstract information waiting to be applied. So, when you pull a list that we can see numbers of what we're individually doing and how that stacks up with others is very much welcome as far as I'm concerned. @glenalbrethsen - 2018
A category is defined by the first tag used in the creation of a post. Some of the dapps will automatic put a default tag as the category for a post, but some (utopian-io for example) have changed this recently.
The first tag should try to represent the content of the post, but it is not always easy to get it right. Hopefully, with 8 months of data displayed, we should have a reasonable set to counter incorrect tagging.
Your chart will look something like this: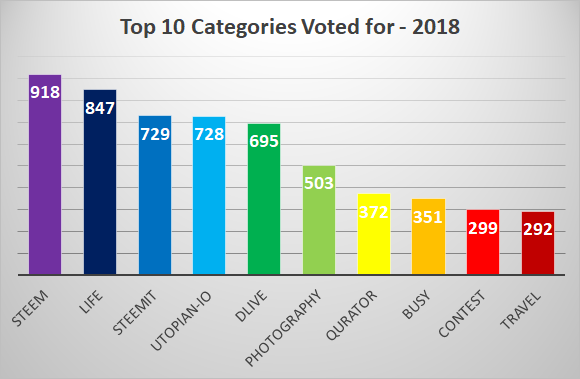 The data is taken from 1st January 2018 to present
Only up-votes are included
Only votes at the top level (Post) are counted
In my profile, I list 'Life', 'Steemit', 'Utopian-io', and 'Travel' as the subject areas I am most likely to produce content relating to, and so I makes sense that these categories are present in the top 10 I vote for.
I support @qurator, and they produce a daily post (or two), meaning they have had numerous votes this year.
It's good to also see 'Contest' in my top 10. I think that contests are a good way to promote your own blog, and I do appreciate people running contests to reward people in some way - part of the idea to 'pay it forward'.
More and more posts are created through Busy.org, and a lot of people choose 'busy' as their first tag. I would suggest it is used not as the first tag, but that's just my opinion :)
---
Who would like a chart today?
Cheers
Asher
If you feel that random data pulls like this are worthwhile addition to the Steem blockchain, please consider a vote for our witness - @steemcommunity
Find out more about our project here