Forget popcorn and pancakes, it's all about the pies! A graphical representation of the vote weight used to up-vote your content in 2018.
---
Anything tailor made to each of us is going to go down well. That's what's so valuable about them. A lot of data gets pulled, but when it doesn't specially have anything to do with us, it's just abstract information waiting to be applied. So, when you pull a list that we can see numbers of what we're individually doing and how that stacks up with others is very much welcome as far as I'm concerned. @glenalbrethsen - 2018
Last week I produced the opposite, showing the vote weight you use to up-vote content. 29 Pies were produced, I wonder if this post can beat that...
Vote weight is considered by those who like to take care of their Voting Power. I say this because some community members are not so worried about this percentage, and continue to vote when the VP % looks something like this: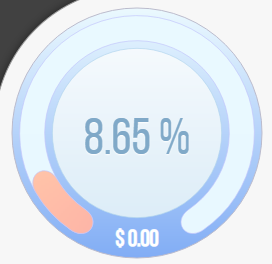 Keeping your VP at a reasonable % (80%+) means you can recharge at a faster rate, and continually give out higher voting values.
If you are a small account < 500 SP, I am inclined to think that at present, you are voting fewer times each day with a larger vote weight, than a larger account which holds say 20000 SP. Doing this should improve your curation rewards take, and reduce the possibility of you giving dust votes out to comments ( < 0.03$).
With regards to curation rewards, it has been seen on many occasion in the Curation League, that an account with less than 500 SP has scored well voting 70 times a week. 10 votes a day at 100% vote weight, keeping the Voting Power up well into the 90%'s.
With this in mind, if you have a lot of support from Redfish or Minnow accounts, I suspect your pie will show higher incoming vote weights on average. If you are a large dolphin or orca, then perhaps the fish swimming in your pool are also of the larger variety, and use a smaller weight (due to owning more SP) to up-vote your content.
This hypothesis could well be a load of rubbish, the pies will tell all!
The pie will be sliced as follows:
WHEN weight > -1 and weight < 500 THEN '< 5%'
WHEN weight > 499 and weight < 1001 THEN '5 - 10%'
WHEN weight > 1000 and weight < 2001 THEN '10 - 20%'
WHEN weight > 2000 and weight < 3001 THEN '20 - 30%'
WHEN weight > 3000 and weight < 4001 THEN '30 - 40%'
WHEN weight > 4000 and weight < 5001 THEN '40 - 50%'
WHEN weight > 5000 and weight < 6001 THEN '50 - 60%'
WHEN weight > 6000 and weight < 7001 THEN '60 - 70%'
WHEN weight > 7000 and weight < 8001 THEN '70 - 80%'
WHEN weight > 8000 and weight < 9001 THEN '80 - 90%'
WHEN weight > 9000 and weight < 9501 THEN '90 - 95%'
WHEN weight > 9500 THEN '95 - 100%'
And your pie chart will look something like this: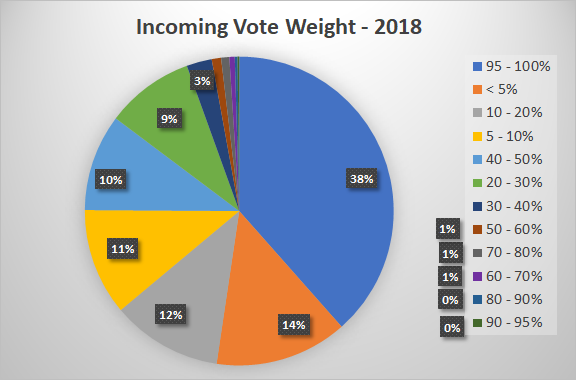 The data is taken from 1st January 2018 to present
Only up-votes are included
As I thought would be the case, the largest slice of pie is from accounts voting with 95-100% weight. This is likely due to the large Redfish and Minnow support I receive on my content.
The next set of slices are all from the other end of the voting scale, and I suspect these are mainly trail votes. While every vote should be appreciated, I think these hold the smallest value as far as $'s go. The next 3 slices cover 20 - 50% vote weight and together are used 33% of the time on my content.
The vote weights that are used the least are 50 - 95%. I have a feeling that these are generally the least popular weights to use on content. I do use a 75% vote at times myself, but not often. Either the content is getting a full vote, or I'm likely to use 3-20% for the most part.
---
Due to the additional data divisions, these pies will take slightly longer to bake, but I will try to get them all done before they are burned.
Anyone hungry?
Cheers
Asher
If you feel that random, personalized data pulls like this are worthwhile addition to the Steem blockchain, please consider a vote for our witness:
Find out more about our project here