@steemclan Raising Funds for Charity : Update on Funds Held So Far and where we are at with the Philanthrophic Key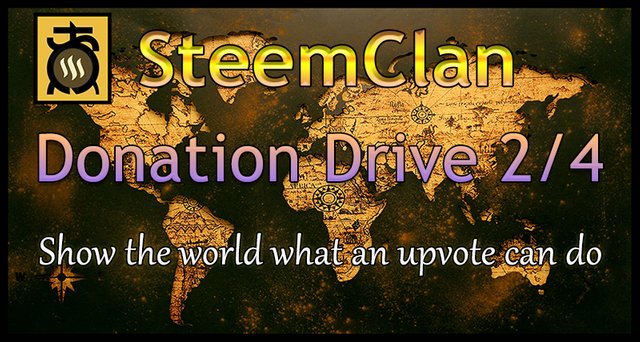 ---
STEEMCLAN IS HUNTING FOR SATOSHI'S TREASURE
In case you didn't hear it yet, Satoshi's Treasure contains (current price) more than 1 million dollars worth of Bitcoin!!! Steemit members are working together as the @steemclan to bundle our powers and expertise so we can unlock as many keys as possible. The power lies within the community though, and we are asking every Steemian that read this to upvote and share this post. You can resteem it, but sharing it on social media like Twitter is also very appreciated!
---
THE PHILANTHROPIC KEYS
After successfully unlocking a bunch of keys, we are now working on the Philanthropic keys which actually contains 4 keys, spread over a 4 week period. This is how it works, the person or clan that donates the highest amount to a charity in the list from Binance.charity in that week, will get the key. Meaning we can possibly get 4 keys in the next weeks if we raise enough fundings for charity. Even if we don't win, the money is still used to help the children of our chosen charity.
UPDATE
So week 1 we raised funds from a few sources . We published a post asking for upvotes. This raised around $78 in total but with curation taken out we raised a total of 27.287 SBD . @aggroed then made a post and made steemclan beneficaries which raised 10.956 SBD. We were very grateful for this. Pesky steempower. It's great but not in this situation. We found out about likwid to convert steempower directly into liquid Steem to transfer for charity so this helped us alot.
We also received. donations off @torrey.blog , @buttcoins, @blanchy , @anouk.nox , @doctorcrypto, and @revisesociology.
So at the end of the week with all this taken into account we had 356.955 STEEM to transfer to Binance from Blocktrades.
When transferred to Binance this gave us 0.4 eth which at the time was €120
Below is the transaction.



So we were all ready to go and donate to charity. There are 4 weeks to this challenge. The other rival clan and ourselves were keeping an eye on each other. If we donated , the donation is public and and then they could just donate more. I tested the water and donated 0.05 eth(around 20 dollars) to draw them out. So we waited. Toschis ciphers made a donation. 7 BNB. BNB is worth 30 dollars per coin. 210 dollars . So we were beaten. Hats off to them. So we siad we would hold the funds for week 2. We held off in week 2 but again Toschis donated more crypto , alot more and they blew us out of the water. Week 3 is tonight and again they have donated more than our 0.4sth so next week is the last week. We hope Toschis clan will have their funds depleted by then so we can nip in and take the 4th key. We will be donating the funds we have raised in any case by next Sunday. We will post proof of stake so everyone sees that the funds have been used for charity. This post is public viewing but I feel it needs to be made to explain that the donation process is still taking place. Hopefully the steem from this post will add a bit extra onto our total steem and we have time to transfer more to Binance to take the fourth key. But even if we do not we can still hold our head held high as we are helping a great cause.
Read more about the charity we chose to help: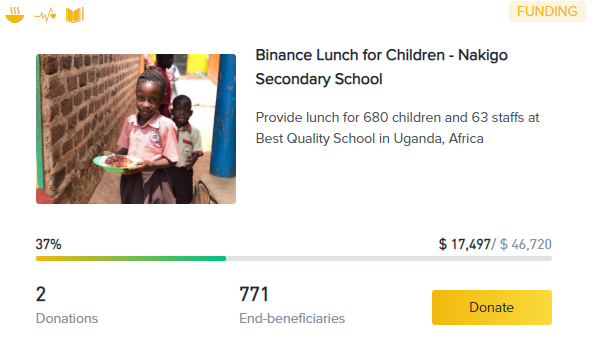 By supporting the Binance Lunch for Children - Nakigo Secondary School project our donations will be used to buy lunch for the children at this school.
Nakigo Secondary School is a six-year public school with the relatively well-facilitated campus. Two laboratories, a small library, 9 classrooms, and 2 dormitories, mostly funded and established by the World Bank since 2012 set on the campus. Some of the school's school expenses are supported by the state, and students need to bear some of the expenses themselves.
The school is aimed at nurturing God-fearing children with virtues of discipline and self-respect, being responsible, honest, have self-esteem and above all respect for authority. Students enjoy a diverse curriculum covers approximately 13 subjects that includes seven compulsory subjects of English, Mathematics, Geography, History, Physics, Chemistry and Biology. Others include CRE, IRE, Art and design, Agriculture, Commerce and Computer studies. Our children also participate in co-curricular activities including football, netball, volleyball, athletics, Debate and Music Dance and Drama.Source
Donate to save the children:
$0.30 = one meal for one child
$6.6 = one month's lunch for one child
As you can see, little donations matter here as well! What is only change for some of us, means lunch for a month for one child in Uganda
Please watch this video and listen to Joen's voice, a 16-year-old girl benefited by "Binance Lunch for Children Project
Many children went to school hungry every day, and Joen is telling in the video, that many of her friends didn't show up at school anymore. Some of them were able to buy food, but only beans, day in and day out. With the funding from Binance Charity, they are now having lunch every day, and also a variety of food as the menu changes daily. Not only are we feeding the children, but the children are also learning to cook when they help preparing the meals at school. Those children now actually have a chance to fulfil their dreams in the future, as they can now stay at school without feeling weak because they are hungry.
By donating to this charity, we are changing lives of these children.
SHOW THE WORLD WHAT AN UPVOTE CAN DO
Help the @steemclan to raise money for the children in Uganda by upvoting and resteeming this post, or send funds directly to our wallet. As Steemians we all know that a single click (an upvote) can be valuable enough to buy a lunch or even lunch for a complete school. It only takes some of our effort, and with that one click you can change lives. All the money we raise goes directly to this charity, and we have set Likwid as the beneficiary for this post, so we get all the funds in liquid earnings directly.
---
WHAT ELSE CAN YOU DO?
Calling out all bloggers and vloggers out there to create their own post or video, and if you really want to contribute maybe even set @steemclan as the beneficiary for the post like @aggroed did last round. Your help is highly appreciated and the more Steemians that share this, the more help we will receive. You can also share this article on social media, or if you have other ideas to raise funds, you are more than welcome to do so. Like we said, bundling our powers will show the real power of the Steem community and we can make this happen with your help.
---
TREND THIS POST
So remember, the ONLY objective for this clue is to TREND THIS POST. Again, 100% of the post payout will be donated to charity. And in the process, we'll be garnering international attention from crypto enthusiasts around the world.
---
FOR QUESTIONS PLEASE READ OUR FAQ'S HERE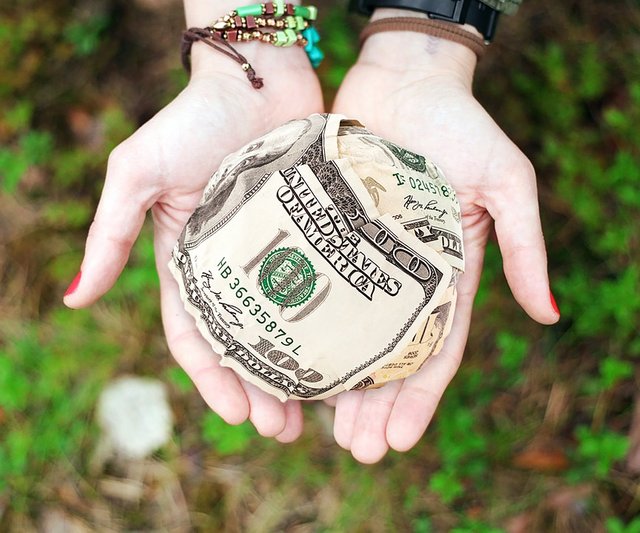 Source
We will also be publishing our White Paper soon, as our winnings are distributed to steemians on this platform. Our whole push is to boost the Steem economy. We will keep only a small percentage of the prize for future curation, server management, and prize pools.
We've got a long game here, folks, and it involves far more than $1 Million. It involves huge media coverage, recruiting new users and investors to the blockchain, and bolstering the Steem economy at large. We are so excited!

Support this project on Fundition.io