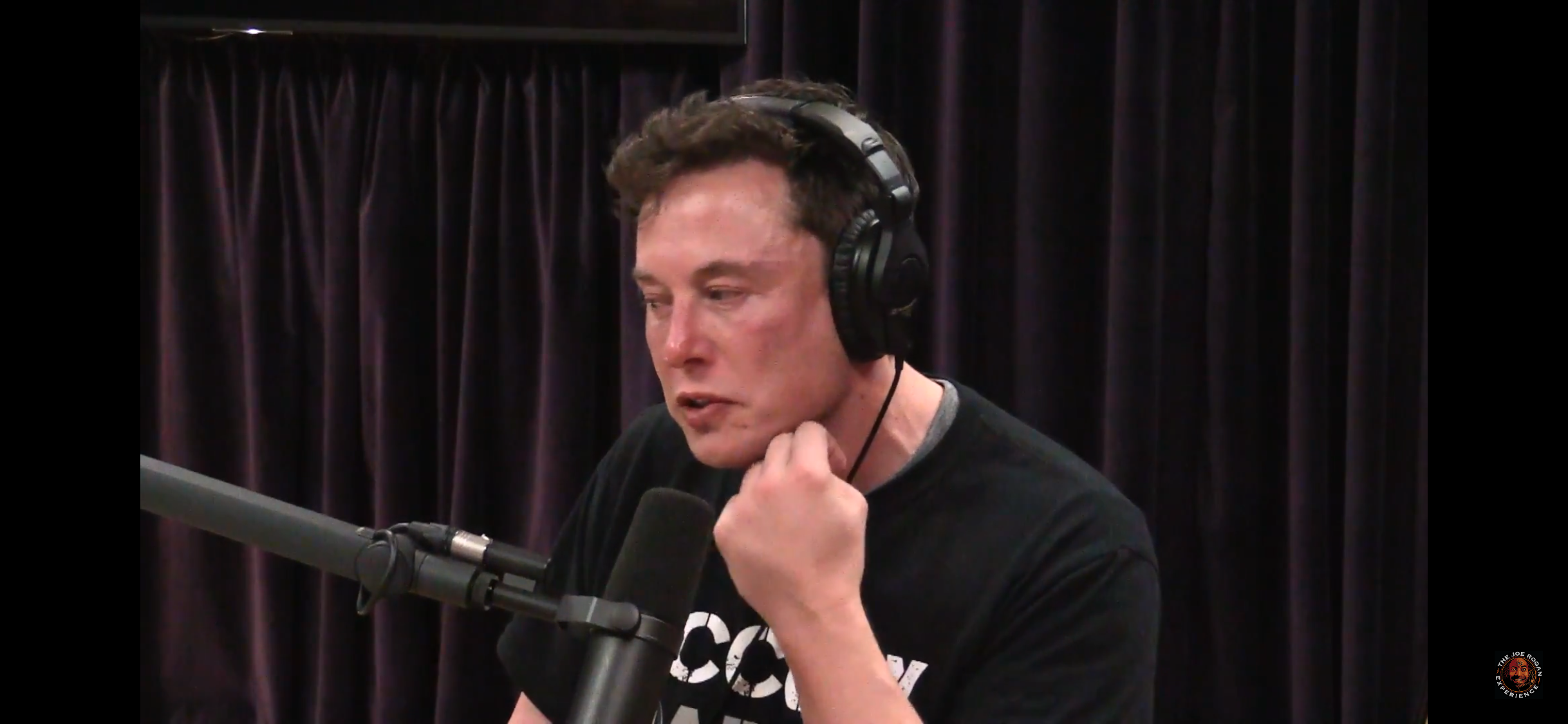 In his recent interview with Joe Rogan, Elon Musk once again was briefly overtook by emotions when he discussed the threat of global climate change. Now, I think it's important to acknowledge the clear distinction between "getting emotional" and "losing one's shit." Click-based media is obviously going to sensationalize such "unusual" behavior. But of course, click-based media is not the same as "accurate information sharing." Or, "insightful analysis giving."
Breaking News, He's Odd
But Elon Musk is obviously unusual. That isn't even a morally valenced claim. I doubt anyone would disagree with that claim. First, it is unusual to create a company worth 1 million dollars. Creating a billion dollar company, is obviously far rarer; it almost never happens. Creating two is close to impossible, but apparently not impossible. Many people wonder what is different about him that enables him to do the things he does‒Rogan does this in the interview‒usually they conclude something equivalent to; he's super smart. But he's probably not the smartest person in the world, and just because someone is highly intelligent doesn't mean they know how to run a business.
Eating Glass, Fun!
Obviously I have no more answers than anyone else. That being said, what I have learned from my experience operating within the economy is that creating and sustaining an enterprise of almost any size is hard as hell. This is especially the case the more innovative your company is. People think incorporating innovative technology makes success easy. The opposite is the case. Innovative technology, when incorporated properly, can provide you with a competitive advantage against large incumbents due to the Innovator's Dilemma but there is still no such thing as a free lunch. You are still operating at a huge disadvantage. You lack the resources of incumbents. You lack the tooling and infrastructure that exists to support large incumbent enterprises. You have some advantages, but winning isn't easier, it's harder. As Musk has said himself, "Starting a company is like eating glass and staring into the abyss." So maybe the real question should be, "Who voluntarily eats glass and stares into the abyss?" Who does that multiple times? And what does it take to excel in that environment?
Maybe Feelings Are Good
As I said at the beginning, there is a big difference between getting emotional, and losing one's shit. Losing control is bad. But Musk clearly has strong feelings and these feelings seem to most to be highly unusual. What if we accept that premise? What if he does feel more strongly about these massive, highly abstract, existential threats than the rest of us? It's easy to feel bad for a real person undergoing unspeakable hardship, but how can you feel about the theoretical hardship that could be delivered upon countless people in the future, people who might not even exist yet, even when the total amount of likely suffering is so much more. We know it's not easy to feel that, and yet Musk certainly appears to. Maybe this is exactly the thing that is necessary to motivate someone to repeatedly‒and for prolonged periods of time‒eat glass and stare into the abyss of some seemingly impossible-to-solve problem.
I haven't watched the entire interview, but if you'd like to check it out here: