Today on Lucksacks (6/14/18): Freerolls, Updates, and More from the Steem Poker League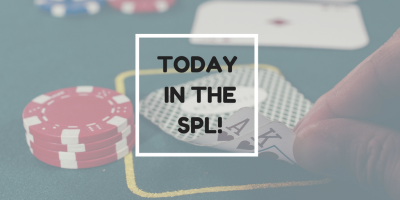 Hello Steemians and SPL Poker Players!
Where the heck did Thursday come from? Well, don't worry if your week is slipping past you, there are plenty of tournaments for you today to dive into. While you're enjoying the fun, please also make sure to support the SPL with your upvotes and donations.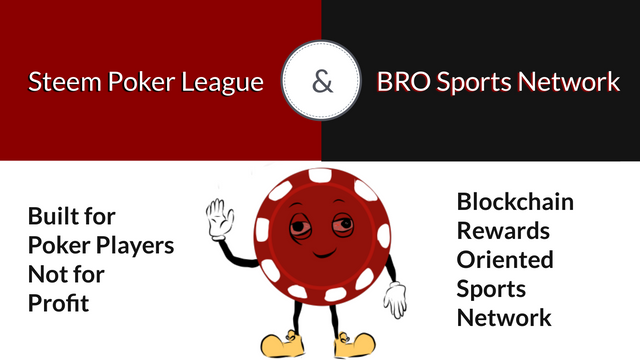 Updates, News, and Notes
You can now join an SPL trail to make sure you're upvoting each post and maximizing your curation rewards. Learn more here.

Support the league – consider delegating Steem Power to the SPL. We want to grow our great community and continue bringing you the poker we have been on a daily basis. We need your support to accomplish both of these goals. Please consider temporarily delegating Steem Power to the SPL. Here's how.

Cash out changes are now in effect. Read here for more information.

And Now, A Look at the Action from Wednesday:

@papeti picks a bad spot to push and gets caught by @generausd who has pocket tens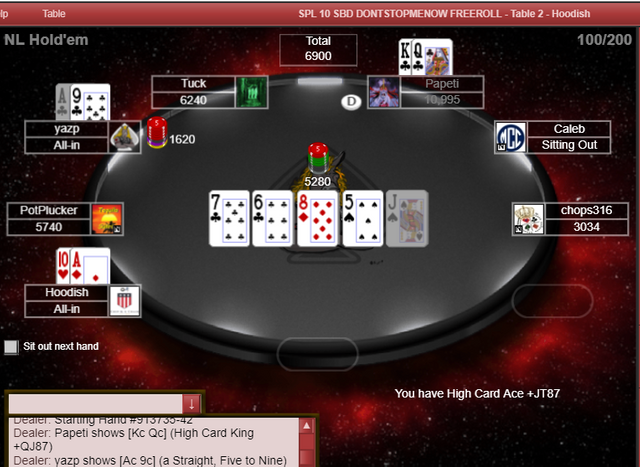 All-in pre-flop, @yazp gets a lot of help to hit a straight, taking down a huge pot and knocking Hoodish out of the @dontstopmenow 10 SBD tournament
We had 26 players join the @followbtcnews 5 SBD Freeroll today, and a familiar face in @yazp took it down. Wisher and @generausd finished second and third respectively.
In the early-afternoon @dontstopmenow 10 SBD Freeroll, we also had 26 players. The tactical @iabuse won with Tadas (@homesteadlt) taking second. Generasd who had a fantastic day at the tables, finished 4th.
In the @pcste 10 SBD Freeroll, 30 players came out to play. He wished upon a star and his dream came true -- @wisher beat out @sevendst19 for first place. The always solid @celsius100 finished third.
The results from the 20 Wangchange Freeroll will be in tomorrow's update, so stay tuned.
Other News and Notes:
We have a brand new tournament in the SPL! Friday at 2PM Central there will be a weekly @ro-witness freeroll! Make sure to visit, follow, upvote – show some support to those who support the SPL and you – our wonderful SPL members.

Bad Beat of the Week #2 voting has started and it ends tonight! VOTE HERE!

Host @pcste added special bonuses to his tournament for this week. Please read about it and support his tournament here.

Want to host a recurring tournament in the SPL? You can do it! Join our Discord to learn more.

Today's Freerolls: Thursday, June 14
10:00 AM CDT: .20 SBD HORSE (16 Players Max)
2:00 PM CDT: .20 SBD PLO8 (20 Players Max)
3:00 PM CDT: 10 SBD @oendertuerk NLH Freeroll
6:00 PM CDT: .20 SBD Limit Omaha Hi-Lo (20 Players Max)
6:00 PM CDT: 5 SBD @followbtcnew NLH Freeroll
9:00 PM CDT: 2 SBD @inthenow NLH Freeroll
Also, join ongoing Sit &Go's and tournaments throughout the day. To find out when these tournaments are happening in your time zone, use this time zone converter. And make sure to play in "Tucket" Sit N Go's to win a ticket to play in the weekly Tucket Freeroll.

Current SPL Leaderboard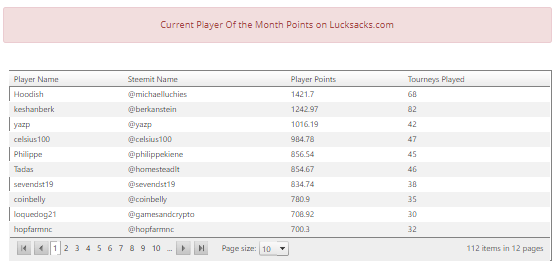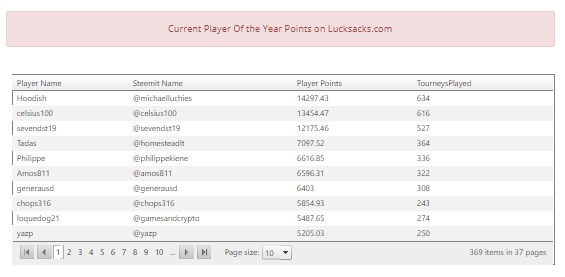 Please comment, trash talk, or post nonsense (other than spam) below, and I'll see you at the tables!