I don't know when I first got the urge to move to an eco-village.
I must have picked it up in my late teens, during my first years on the doll between 1991-3, I remember doing a couple of Wwoofing weekends, one of which was at the Hockerton Housing Project – a super high-tech terrace of five eco-houses in 20 odd acres of land near Nottingham – when I say super high tech, I mean it – it was super windy when I went, and when you closed the doors and windows, you couldn't hear a thing, super-insulated.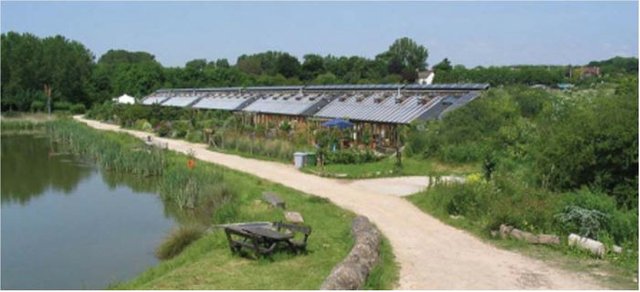 I can't remember if I was impressed by Hockerton or not at the time. Now I'm not: today those houses market for over £500K a piece, and they're terraces, but they come with no heating costs at all, and then there's land I guess. They were quite nice, 'normal' houses too.
In 1993, the year I turned 20, and the year I started university, I remember taking a trip with a friend of mine to the Center for Alternative Technology (CAT) to do a week's voluntary work. This was my introduction to the whole range of broader eco-technologies: organic gardening systems (basically weeding), passive solar heating and the experience of passively evacuated-tube heated tepid but liveable-with water, and the first time I evacuated my own tubes in a compost toilet.
It was also my first lived-experience of the chaos of social and economic organisation – CAT was getting on for two decades old in the early 90s, and it was transitioning from a place where hippies lived together and occasionally ran a few tours introducing people to eco-building and technology into a truly global education and demonstration centre which makes a significant income running a range of eco-courses and providing consultancy. There was some tension between the people who lived and worked there to say the least, and I remember there seemed to be a deal of animosity towards the 'centre manager' from the various people who ran their little departments, such as gardening, building etc.
My friend went on to become the media-officer at CAT three years later, and now he's in some kind of eco-consultancy role for the UN, I managed to find my way back to the doll for a year and then academia. I'll say this much for myself - at least I'm a perennial underachiever.
At the end of my second year I took part in an anti-open-cast mining protest, which involved building tree houses on a site designated to be, well, open-cast mined. I guess this was my only 'eco-build' - I managed to build an entire platform with bender, but then had to head off to America for my year-out. TBH I was quite glad, I never really felt like I fitted in with dread-lock crew at that camp – I just didn't have the subcultural capital – I remember one night digging up a road with a few other people, to stop the impending machinery coming in – the police showed up – everyone else started drumming, dancing and warbling, I just felt uncomfortable – you see it's the work I was interested in, not the subcultural expressionism.
It must have been my uni-years where I picked up the urge to lead an off-grid lifestyle – I knew lots of people living in 'Holt's field' and 'Owen's Field' in Swansea, basically living in summer cabins or just benders in the woods – proper off-grid living, although I think some of the houses had electricity and sewage, others definitely didn't.
I remember a friend of mine paying something like £500 to buy one of those shacks – just amazing, about the cost of two year's rent for the rest of us!
Somewhere along the line I bought 'How to Build a Low Impact Roundhouse' by Tony Wrench, which remains my preferred low-impact dwelling to this day!
Anyway, I moved on from Swansea and started my Master's Degree in 1998 – in Sociology, in a department with a large focus on politics and social movements – and a lot of research at that time was looking at how to map global green networks, which suited me just fine: I did my Master's Thesis focusing radical green communes in the U.K. – looking at how they fitted into green protest networks (such as the anti-roads movement) and how they manifested their radical anti-capitalist values in practice. Basically, I wanted to know if they were able to maintain their radicalism long-term given all of the practical difficulties of living together, such as the need to make money and the need to compromise with others.
IRL (outside of academia) I met a guy called Jim in Canterbury, who built his house in 12 acres of woodland he'd bought in the late 1960s – he built it gradually out of recycled materials and then got retrospective planning permission – keep in mind that his house was in a lush part of SE England near Canterbury – all country lanes and mansions and stables and then him – I loved this concept – he had a luxury 'shack' – by that point he'd had phone, water and electricity connect, I think he could afford to do all that because it cost him practically nothing to build it.
That was the most inspiring build I've seen, but the problem is there's no way you could get away with that approach now – 10 acres of woodland would cost at least £50K and someone would catch you building before you could get the retrospective.
Anyway, I didn't get very far with PhD – I had to quit and get a job in Surrey, where I pretty much lost the ability to do anything even vaguely ecological with my full time teaching job. I did look into buying land and living in a van, but in Surrey, getting somewhere near to work, this was impossible price wise. Also, from a basic resource use perspective it made more sense to simply live in normal houses close to where I could walk to work – I spent most of my 16 years as a teacher with no car.
I did pick up an allotment around 2012 and kept it going for five years, basically until I knew I was going to move on. I loved that allotment, and I did get a bit of a micro-permaculture thing going on there – I planted lots of fruit bushes and even trees, and several perennial herbs and greens. However, the thing I enjoyed most was compost making: I had a great little system going, and now I just want to expand on it – I love the idea of heating water for showers with compost – but on an allotment, there's no real for hot water, at least not when your flat is less than a five minute walk away!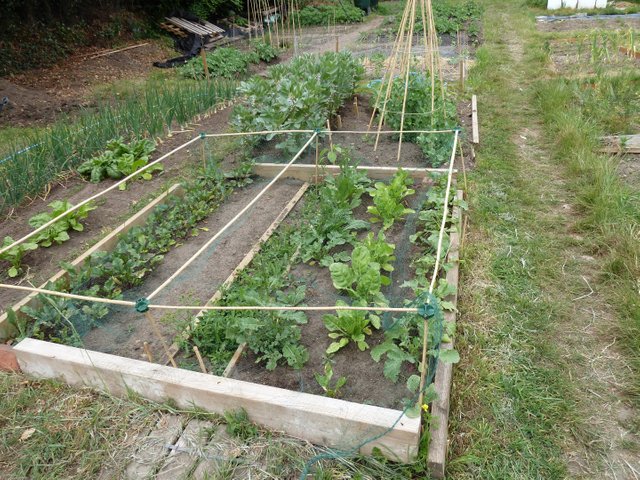 I think having that allotment is what's inspired me to want to do some Permaculture design on a larger and longer-term scale. I'm keen to establish a larger longer term food forest and to manage a larger annual system of food growing system too – I was continually frustrated with that allotment that work prevented me from utilizing the food I grew to its full potential – growing it's one thing, but harvesting and processing after a 10 hour day rarely happened.
I did a bit of voluntary work at Lammas eco-village in the summer of 2017 - helping to build an ecopod, I really enjoyed that, as much as I enjoyed the excellent organisation of that particular eco-village - they seem to have it spot-on, and there's a nice chilled-vibe about the place along with a really motivated practical focus. I could get into a bit more building for sure.
When I quit work in 2018 I did look for a shack in land to renovate, I focused on Wales, but I couldn't afford anything, with a budget of £200K – at least not anything that didn't have something really wrong with it – in a yocal village, on a main road, on a flood plain, hence why I moved to Hereford – and it turns out that I'm ideally located for the teaching courses I now run, not that I knew that at the time, but the money's come in handy, because I've found my cost of living to be a good few hundred squid more a month that I planned for!
Besides, on reflection, I don't think I want anything too isolated – what's the point of buying a few acres of land by myself and just working it. I'm OK on my own, but that would do my head in… one needs people after all.
So I'm ready to move on and build something – finances are pushing me to completing this long-term goal of moving to/ setting up an eco-village and I also feel that at the age of 46 it's time for me to start afresh, off-grid, and to FINALLY get back to this thing I've wanted to do since I was 18.
I'm not sure why I haven't gone for this already.... I guess it's a combination of being into my studies/ job and then having to hang on at the end to build up my blog, all of which prevented me from living the eco-dream. I think this was absolutely the right decision - now I've got enough wealth built up that I can easily afford to self-build a low-impact home somewhere and have enough left-over to contribute to the wider development of a project if I think it's got legs.
Also, now I've got a passive-ish income coming in from a blog, I don't have to worry about setting up a land-based business to bring in money, that's already covered - I can just focus on helping others/ managing the land/ being.
My really simple vision….
I want to keep this whole next phase of my life as simple as possible – stripping out, less is more!
I think ultimately wherever I end up I just aim to be the guy who's just 'happy to be there'!
Transitioning….
Find somewhere to move to
Sell all my stuff (in process)/ rent the house out
Get there
Meet people
Stick up a tent for myself/ maybe upgrade to a bender or a yurt
Perennial activities….
Grow some food
Make some compost
Hang-out with people
Make some sensible contributions to the governance systems
Cook for people
Plant some trees
Set up a perennial seed/ plant nursery
Help build eco-houses
Meditate
Blog
Chillax
Just be.
I'll keep this up for as long as it's mutually compatible, move on if necessary, and, after another 30-40 years eventually die and be composted.
I might also take a few photos and even make some videos along the way. I'm sort of wishing I had more photos of the places I've been, looking back at this post, or maybe I'll just stop doing anything and just become one with the planet?
Anyway, I'm sure this will happen! 2020 sounds like an auspicious year!