Celebrating Healing Plants - Issue # 4 - Fireweed (Epilobium Angustifolium)
I love the appearance of these lovely magenta flowers along our ditches and on ground that has recently been cleared by fire. Fireweed will be one of the first to populate a burned area and will flourish, thus the name Fireweed.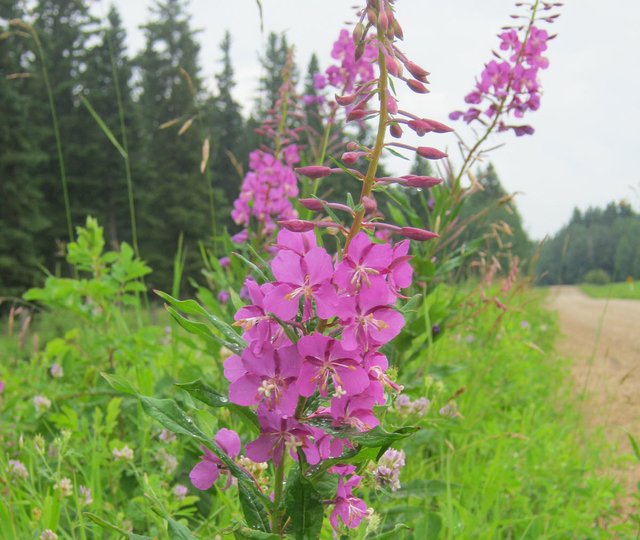 Not only is it a healer to Mother Earth, it begins the healing process after fires by preparing the soil for the willow and popular that will follow, but it is also great to heal burns to your skin plus other skin problems like psoriasis, eczema, acne or other wounds. It's the leaves and flowers that are used for these conditions.
Other uses for the flower is an infusion that can be gargled for sore throats plus if you squeeze the juice out of the fresh petals this has strong antiseptic properties to ward off infections.
If you combine the flowers with leaves it can be used for insomnia, and for headaches bought about by nervousness or make a poultice with them to fight inflammation of the throat, ear or nose.
A decoction made from the leaf could soothe stomach problems and was used to treat ulcers, colitis and gastritis.
These decoctions were also used for mild diarrhea, even the diarrhea that comes about when you change your water.
A cool decoction made from the whole plant was used for simple hiccups, asthma and whooping cough.
Decoction Recipe
Use 1 ounce of the whole plant including the roots
Add to 1 pint of water
simmer for 20 minutes.
Dosage - take 1 tbsp. every five minutes
Sun Infused Fireweed Flower Oil
Place young flower heads and buds of fireweed 3/4 full in jar
Cover with melted coconut oil
Place lid on it and shake daily
Let sit in the sun for 2 weeks then strain.
Also leaves can be macerated and placed in oil to make a salve or ointment.
Add the strained oil to salves and ointments for burns, cuts and ulcerous sores or make into suppositories for hemorrhoids, anal fissures and prostrate inflammation.
Some preliminary studies show fireweed as having potential to treat prostate cancer.
Fermented Fireweed Tea
Pick off a bunch of fireweed leaves from stem of fireweed and let them become a bit wilted but not dry.
Roll or crush the leaves in your hand (You can do about five leaves at a time) Set in a dish.
Leave the leaves to oxidize and develop flavor - any where between 2 - 12 hours depending on your preference for flavor.
Ferment the oxidized leaves by putting into a glass or ceramic container and put a similar sized container on top that can seal the leaves into the lower container, give it a push down to compact the leaves, but have it sealed just enough that it will protects it from off flavors but will still leave some oxygen available to them. Let sit at room temperature for 2-3 days again depending on your preferences.
Stop the fermentation by drying the leaves in an oven at between 90 - 120 degrees Fahrenheit or you can also use a dehydrator set at those same temperatures. Stir the leave about half way through the process for even drying.
Store in a cool dark place in an air tight container.
*Note - tea will continue to cure in the containers and will develop a milder taste if left to cure for another 2 to 4 months.
Brew up some tea and enjoy it's tonic effects. The antioxidants found in fireweed can benefit the digestive system, the urinary system, the circulatory system, the endocrine system, the immune system, plus it can also benefit the lungs, and the skin. So have a brew and be healthy!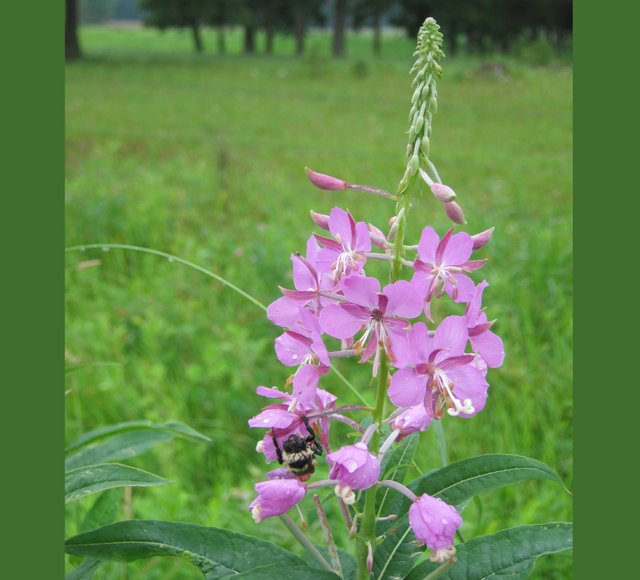 Fireweed flowers are attractive to both bees and hummingbirds plus the fireweed honey is prized by honey connoisseurs. Also the young shoots can be harvested in the early spring, lightly steamed and eaten like asparagus. The fragrant flowers which contain nectar can be harvested as soon as they open and made into a lovely jelly.
The beautiful fireweed plant not only has many medicinal benefits and it is edible but it can also be used to make cordage from the outer parts of the stem and the seeds can be used as a fire-starter or as a cotton like stuffing.
In my book "Sundew Moonwort" by Robert Dale Rogers, he quotes HILARION giving the Fireweed the Spiritual Properties of
having the ability to connect the soul with higher levels. It isn't of much use to the majority of souls now on earth, but for seekers and those whose spiritual vibrations are already heightened. A tea made from the whole blooming flowers will produce energies in the lower bodies; which open the soul to input from the higher realms.
Blessed be.
Pictures were taken with my Canon PowerShot A495.