ecoTrain Question Of The Week 5.6 - "What is your message to the world?"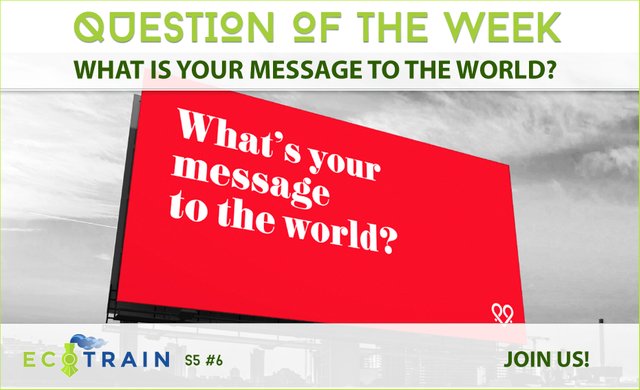 Welcome to this Question Of the Week! There are many ways to ask this question, and as always, many ways to interpret it. We all have something unique to share with others and the world. It may be a very simple and seemingly small thing, such as our time, our smiles, our service, helping people, sharing great wisdom, or a certain point of view. We all have a message to share with the world, and there are many ways that we share it. Some of us like to speak about it and tell others, some of us like to lead by example, and some of us just live and share our message without even realising it, just by being our own authentic self.
This week I ask you to do something special. Have you ever written down your message to the world in words? Those things that you have long felt but never really spoken... Those things that move you deep down, and that you care about deeply. There are so many important messages that we all have to share, and many of us are never really heard. SO if you have a message, however simple, whatever it is, i would love to hear what it is.
I for one will be reading and listening, and that in itself is a great gift.. the gift of being heard. This is a part of a way of living and speaking called NVC, and I hope that once you have shared something you may not have shared before, and then feel heard, that you will feel and understand the gift that it is!
POSTING GUIDELINES
"Q.What is your message to the world?"
- We welcome everyone to join us and post your answer to this QOTW.
- Your answer can be a written post, a video, or any way you wish to express yourself.
- You can change any names or locations if you prefer.
- You can post anytime from now until 9th March
- You must Subscribe to the ecoTrain Community to post.
Please also post a link to your post in the comments so that I will be sure to find it and add it to the weekly tie-up post.

CHECK OUT OUR PREVIOUS QUESTION OF THE WEEK
SEASON 5
Name five or more people that you listen to. Why do you trust them?
https://peakd.com/hive-123046/@ecotrain/ecotrain-question-of-the-week-tie-up-post-5-3-name-five-or-more-people-that-you-listen-to-why-do-you-trust-them<
THINGS WE CAN DO TO PREPARE FOR INDEFINITE LOCKDOWNS
https://peakd.com/hive-123046/@ecotrain/ecotrain-question-of-the-week-5-2tie-up-post-things-we-can-do-to-prepare-for-indefinite-lockdowns
It's a Secret, But is it good to have secrets?
https://peakd.com/hive-123046/@ecotrain/ecotrain-question-of-the-week-season-5-1tie-up-post-it-s-a-secret-but-is-it-good-to-have-secrets
SEASON 4
In what ways can blockchain and cryptocurrency help the people of this world?
https://peakd.com/hive-123046/@ecotrain/ecotrain-question-of-the-week-27-tie-up-post-in-what-ways-can-blockchain-and-cryptocurrency-help-the-people-of-this-world

Name 5 positive consequences of COVID19?
https://peakd.com/hive-123046/@ecotrain/ecotrain-question-of-the-week-tie-up-post-26-name-5-positive-consequences-of-covid19

In what ways is living off grid the answer to the many consequences of coronavirus?
https://peakd.com/hive-123046/@ecotrain/ecotrain-question-of-the-week-25-tie-up-post-in-what-ways-is-living-off-grid-the-answer-to-the-many-consequences-of-coronavirus

SHINE LIGHT ON MENTAL HEALTH ISSUES
https://peakd.com/hive-123046/@ecotrain/ecotrain-question-of-the-week-tie-up-24-shine-light-on-mental-health-issues

If you could choose, what would you incarnate as in your next life?
https://peakd.com/hive-123046/@ecotrain/ecotrain-question-of-the-week-22-tie-up-post-if-you-could-choose-what-would-you-incarnate-as-in-your-next-life

My Spiritual Experiences
https://peakd.com/hive-123046/@ecotrain/ecotrain-question-of-the-week-tie-up-post-my-spiritual-experiences
What is is about music?
https://peakd.com/hive-123046/@ecotrain/ecotrain-question-of-the-week-20-launch-post-what-is-is-about-music

What are you addicted to and how does it help or hinder you?
https://peakd.com/hive-123046/@ecotrain/ecotrain-question-of-the-week-tie-up-post-what-are-you-addicted-to-and-how-does-it-help-or-hinder-you
What can we do differently so that people can understand us better?
https://peakd.com/hive-123046/@ecotrain/an-impromtu-ecotrain-question-of-the-week-what-can-we-do-differently-so-that-people-can-understand-us-better

What is intimacy to you? Do you need it to be happy?
https://peakd.com/hive-123046/@ecotrain/ecotrain-question-of-the-week-tie-up-post-what-is-intimacy-to-you-do-you-need-it-to-be-happy

Why do we fall in love with certain people and why it is so hard to get over someone?
https://peakd.com/hive-123046/@ecotrain/ecotrain-question-of-the-week-15-why-do-we-fall-in-love-with-certain-people-and-why-it-is-so-hard-to-get-over-someone
What is the biggest question or mystery in your life that until now you haven't had the answer to?
https://peakd.com/publish?edit=ecotrain%2Fecotrain-question-of-the-week-14-what-is-the-biggest-question-or-mystery-in-your-life-that-until-now-you-haven-t-had-the-answer
Observation vs Judgement: Do you know the difference?
https://peakd.com/hive-123046/@ecotrain/question-of-the-week-tie-up-post-13-observation-vs-judgement-do-you-know-the-difference

Share a lesson you've learned in life
https://peakd.com/hive-123046/@ecotrain/ecotrain-question-of-the-week-12-share-a-lesson-you-ve-learned-in-life
Are You A 'Hugger Or A Shrugger' In These Pandemic Times?
https://peakd.com/hive-123046/@ecotrain/ecotrain-question-of-the-week-tie-up-post-are-you-a-hugger-or-a-shrugger-in-these-pandemic-times
How do you deal with monsters? How tolerant are you?
https://peakd.com/ecotrain/@ecotrain/ecotrain-question-of-the-week-tie-up-post-how-do-you-deal-with-monsters-how-tolerant-are-you
Shifting Our Perspective ... Spare A Thought For....
https://peakd.com/hive-123046/@ecotrain/ecotrain-qotw-9-tie-up-shifting-our-perspective-spare-a-thought-for
THANK YOU!!! QUESTION OF THE WEEK TIE UP POST: IF IT SOUNDS TOO GOOD TO BE TRUE, IT PROBABLY ISN'T?.
https://peakd.com/hive-123046/@ecotrain/thank-you-question-of-the-week-tie-up-post-if-its-sound-too-good-to-be-true-it-probably-isn-t
What is Inner Strength? How do you find it?
https://peakd.com/hive-123046/@ecotrain/question-of-the-week-tie-up-post-what-is-inner-strength-how-do-you-find-it

What is my hole in the bucket?
https://peakd.com/hive-123046/@ecotrain/ecotrain-tie-up-post-what-is-my-hole-in-the-bucket
DO WE STILL HAVE FREEDOM OF SPEECH?
https://peakd.com/hive-123046/@ecotrain/ecotrain-tie-up-post-do-we-still-have-freedom-of-speech
Should our governments lie to us to protect us?
https://peakd.com/hive-123046/@ecotrain/ecotrain-qotw-tie-up-post-should-our-governments-lie-to-us
What changes would you like to see happen after Covid19
https://peakd.com/hive-123046/@ecotrain/ecotrain-qotw-tie-up-post-what-changes-would-you-like-to-see-happen-after-covid19
What are you doing to create memories...
https://peakd.com/hive-123046/@ecotrain/ecotrain-qotw-tie-up-post-q8wsuw
What I Am Doing, To Stay Balanced and Positive Whilst on Lockdown
https://peakd.com/hive-123046/@ecotrain/ecotrain-qotw-tie-up-post
If your were to meet with a wise person/sage what sort of questions would you ask?"
https://peakd.com/hive-123046/@ecotrain/ecotrain-qotw-tie-up-post-if-your-were-to-meet-with-a-wise-person-sage-what-sort-of-questions-would-you-ask
Are you worried about Coronavirus, and what are you doing differently (if anything) since you heard about it?"
https://peakd.com/hive-123046/@ecotrain/ecotrain-qotw-tie-up-post-are-you-worried-about-coronavirus-and-what-are-you-doing-differently-if-anything-since-you-heard-about

The 8 Pillars of Abundance Tribe
Supporting People Who Help
Make The World A Better Place