Off of the coast of Louisiana, there's a zone of water completely devoid of fish and most other life. It kills almost everything that swims into it. It swells and shrinks with the seasons. In the summer of 2017, it reached 8,776 square miles- an area larger than Israel or the state of New Jersey. It was first reported by fishermen in the 1950s, and has steadily grown larger over time. It's not alone, either. Over 400 of these dead zones exist around the world, and the largest, in the Baltic, is over three times the size of the Gulf of Mexico dead zone.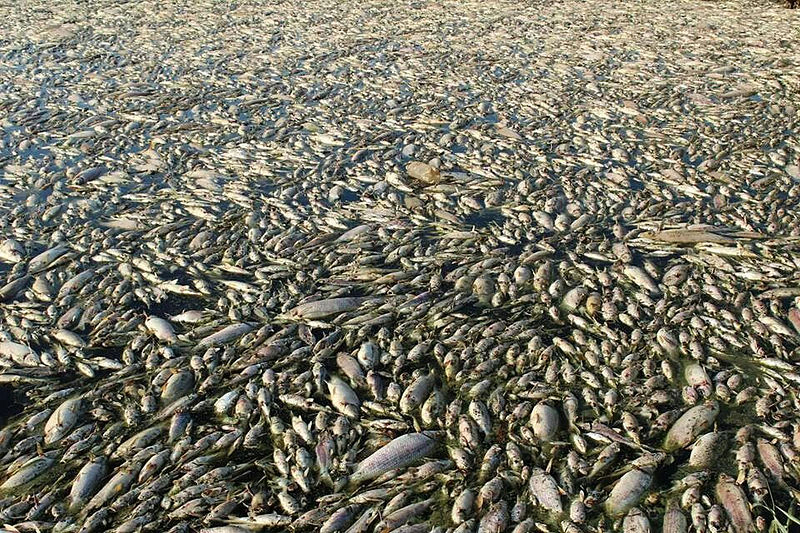 *Fish killed by a dead zone off the coast of brazil. [Image source]
The dead zones are what are known as hypoxic zones- regions of the ocean completely without oxygen dissolved in it. Fish and other animals are no longer able to breathe, and simply suffocate. As if that wasn't bad enough, many of these dead zones are also laden with neurotoxins, so even air breathing sealife like whales get killed off by them. Seabirds eating fish killed by the dead zones are also killed off by the neurotoxin filled dead zones. So what produces them? If you guessed humans, you're correct, of course, but there's a long chain of processes that leads back to us. To investigate this story, we're going to back in time to early 1900s Germany.
Nitrogen fixing fertilizer has been an essential part of industrial agriculture since the beginning. In the 1800s and earlier, it had to be produced from mined saltpetre. In the early 1900s, two scientists, Fritz Haber and Carl Bosch, developed a technique for converting atmospheric nitrogen to ammonia, used in, among other things, nitrogen fixing fertilizer. This fueled a massive revolution in food production worldwide- without it, there is no way our world's population could have expanded to the point it is now. I even wrote a post a while back on why I think the Haber process is the most important invention of the 20th century.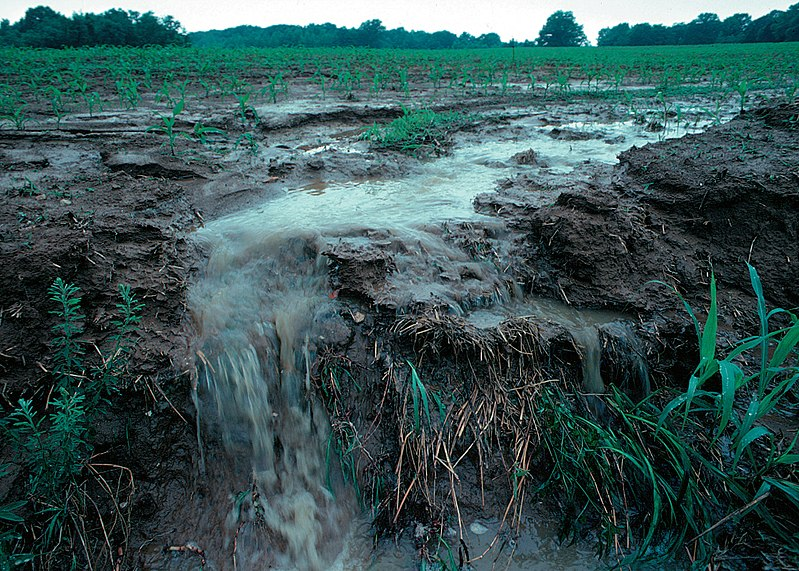 Agricultural runoff carries both fertilizer and eroded topsoil away from farms and into our rivers and oceans. [Image source]
So all of a sudden we have way, way more nitrogen fixing fertilizer available. (Along with phosphorous containing fertilizers.) We started slathering it on our fields in huge amounts, as well as using it to grow crops in regions previously thought too inhospitable for agriculture. The fertilizer, however, didn't all stay in the soil. Much of it was washed off, along with huge amounts of our topsoil (over 50% of America's topsoil total), thanks to destructive industrial agriculture techniques. (I wrote a post on that one too.)
After the fertilizer and nutrient rich topsoil washes off, it gets swept into streams, which take it to rivers, which take it to lakes or the sea. At each step along the way the amount of fertilizer grows and grows, as rivers and streams combine. This is known as agricultural runoff. The Mississippi river concentrates all of this agricultural runoff and delivers it right into the Gulf of Mexico, where it does exactly what fertilizer is supposed to do: it fertilizes. More specifically, it, along with all that topsoil, fertilizes algae.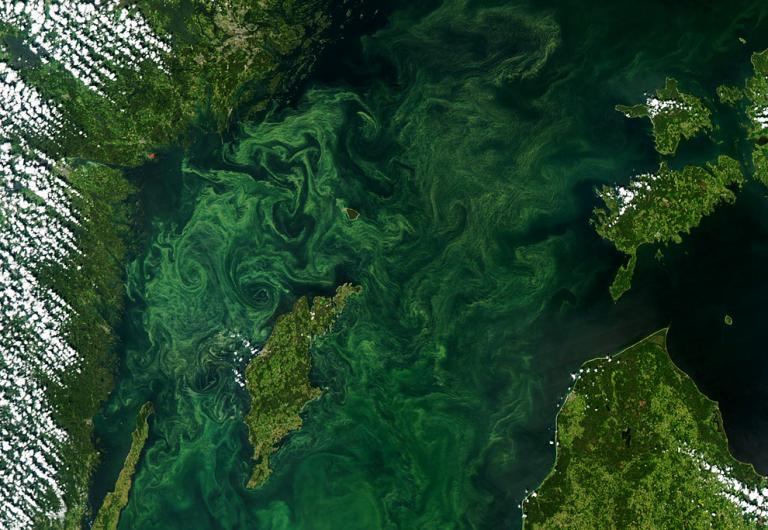 These algae blooms in the Baltic are responsible for the world's largest dead zone, of which only a part is visible in this satellite image. [Image source]
All the extra nitrogen and phosphorous makes for an epic feast for various phytoplanktons, including cyanobacteria (green algae), diatoms, and dinoflagellates, among others. Their growth is normally only limited by the availability of nitrogen and phosphorous. Their metabolic processes use up much of the oxygen in the water, and their decomposition as they die use up the rest. They also block sunlight from penetrating far into the water. Cyanobacteria are the usual cause of your standard dead zones. Not all of them produce neurotoxins, but some do produce microcystins, which destroy mammalian nervous tissue.
The other main type of algal bloom might be a little more familiar to you, especially if you're a sports fan. Known as red tides, they're caused by diatom and dinoflagellate blooms- mostly the latter. Dinoflagellates, interestingly, are close relatives of the photosynthetic microorganisms that live in a symbiotic relationship with coral polyps. While red tides do cause oceanic hypoxia, it usually isn't to the same degree as cyanobacterial blooms. Their main hazard? They produce extremely high concentrations of domoic acid, a neurotoxin that produces seizures in higher vertebrates (whales, humans, birds, etc), especially as it moves up the food chain. They can also produce brevetoxins that interfere with your nervous system, which, terrifyingly, can become airborne. What makes it more fun is that not all red tides produce toxins, and some red tides that do produce toxins produce no discoloration- they're essentially invisible.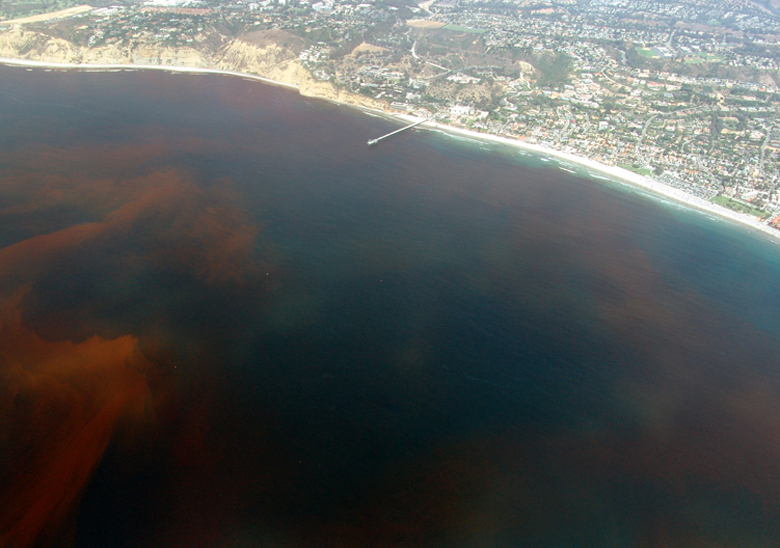 A red tide off of La Jolla, California.
These dead zones are huge threats to not only oceanic ecosystems but to human communities and economies. Unfortunately, they don't just show up in the ocean- they show up in freshwater bodies too, especially cyanobacterial blooms. They quite often produce neurotoxins as well. Regardless of where the algal blooms form, any toxins formed by them have a tendency to accumulate in life forms nearby. This leads to things like neurotoxic shellfish poisoning in humans.
There is some hope for the dead zones. As soon as the extra nutrients reach them, the blooms start to die off. The Black Sea was once the largest deadzone in the world, but disappeared entirely between 1991 and 2001 after the Soviet Union collapsed- the farmers in the area couldn't afford unsubsidized fertilizers. The Black Sea fishing industry, which the region was dependent on, disappeared entirely during the Soviet years. The dead zone killed off all the fish. With the vanishing of the dead zone, the fishing industry is thriving again.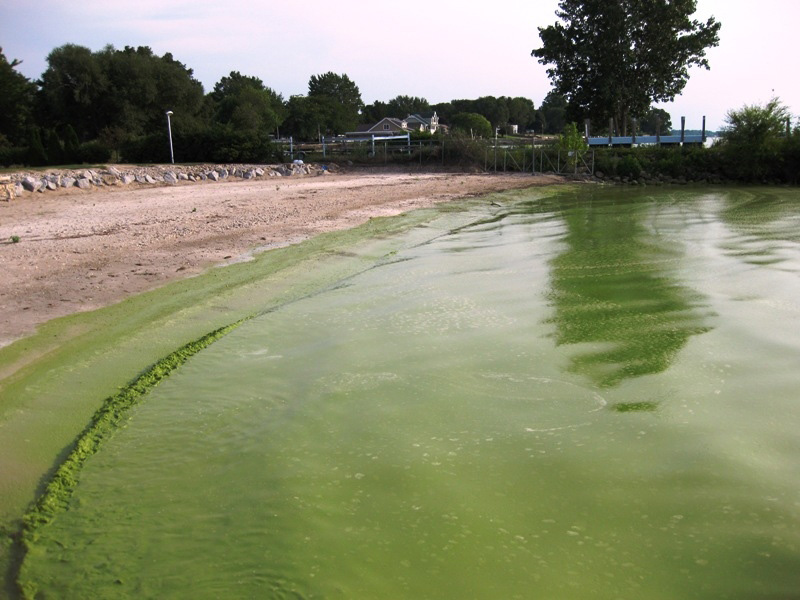 A freshwater algal bloom in Lake Erie. [Image source]
It should also be noted that while most of the problem is due to agricultural runoff, it isn't entirely to blame- heavy industry and sewage can also contribute to the problem heavily. Overfishing can contribute to the problem as well. The overfishing of Baltic cod has led to a population explosion of sprats, their favored prey. The swollen sprat population then devours zooplankton, which normally eat algae, giving algae populations to swell in turn with access to fewer nutrients than they would otherwise need.
So controlling agricultural runoff is a must to fight dead zones. The best way to do that? Change our agricultural practices. Convert to no-till farming. Multicrop fields. Use drip irrigation and other water conserving methods. Grow region appropriate crops- you don't need to be growing wheat and corn in the middle of the desert. Switch from massive industrial farms to smaller, more versatile family farms. Controlling water pollution from contributing non-agricultural sources helps as well. Though there has been research into large-scale engineering solutions to restore oxygen back into the water, the general scientific consensus is that those solutions would be ineffective or incapable of accomplishing the task.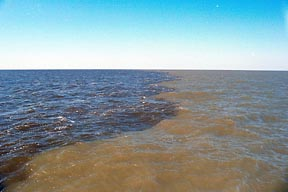 The edge of the dead zone in the Gulf of Mexico. Note how sediment laden from the Mississippi River it is. [Image source]
Even after the dead zones are gone, however, there will be lingering side effects. Any species or local populations driven extinct by the dead zones will remain extinct. In addition, species that can survive better in low oxygen conditions, like jellyfish, will recolonize the dead zone first, or occasionally even survive through it. This can radically and permanently alter ecosystems, especially since prey species often eat the young of their predators, and without large amounts of adult predators to control their numbers, end up dominating the new ecosystem.
---
Bibliography:
Dirt: The Erosion of Civilization, by David R. Montgomery
The Ocean of Life: The Fate of Man and the Sea, by Callum Roberts
https://en.wikipedia.org/wiki/Algal_bloom
https://en.wikipedia.org/wiki/Harmful_algal_bloom
https://en.wikipedia.org/wiki/Surface_runoff
https://en.wikipedia.org/wiki/Baltic_Sea_hypoxia
https://en.wikipedia.org/wiki/Red_tide
https://en.wikipedia.org/wiki/Haber_process
https://news.nationalgeographic.com/news/2010/02/100305-baltic-sea-algae-dead-zones-water/
http://www.netstate.com/states/tables/st_size.htm
http://www.nationmaster.com/country-info/stats/Geography/Land-area/Square-miles#-#a