Only In Aceh, Wifi Usage in Public Shops 👏👏👏
LHOKSEUMAWE - All gampongs in Kecamatan Meurah Mulia, North Aceh now have qanun that regulate about using wifi (wireless fidelity) in coffee shop (warkop). The Qanun is already running and has the full support of local muspika elements, especially the Meurah Mulia Police Station.
Lhokseumawe Police Chief, AKBP Ari Lasta Irawan, through the Kapolsek Meurah Mulia, Iptu Boestani SH MH, Sunday (24/6), explained that the formation of qanun gampong about the use of wifi in stalls in Meurah Mulia Sub-district based on complaints of guardians and also clerics, free students access the internet in the stalls that provide wifi facilities until late at night. "Considered the complaint, then we Muspika elements make a meeting with all keuchik and ulama leaders in Meurah Mulia, so that formed qanun gampong," he said.
The contents of qanun gampong which reinforced the appeal with Meurah Mulia Muspika element that is, every night the new warung owner can activate wifi after Isya prayer until 24.00 WIB. For students, it is only allowed to access wifi in a warung only on Saturday night (Saturday night) starting after Insha Pray until 22.00 WIB. "Special school children, also should not access wifi in the stalls during school hours," he explained.
If anyone violates the qanun, firmly Iptu Boestani, will be taken action as stated in qanun. "For wifi users, it will be built in Polsek. As for wifi network providers, the device will be revoked and secured in Polsek, "he said.
Recognized Kapolsek, since this qanun apply some time ago, it routinely continues to conduct raids to a number of warkop. So that had secured the users or wifi providers who violate the qanun.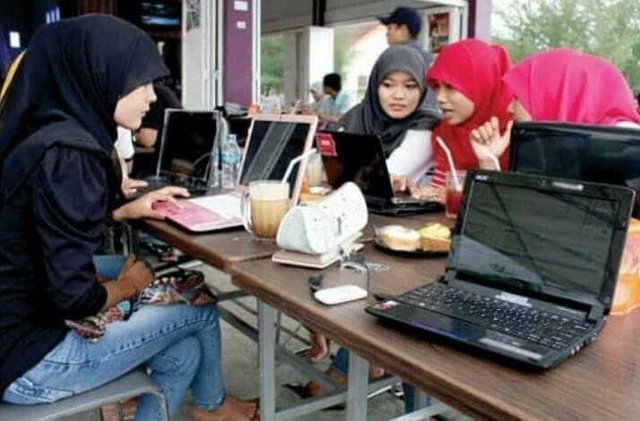 Special students or the general public who found violating the qanun, then immediately taken to the Polsek for coaching, then returned to the family. "As for wifi providers, we take the initial stage to the Polsek, then make a letter of agreement to not violate anymore. When re-caught, the wifi providers are willing to disassemble their own wifinya equipment.