4600 ft to Mauna Kea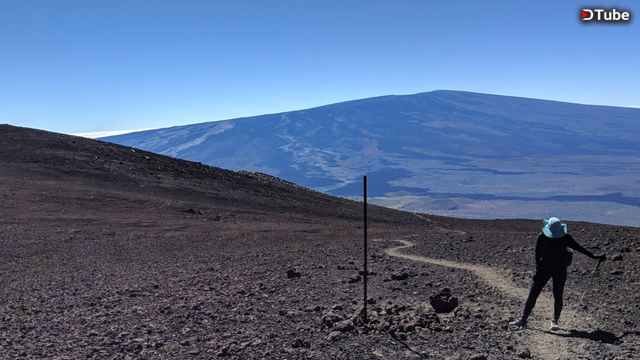 ---
Another hike @dhimmel and I did after attending the Pacific Symposium on Biocomputing in Hawai'i #PSB2019. This time, with some assistance, we climbed to the top of the highest volcano in the world, Mauna Kea.
I was nervous to start this hike because we had been just at sea level the day before. Lucky for us, the 250 mg of acetazolamide consumed within 24 hours before the hike helped reduce some elevation sickness symptoms. At 10a, we started hiking from the visitor center at 9000 ft, to which our rented Nissan Versa had barely made it due to low oxygen level for combustion at high elevation.
While the weather was perfect, the first half of the hike was quite challenging. My legs felt heavy. Progress was slow but consistent. We called @jhimmel at one of our breaks and described to him how beautiful it was up there. The second half was easier perhaps because we acclimated more, or because the trail got flatter, or because @dhimmel distracted me from the pain with his exciting debate arguments on Sci-Hub. At one point, we met two unprepared hikers who had started at 8a and were moving very slowly. They lack water, sun protection and thermal layers while suffering altitude sickness. We gave them some water and suggested hitchhiking down after they reach the top (what we did), but we never saw them at the top.
After having a sandwich by Lake Waiau, I felt amazing. The last stretch to the top looked difficult but was a piece of cake compared to when we went from Waipio beach back to the parking lot. At the top, we met some people who had hiked Mauna Loa just a few days before. We were curious about the logistics of the hike, but @dhimmel was unsure about their car-camping suggestion. Anyhow, when we got to our campsite that night, we realized we would have to drive all the way back (~ 2 hours) to hike Mauna Loa the next day, so we decided to save it for next time (when we will SEE MAUNA KEA FROM THE OTHER SIDE.)
These nice people also gave us a ride down. It was quite fun being in their truck bed on the rocky way back. When I called my dad to tell him I was on my way down from the highest volcano in the world, he asked if that was the one with the most advanced telescopes. Yes, dad, yes! I showed him and mom the view but it was hard to see from the car. Nevertheless, getting to video chat with them was a nice conclusion to an awesome day of hiking.
P.S. It would probably have been even more fun if our friend Adam had joined us had he not been lost in Volcanoes national park a few days prior (he found his way out after a cold night in the forest with no tent or night gear). Next time, Adam!
---
▶️ DTube
▶️ IPFS