Steem Secrets #2 (Delivered By @ankarlie): "You Own Steem". We Take Steem To The Moon.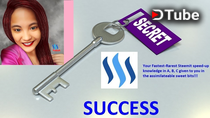 ---
Hi steemit family, I am your girl @ankarlie and I am a minnow but whale inside and I speak to you in the words of @steemsecrets.
Now, while it is established that "you are whale to me", the next important thing to establish within your mind, that will instantly speed-up your steemit journey is: "you own steem". Yes, I do too!
Yes, whenever there is talk of "steem to the moon"; we don't follow steem to the moon; "we take steem to the moon!"
What am I saying here?
"Instead of spending too much time dwelling on possible reasons why steem is likely to fail, take the high road instead, focusing on how steem can't fail, for the sole reason that "you" are here".
hahaha, what exactly am I saying?
"if you own steem and you are here gidigbamly as owner, then why should steem fail?"
Now, I @ankarlie, am here as well, so why should steem fail? "oh, it won't fail, for we stick solidly around".
"steem to the moon!" say it with me......I can't hear you! "louder"....
(Message From @steemsecrets)
Please follow awesome @ankarlie, if you picked something of special value from this post.
Kindly, follow @steemsecrets on steemit, not to miss out on releases and please keep tabs on its Dtube channel for shareable videos.
Note: We will celebrate each minnow as whales and whales as whales, for "you are whale to me!" Each one will learn while teaching this rare knowledge as we build a shareable library of the fastest-rarest "Steemit" speed-up knowledge in the most assimilateable sweet bits.
Then, fulfilling success, we will attain!
Follow @steemsecrets, so that you never miss out on any release!
Contact us to share in the celebration, else we will be contacting you soon!
###If You Want To Watch & Share A YouTube URL Of The Video Above: