Steemit Community Contributions (D.tube Embeds!)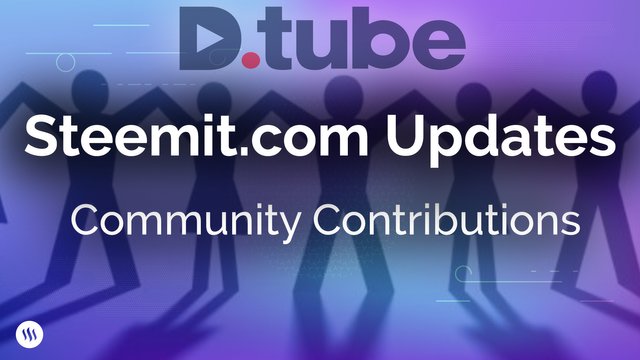 At Steemit, we want to empower community developers to help improve steemit.com and steemitwallet.com. We have an amazing developer community that we have failed to fully honor in the past. We know that many of them have become disillusioned with the process of contributing to Condenser (the software that powers steemit.com and steemitwallet.com) and we want to do whatever we can to reverse that. That's why we are working on updated Community Guidelines that will help developers understand the process and to simplify it at the same time.
While we are developing those guidelines, @roadscape (the architect of Hivemind) is working through the backlog of community pull requests (suggested code changes submitted by developers from the community) and has now either merged, closed, or provided feedback to, all PRs.
D.tube Integration!
We are excited to announce that you can now embed D.tube videos into steemit.com! @tibfox submitted the original PR that would allow users to embed D.tube videos. D.tube was one of the earliest apps to launch on Steem, and the first to offer a platform that was entirely distinct from blogging. We wanted to add this feature when the PR was originally submitted, but security concerns (unrelated to D.tube) prevented us from doing so.
Now that we have separated Steem wallets (now at steemitwallet.com) from the social features of steemit.com, we are able to merge this change without compromising user security. At the time of the Condenser split we explained that this change would enable us to improve both steemit.com and steemitwallet.com more rapidly, and that is exactly what we are starting to see.
D.tube PR: Community - Add support for embedded dtube videos #3296
Here's an example of what it looks like featuring community member @justineh!
Standouts
Here are some of the other improvements that have now been integrated into steemit.com:
From @smittyvb: Add link to @steemitblog in sidebar #3287
Adds a link to @steemitblog ensuring that more users learn about the primary communications channel used by Steemit Inc.
From @timcliff: Community - Update FAQ for HF20 #3285
Helps educate users about changes that were made through HF20 and how they might affect their user experience
From @blockchainstudio (@economicstudio on github): Community - add share markdown (hyperlink markdown copy to clipboard) #3284
Enables steemit.com users to copy hyperlink markdown to their clipboard as opposed to just the URL
Additional PRs
There are still a lot of great contributions in the backlog that we plan on getting to as soon as possible. If you submitted a PR and have received feedback, please resolve any issues and we'll be sure to merge the code as soon as possible.
Special thanks to @blockchainstudio for all the great contributions!
Open Source
One of the things that makes steemit.com so special is that it is an open source social media site built on an open source blockchain. That means that Steem users can help guide the development of the very platform they are using and is one of the reasons we're so excited about the Steem Proposal System hardfork that was written predominantly by the community developer @blocktrades. We believe that empowering our users to help mold steemit.com will be critical, not just to the site's success, but to the success of the ecosystem as a whole as steemit.com still represents one of the primary "faces" of Steem.
Not a programmer?
Even users who can't code can write posts about the features and functionalities they want to see, which developers can then use to inspire code contributions. They can even leverage @utopian-io just as @blockchainstudio did in his post Smart hyperlink paste / copy to clipboard for easy reference. That feature was actually used to share that link! So meta!
Thanks again to the amazing Steem community for contributing to steemit.com whether it's by posting content or submitting code contributions! If you have more ideas for how to improve the site, don't forget to head on over to our github repo!
The Steemit Team