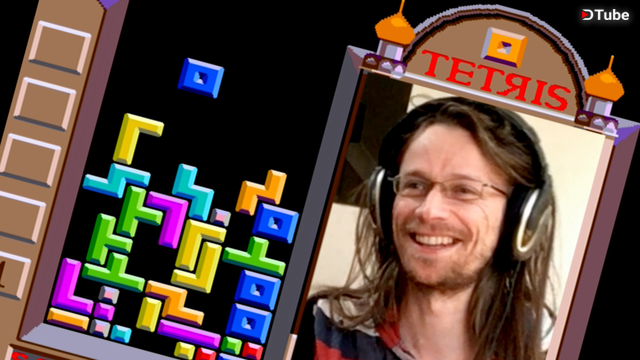 ---
Steemians and DTube family I have GREAT NEWS!..... I DON'T SUCK AT THIS GAME =)
Hitting up an old classic today, one of the oldest (for me) and one of the classic-est... =)
..... A drum roll if you please (as if you hadn't seem the thumbnail and read the title)....It's TETRIS of course!!
I was so inspired to pick Tetris for this video because I saw a some contest where they were all at incredibly high (and fast) levels, and I, @nicolcron wanted a slice of the action for episode 4, of my '3 COINS GAMING' series.
I had forgotten how truly amazing this game is
I remembered playing it as a kid and how you kind of have to stack them more to one side than constantly even... but I dunno!
Early on it was clear that this would be the first ONE COIN EPISODE! Not because I completed it (of course I didn't, c'mon, that must be impossible) but as 3 would have been a 30 minute video based on my time gaming on just the first coin! Ain't nobody got time for that
I also am stoked I got to use my new theme tune for the intro too!
'The Nicolcron Theme' full tune is on DSound, link below
https://dsound.audio/#!/@nicolcron/20190305t164158522z-the-nicolcron-theme-happy-fast-80s-synth-type-beat-instrumental-by-nicolcron
DTube video about the song right here too! Yes, I have been busy =)
Aaaaaanyway, I do hope you enjoy the 4th episode of my ongoing, stupid gaming show '3 coins'! =)
If TETRIS didn't satisfy you then check the previous episodes, below!
@nicolcron '3 Coins' Gaming Show
Ep. 1 - STREETFIGHTER 2 TURBO HYPERFIGHTING https://steemit.com/dtube/@nicolcron/4vs9popa
Ep. 2 - MEGAMAN 2 : THE POWER FIGHTERS https://steemit.com/dtube/@nicolcron/txi4psb2
Ep. 3 - BOMBJACK https://steemit.com/dtube/@nicolcron/zgxnl4mu
Peace and LOVE to you all, thanks for watching!
Have a good one my friends!! =)
LOVE is All
@nicolcron
x
---
▶️ DTube
▶️ IPFS