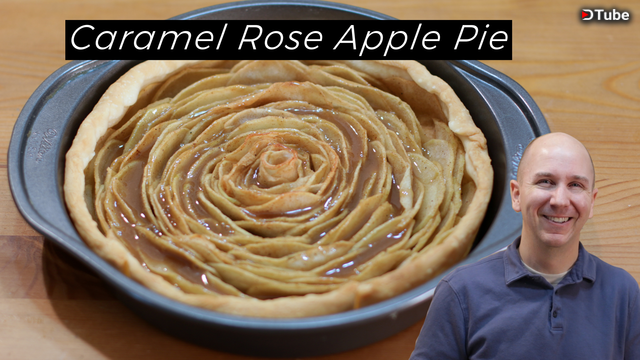 ---
#Hello DTube and Steemians!
In this episode of In the Kitchen with Matt I will show you how to make a caramel rose apple pie. This creative apple pie recipe is pretty awesome and tastes so yummy. It was made popular by buzzfeed and Tasty about a year ago. Want to learn how to make an apple pie? Why not turn up the creativity a bit and make it a caramel rose apple pie! :) It is easy to do, if I can do it, you can do it, let's get baking!
Don't forget to follow me and check out my other posts! :)
If you have any questions or comments leave them down below and I will get back to you as soon as I can.
Ingredients:
Water (about 2 cups)
1 lemon
4 large apples (I like to use Granny Smith, a good tart apple works great) peeled and sliced thin.
1/2 cup brown sugar (100g)
1/2 cup white granulated sugar (105g)
1/2 tsp. of ground cinnamon (3g)
1/2 tsp. of nutmeg (3g)
1 pie crust (homemade or store bought)
1/4 cup of heavy cream for caramel (60ml)
Tools:
Apple corer (optional): https://amzn.to/2YdAqeb
peeler
knife
mandolin slicer (optional): https://amzn.to/2YhqEYm
manual juicer (optional): https://amzn.to/2ulD3Nh
bowls
9 inch cake pan or cast iron skillet: https://amzn.to/2OkjdLs
Aluminum foil
sauce pot
Bake at 375 F (190 C) covered for 30 minutes then uncovered for about 10 more minutes until nice and golden brown.
You can also watch the video here on YouTube if you like: