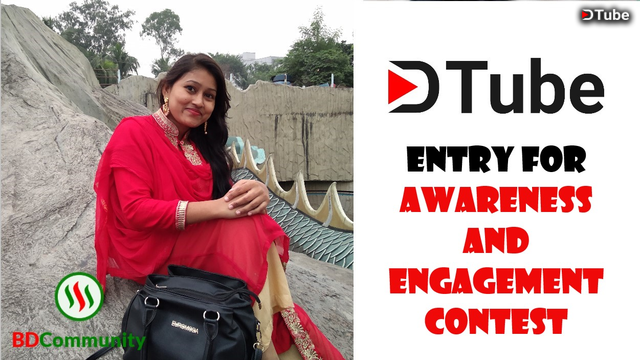 ---
Friends,
Lately I know about the contest from @jeronimorubio with @bdcommunity. #bdcommunity is a great community, I get support from the beginning time.
Now I am happily participate in this contest by giving my answer. My first answer is, I want to add a new feature instant of IPFS. I would like to any smart option which reduce the pain of IPFS system. Sometimes it's make me very mad. So I want to add any kind of feature to reduce IPFS pain.
Now I am giving my second answer-
My favorite content is travel vlog. I like it very much also love it. I know by travel vlog we can learn many new things, we can see many new beautiful places. Though I am not regular, I did not give much time but try to check the travel vlog.
And finally my third answer is-
You know I like travel, shopping and reading. I always trying to share something that peoples like and know something from my vlog. I enjoy to creating travel and informatics content. There is a lot of joy when people know something from my vlog.
Thank you so much for your nice contest.
Also Thanks for support @drisers @onelovedtube & @bdcommunity and always thankful to @nathanmars, @r2cornell, @alphasteem, @brettcalloway, @kenny-crane, @hashcash and @kabir88.
|> tania <|
See the announcement of the contest
https://steemit.com/dtube/@jeronimorubio/fbddfdf8
The Questions:
1 - What feature would you like to see added to the @dtube platform?
2 - What is your Favorite style of Content to Follow on @dtube? (Comical, Informative, Travel, etc.)
3 - What type of Content do You enjoy Creating on @dtube? (Comical, Informative, Travel, etc.)
---
The Rules:
1 - Answer the (3) questions in a Video Response.
2 - Upload your video to @dtube.
3 - Share your @dtube Video Link on #twitter.
4 - Share your #twitter link and @steemit/@dtube link on the contest page here.
5 - Upvote and comment on one other creator's entry post.
6 - Use the tags "jeronimorubio150 & bdcommunity"
7 - Follow @bdcommunity on @steemit. (Optional)
---
Prizes:
First Place 60 #steem
Second Place 50 #steem
Third Place 40 #steem
The Contest Begins today March 2nd, 2019 and ends March 9th, 2019 at 11:59 pm pst.
Winners will be Announced on Sunday, March 10th, 2019 and Prizes will be given out that day.
---
▶️ DTube
▶️ IPFS