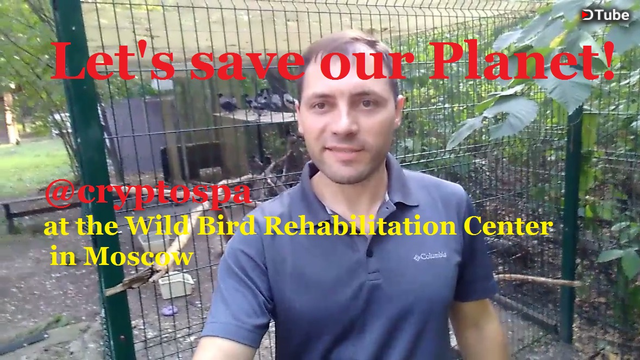 ---
Hello dear Steemians and all good people!
This is a very special video for me! Please watch it! Let's save our Planet!
So, let me start. I was on Sunday, 9th of September, at the Wild Bird Rehabilitation Center in Sokolniki Park in Moscow, Russia, to visit one friend of mine, actually, a wild pigeon that I found in August in the street in a helpless position and later, I brought him to the rehabilitation center. You can read the story about this pigeon below.
But now, I want to talk a little bit about the video and the Wild Bird Rehabilitation Center. People can bring injured or sick birds to the rehabilitation center. The ornithologists (veterinarians working with birds) try to help these birds recover (try to cure them with medications) and later the birds can leave the rehabilitation center on their own, just by flying away. Of course, some birds that cannot recover stay for the rest of their life in the rehabilitation center.
In this @Dtube video I show the Rehabilitation Center, then I show one of the rooms in which the newly brought birds are held for 10 to 20 days under quarantine, while treated with medications. Those rooms are isolated in order to prevent possible transmission of diseases from the sick birds to the healthy ones.
Then I show the one of the aviaries in which the birds are being brought, after the period of 2-4 weeks being in the isolated rooms under quarantine. In the top of the aviary there are holes, so, the birds that fully recover can fly away through and leave the Rehabilitation Center.
Dear Steemians and all good people, please upvote, resteem my post/video! All the money that I will get from this post/video I will donate to the Wild Bird Rehabilitation Center. So, that they can buy food and medications for the birds. I just want to support them.
Now, let me tell you the story about the pigeon that I brought to the rehabilitation center. In August after work I went to a store to buy some food. Close to the store, I saw a helpless pigeon ... and I said to myself: "it seems the pigeon is injured, probably having a broken wing or leg". I realized that either he will die in the street; either he'll be crushed by a car. I said to myself: "I have to help him". But, I realized that while it is light outside it is not better to try to help him, because some pedestrian may say: "What you gonna do with him? Are you gonna kill him?" (There are always some strange people). So, I came again later, close to midnight, and I couldn't find him close to the grocery store. I start walking around to try to find him and luckily I found him about 100 meters away close to one building. So I realized that the pigeon was not able to fly back to his home, but tried to do his best to save himself, finding a place in the street where he could overnight. So, I took it with me (it was not difficult to catch him, because he was helpless and slowly dying). I brought it at home and later I saw that he has problems with coordination. The pigeon was twisting head and neck, moving in circle and couldn't walk normally. It was some weird behavior. I googled it and I found out that it is a very severe disease called Newcastle disease. I read in the internet that 99% of the birds with this disease die. Actually, it is a severe neuroparalytic disease. The birds with this disease die of starvation and thirst slowly, slowly…because they lose coordination, they cannot fly, and they cannot find food and water….The pigeon lived in my apartment in the balcony for a few days and I noticed that he is not recovering. I realized that actually just by myself I cannot do anything. But to take it out of my apartment and leave him outside in the street or in the park would have been very cruel of me. It is like leaving alone a paralyzed person, who cannot move…Of course he will die slowly from starvation and thirst. So, I googled information about what to do with an injured wild bird, and I found a forum about birds and I found information about the Wild Bird Rehabilitation Center. I called the rehabilitation center and arranged meeting with them. Of course, I had to pay 90 SBD for the pigeon in order to be accepted in the center, but I realized that although I am not rich (I live in foreign country, have to pay for my rent, etc.), I have to help this little helpless creature. Or, at least, to try to help him. I said to myself: "I will abstain for buying something for myself, so I will be able to pay for his rehabilitation 90 SBD).
Now, the pigeon is in the rehabilitation center (I showed him in this video). He has number 125 . The ornithologist said the pigeon is recovering and to be honest he looks much better, he eats a lot and they are going to bring him from the quarantine room to the aviary in the next 10 days. The ornithologist said that probably he will completely recover and he will be able to go back to the wild nature very soon. I hope so, as well!
Thank you for reading my story!
Dear Steemians and all good people let's make our Planet a much more better and friendly place to live! We can do it together!
---
▶️ DTube
▶️ IPFS