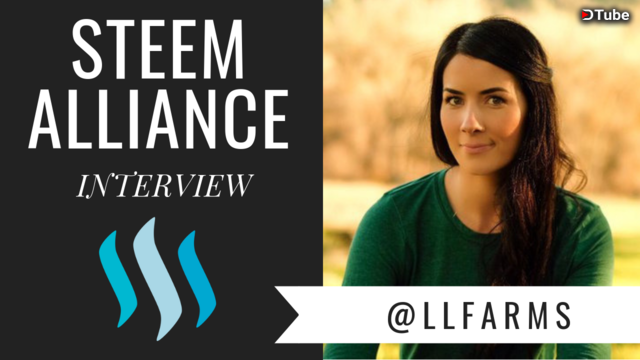 ---
Hi Friends!
I had the opportunity to chat all about the Steem Alliance with @llfarms today. Most of you have probably seen information about the Alliance buzzing all over Steem – but in case you haven't spent much time reading up on it – this interview will be the perfect spot to start to learn more about the project.
Justine (@llfarms) also put out an awesome explainer video a few days ago that really breaks down the basic premise for the project. I would highly recommend watching it! You can check that video out HERE.
---
The Interview
Here are a few of the topics we discuss in this interview:
What the project is… and what it isn't.

The history of how it got started and a basic overview of the project.

What they mean by the word "Foundation" and how that applies to the project.

What are the various proposals and how can people learn about them?

Why do people need to register to vote in advance? (ps… registration closes on April 4th! More details below)

How will the voting work? Is it stake weighted?

How will this group generate funding?

What are the next steps after the community votes on their favorite proposal?

Will there be transparency through the process?

What is the current role of the working group and how will that change/transition as the Foundation begins to take shape?
And much more! Justine has been part of the project since day one and is a wealth of knowledge on all things Steem Alliance.
---
Voter Registration Closes on April 4th!
This is your chance to have a say in a major development happening in the Steem eco-system! The Steem Alliance is a group that has been built by the community for the community and wants to get a large, well rounded turnout to ensure decisions are truly representative of the community's needs.
The great thing about pre-registering – is that you don't have to make any decisions right now. Simply take the two seconds needed to register, and then you will still have plenty of time to review all of the various proposals and make an informed decision when voting time rolls around.
Simply head to This Post and click on the Dpoll link at the bottom to register. You only have a few days left – so don't put it off.
---
The Various Proposals
You will continue to see more information come out from the various proposal groups on their ideas for how the Foundation should be formed. Each proposal group will need to do their best to convince you that their idea is best! Justine and other Steem Alliance team members will be working hard to try and simplify this information for you as well so that you can get a good grasp on how each proposed system would look and operate.
To start digging in and see an overview for each proposal – you can find all the links in This Post.
---
Stay Connected and Informed
To stay up to date on the latest happenings with this project – be sure to follow the official @steemalliance page. You can also join their Discord Server to chat directly with the working group and share your thoughts and ideas.
If you want to support all of the hard work that the folks behind the scenes are doing to bring this to life – be sure to stop by the team member's pages and give them some love! The working group consists of the following members:
@ehiboss, @eonwarped, @inertia, @jedigeiss, @lemouth, @llfarms, @neoxian, @reggaemuffin, @shadowspub, @travisung, @twinner
---
Questions?
We hope this interview helped answer any lingering questions you may have – but if any more have popped up, please leave them in the comment section below! If I'm not able to answer them, I'll work with Justine or another Steem Alliance team member to get you an answer.
Thanks so much for watching and I hope you found this helpful!
---
---
With Love,
Lea