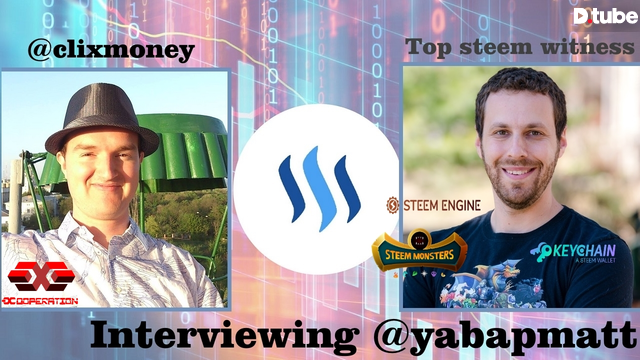 ---
In this video I interviewed @yabapmatt.
He is the top witness in steem blockchain.
He is also the creator of a lot of useful application that are improving our platform.
His most famous work is organizing upvote bots in : steembottracker.com
The website shows all the active bots and it helps to find the best deal between them. It also helps anyone to set his own bot and to compare between them. You can say that's improving the promotion in steem. It has also a delegation tool.
The other cool creation is @steemmonsters , it's a game of cards build on steem that works as well with tron and accepts a few cryptocurrencies and even creadit card or paypal.
You can also use the extention created by @yabapmatt that's called ''keychain''.
It's an extention that save your keys on your local pc instead of sharing them in a website. That really secures our passwords and even helps to organize them. Once you put the key there, you will not need to put it again and again in applications, but just login directly. That way you will never post the key somewhere by mistake.
One of the best project created by him with @aggroed is of course steem-engine.com . It's the place where you can create any token you want just by using your posting key or even keychain. There are a lot of interesting tokens created there and it supports smart contracts as well.
@yabapmatt is making this blockchain so beautiful and active and he is supporting so many projects as well.
Enjoy watching the interview.
Watch the youtube version here :