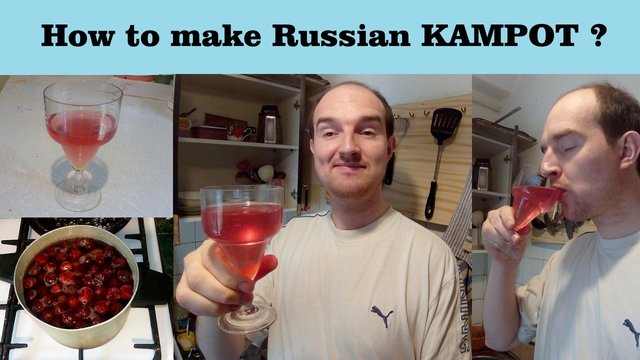 ---
In this video I decided to show you guys how to make the Russian KAMPOT.
Kampot is a Russian traditional drink that can be made of any berries or fruits.
It's really a cool drink, especially in the summer while you can drink it cold.
Mostly kampot is made from cherries and they add some other berries and even fruits.
So, I used cherries and aprikot.
For that :
Fill a casserole with about 2 litres of water.
Put there a bowl of cherries.
Boil everything till the water turns red.
Add any other fruit or berries, in my case aprikot.
You can add any kind of fruit as well, for example pieces of apple.
You can add sugar to make it sweet.
Also try to add some glintvein spices!
To prepare kampot you need just about 15 to 20 minutes. It's fast and really healthy.
When it cools down, you can put it in the fridge and enjoy the drink.
Thanks for watching the video and reading the post. ☺
---
I think @alphasteem and @mrchef111 will be interested in watching the video, because it's related to cooking.
I think @cryptospa and @camuel will enjoy the video because it's related to Russia.
I think @blind-spot and @priyanarc also know what's kampot because they live in Ukraine.
Shout out to my new follower @rollie1212 who lives in Ukraine as well.
---
---
You're welcome to join @dcooperation , the community to collaborate.
Subscribe to my youtube channel here to watch my interviews
Read the white paper of @dcooperation here : DCooperation's white paper !
Check the new project we're starting with community leaders here : Our Steem Network