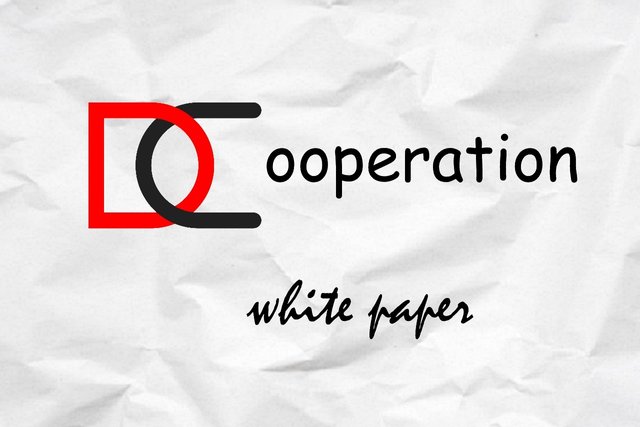 In DCooperation the ''d'' refers to decentralization. So, it's a kind of decentralized cooperation.
Decentralized in terms that it's built on a decentralized platform and it's steem blockchain.
Cooperation means the process of working together to the same end and it's to grow the account.
So, I see it not only as a community of creators in the future, but a big organization that will give the opportunity for every creator to profit from it. As ideologists we can work on that all together and improve it and create something really huge.
Contents :
Collaborations.
Shows:
2.1. Our steem.
2.2. English it.
Curation.
3.1 Delegators.
3.2 Newcomers.
3.3. Supporters.
3.4. Curators.
Content for upvote.
Qtube ( quality posts ).
International DCooperation.
---
1. Collaborations :
DCooperation can mean as well Decentralized Collaborations. So, the main idea is to make steemians collaborate with each other, with other steem communities and even crypto communities.
The collaboration can be in form of a video, audio or even writing. It could be a video or audio conference, or a post written together, or graphics created together, or a any kind of task done with more than one steemian.
Collaborations are important to improve the relation between members and to make the content even better.
2. Shows:
Shows are to make us meet to spend a good time together, to brainstorm ideas and that can be also a recorded content that's interesting to share.
2.1. Our steem.
It's a show for steemians to help newcomers and those who have any questions about steem and dapps. We will have there a chat to make creators share their content and we can discuss it and it will be promoted and even supported by our partners if they like it.
The special thing about this show is that it can be hosted in any other community as well. That way we will break the walls between communities and promote each other, so the more communities will be invovled in this, the more awesome the show will be.
2.2. English it.
It's a show to help non native speakers practise English and improve in it. Since steem is an international community, native English speakers can just join to help non native speakers practise English to feel more confident creating content.
To this show you can invite anyone from the web, even if those are not steemians. So, those who are interested in practicing English with native speakers will join us and practice it absolutely for free. We can give them home work to do for example and they will have to join steem, to write something in steemit, or even to record something in @dsound or @dtube or other apps.
3. Curation.
It's one of the most important parts of the community. It's completely manual, and I'm @clixmoney , the only one who has the access to @dcooperation account. I have 2 years experience in steem. I'm delegating all my power to the account and I'm not upvoting myself. This is my dedication to the community, so I don't worry about the curation rewards, but I just upvote those members who are doing something for our community.
3.1 Delegators.
For now we have exactly 39 delegators and those are : @cryptospa @calisthenicsdrop @robertandrew @holgerwerner @steemflow @behelen @soufiani @bobaphet @emsonic @hafizullah @eftnow @rehan12 @mamun123456 @freecrypto @iamjadeline @steemitbaby @thecrytotrader @camuel @paulag @mrchef111 @jeronimorubio @clicked @ireenchew @jgvinstl @dmilliz @saiful39 @ilazramusic @zekepickleman @certain @hmetu @jozef230 @veganroma @madushanka @romafedorov @mjtravel @alokkumar121 @mediumjack @fruitdaddy
The rule of delegators is : Less than 100 sp delegated, 1 full upvote in 14 days, 100 - 200 , 1 full upvote a week, 200 - 300 , 2 full upvotes a week, and go on, till 700 sp and more and that's 7 full upvotes a week or 1 upvote everyday and that's the maximum I give.
3.2 Newcomers.
Those who join us and create an introduction video or post to our community. So, we will be able to know them better and they get supported as well. They should just write in the title that they are introducing themselves to our community and use the tag #dcooperation to be found easially by other members.
3.3. Supporters.
Those who are doing any kind of good thing to the community. Including those who participate in our collaborations, those who translate for us posts to other languages and any kind of support is welcome.
3.4. Curators.
Any delegator can he a curator by asking me to upvote anyone he/she wants and he can use his deserved upvotes depending on his/her delegation for that. For example, someone is delegating 300 steem power and he/she should have 3 upvotes a week, so he/she will be upvoted twice and the third upvote I can give to anyone if he/she asks me to do that. In case he/she wants me to inform the upvoted creator about it, I will inform him as well in the comment by @dcooperation.
4. Content for upvote.
This option is for those who want to send us any type of content to share in @dcooperation account. So, we check that content and if it's quality and legitimate, we will share it in the account, we will use all the earning to power up the account and give to the creator an upvote of 100% like we always do.
5. Qtube ( quality posts ).
We have a new initiative called ''qtube'' where anyone can send us quality post that's not getting attention or needs support and we will support it by an upvote. We have a channel in our discord server where our members share with us posts and I choose one post to support. You can as well share the names of people you think should be supported and I will look into them in the next ''qtube''.
6. International DCooperation.
This is for those who want to support the project, to interview newcomrs to give them the attention. So, we will have moderators from all around the world and they can make even interviews in their native language with subtitles in English. So, each one who will interview people will be supported by our account as well.
We consider each legit member who is joining us as a partner. So, we should all work together to grow this account and put our energy in one direction for the better for our's and all steem community.
We are always open to new ideas to improve this community.
Regards.
Here is the link to our discord server : https://discord.gg/UMAMYkP
Subscribe to the channel of our community DCooperation