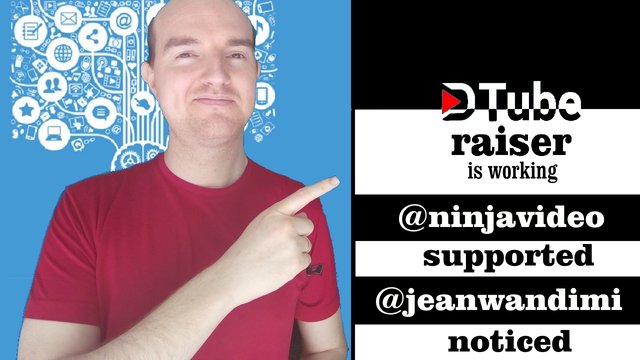 ---
For more details about this initiative read here : Launching ''Dtube Raiser'' - An initiative to support Dtubers !
This initiative will be to support those dtubers who are making videos everyday, but receiving less than 3 upvotes a week from @dtube. I will choose one creater a day to upvote by @dcooperation and I will mention that in my posts.
I know that the team of curators are doing their best to not miss such people and they work hard 24 hours and 7 days a week to support everybody, but it's not enough I think, the community should also do its part.
The upvote of @dcooperation is not that big, it's only about $0.35 , but we are also followed by some of our members what give us a comple upvote of $0.4 and that's not bad.
So, I created a channel on our discord server called ''Dtube Raiser'' and anyone can share links of videos from missed dtubers to support them. I will also try to write reports about those users, so maybe more people will support them. Here is the link to our server in case you want to help : https://discordapp.com/invite/G6BAWzw
Let's #makesteemgreatagain .
Thanks as well for our delegators for making this possible.
If you also care about the platform, I'll be happy to see you supporting me in this.
Some people are on steem blockchain just because of @dtube, so let them enjoy their journey.
Thanks to @heimindanger for noticing my post about this yesterday.
Thanks to @steeminator for doing something about the issue.
---
---
Yesterday I wrote about @ninjavideo who was getting only one upvote a week and he got supported today with a nice 15% upvote from @dtube.
I also told to @steeminator about @jeanwandimi that she was getting 0 upvotes a week even with creating nice videos, and she was supported already twice after that.
I'm really happy that my initiative got supported by the team.
We are all one steem family after all.
I want as well to mention that after creating this initiative, @rem-steem wrote in our discord server, that she may join @dtube. So, this initiative is also making other steemians thinking about joining @dtube and that's great.
If you can't upvote those content creators, support them at least by a comment or a follow.
---
---
You're welcome to join @dcooperation , the community to collaborate.
Subscribe to my youtube channel here to watch my interviews
Check the new project we're starting with community leaders here : Our Steem Network
---
▶️ DTube
▶️ IPFS