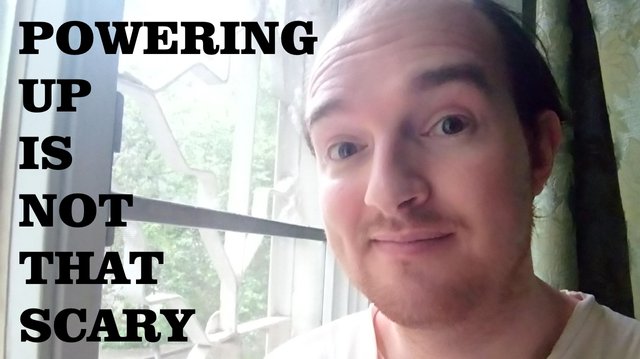 ---
I just realized after being on steem more than 2 years that powering up is not that scary. ☺
All this time I was afraid to power up because I use all the earning to pay my bills and taxes.
But now I have a lot of power I think and I'm a dolphin and I have to enjoy a bit my hard work.
I always was thinking that powering down is kind a crime because it seems like you are leaving the platform.
But I noticed a lot of people powering down, not only because they want to leave, but they don't want at all to do that.
Even dapps earn from powering down and I think that's ok as well, I just have to look at things from the other side.
Anyway, I hope that I will not forget to always set my rewards to 100% power up.
That's not only make us power up and grow faster in the platform , but that's profitable as well.
I know that's not a lot, but we all have some interest from our steem power, the more steem power you have, the more that interest will be.
For example if you are posting in steemit, you will find that button where you can choose 50/50 or 100%.
I will always choose 100% from now and even in @dtube we have that choice in the advanced mode.
Let's not be afraid to power up, because we can power down that anytime.
I clicked today the first time during this 2 years on the button of power down to see what happen and guess what !
My 5000 steem power in case I power up gives more than 400 steem a week, that's awesome.
I will power up from now all my earning.
That's really great to learn about something new.
Enjoy the video with the background sound of the rain and a cat saying ''miyayooo''. lol
---
---
You're welcome to join @dcooperation , the community to collaborate.
Subscribe to my youtube channel here to watch my interviews
Read the white paper of @dcooperation here : DCooperation's white paper !
Check the new project we're starting with community leaders here : Our Steem Network
---
▶️ DTube
▶️ IPFS