Lower Floor Shooter Mandalay Bay - Taxi Driver Full Length Vid With Statement on Location of Shooter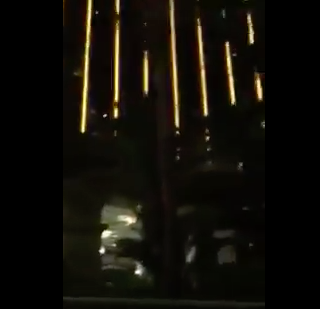 ---
Posted at Steemit for Posterity: Versions of this video are already being reported as being removed by You Tube.
Video taken by female taxi driver who was under the shooter in the front taxi staging area of the Mandalay Bay hotel at the time of the Las Vegas massacre. The taxi driver looks up at the window where the firing appears to be coming from at the 4:57 mark and states "it seems like its coming from up there" as the camera clearly shows rapid bursts of light emanating from a window in perfect syncopation with the sound of machine gun fire. She then proclaims "oh shit". She films the building for a few more seconds before stating "alright, I'm outta here".
At the 6:00 mark the radio controller states " Can you guys clear that up and let us know what is happening?" The taxi driver then states " alright, well I was up at the Mandalay Bay and.....oh my god now there are stops everywhere..........it seems like its coming from like the 10th floor of the Mandalay Bay. I don't know. God this is insane".
Her statement to the taxi dispatcher, in regards to the 10th floor, highlights that she personally believes that she saw the shooter as shown in the earlier portion of the video.
For additional videos and information related to a possible lower floor shooter, please check out the following post:
https://steemit.com/news/@clarityofsignal/examining-the-currently-available-videos-and-information-from-the-october-1st-2017-las-vegas-terror-attack
---
► Watch on DTube
► Watch Source (IPFS)