ผักผัดเม็ดมะม่วงหิมพานต์ - Stir Fried Vegetables with Cashew nuts.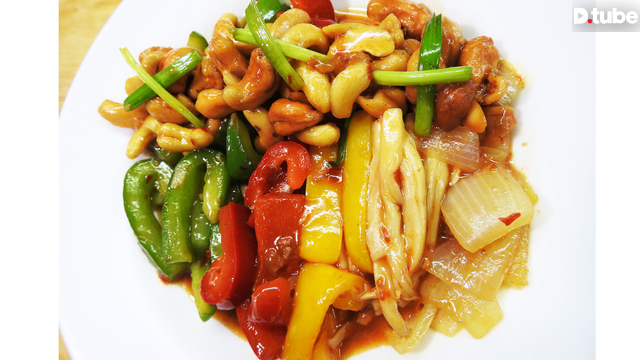 ---
ผักผัดเม็ดมะม่วงหิมพานต์นี้ดัดแปลงมาจากไก่ผัดเม็ดมะม่วงหิมพานต์ เมนูนี้เป็นที่ชื่นชอบของหลายๆคน เดิมทีแล้วใช้ไก่เป็นส่วนผสม แต่ฉันเปลี่ยนจากไก่เป็นเห็ดออรินจิฉีกแทน แล้วก็เจอว่ามันอร่อยดี เห็ดฉีกเก็บรสของซอสได้ดีและเข้ากับความมันของเม็ดมะม่วงหิมพานต์ พริกหวานสามสีช่วยให้ผัดมีความกรอบและสดชื่น ดังนั้นเราควรปล่อยเจ้าไก่ เพื่อนร่วมโลกของเราให้มีชีวิตของเขาไป แล้วกินผักผัดเม็ดมะม่วงหิมพานต์นี้กับข้าวสวยกัน หวังว่าทุกคนจะสนุกและอร่อยกับอาหารมังสวิรัติวีเก้นนี้นะคะ...ศิริทิพย์ Sirithip
Stir Fried Vegetables with cashew nuts. This meal is simple and popular in Thailand. This meal is not too spicy for you. Normally, this meal will use chicken, but I changed it to use shredded king oyster mushroom and discovered that it was delicious. Shredded mushroom can retain the flavor of sauce well and also fit the flavor of cashew nuts. Fresh Sweet peppers and make your stir fry crispy and feel fresh. So you should leave your friend chicken alive and eat this with rice. Hope you have fun and enjoy your vegan meal.