3 Places To Visit In Banff National Park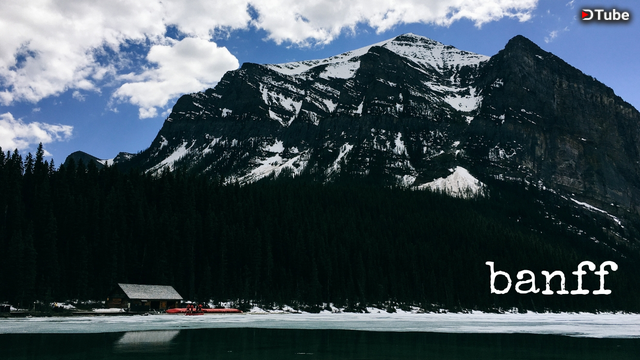 ---
I'm not sure if it was the fresh mountain air, or the sheer excitement of being somewhere completely new, but every time I went on a trip in Banff, I was full of energy. One thing I really loved about it was that most of them are not really guided tours. You are kind of left to your own devices, which I really like.
If you hire a car, you'd be even more free to go farther and stay longer anywhere you like. You could also opt for a bicycle but the roads can be a little challenging up the mountains if you're not fit or a competent cyclist.
The following are my three favourite places I visited while in Banff.
---
Lake Minnewanka
I jumped of a 5km bus ride from Banff station to the lake bright and early in the morning. The journey to the lake itself was quite nice. The ever-present mountains provided a stunning view behind the forrest trees that lined the roads. Occasionally the roads would run parallel to a stream of crystal green water.
The bus is on a regular schedule back and forth from Banff town, so as long as you've paid for a return ticket, you are allowed to jump on any of them. Just be careful not to miss the last one.
Lake Minnewanka is a glacial water body 21km long and 142km deep at the deepest points. That's a lot of water! It's extremely impressive and a beautiful site to behold. Like most lakes in Banff, it does freeze in the winter months, but being late May, it was freezing cold, but it had totally melted. As such, the boat rides were running, which was delightful.
We had a knowledgeable driver/tour guide who gave a lot of information about the lake, the mountains and the vegetation around the water. We were told about the mountain lions, bighorn sheep, bald headed eagles, bears and wolves that call the Rockies their home. We even spotted an eagle and some bighorn sheep doing their thing on the barren rocks. Apparently it wouldn't have been a strange sight had we seen wolves or bears too. I was glad to be on the boat and not hiking the mountains like some crazy people did.
After the boat ride, I took a short walk in the presence of some folk that seemed more confident than I was. Again, apparently, we could run into bears or a wolves. We should hope, apparently, that it wasn't a grizzly bear or the wolves weren't in a pack. Sigh.
There's quite a lot to do at Lake Minnewanka for the nature lover. There's mountain hiking/cycling as mentioned, chattered fishing tours or you can even hire your own little boat of canoe if you want.
My favourite thing I did there, apart from the boat ride, was just sitting down and taking in the view while having my lunch. There are picnic areas which appear to be popular with families, but there are also these red chairs dotted around the lake sides which are there for everyone's use.
This was the view while sitting on the red chair. Photo taken with my iPhone 6S Panorama mode
---
The weather was just perfect on the day! Late springtime, warm but not too hot temperatures - absolutely perfect for chilling out by the lake or talking a nice long walk along it. Apparently I also went at a low season before it got super touristy, which was just perfect.
The selection of refreshments there isn't so great. There's at least one shop selling souvenirs and snacks, but the selection is understandably very limited. I'd advise brining a bottle of water and your own food like I did.
I think it must have been insect season or something, but I happened upon a swarm of what looked like flies. They seemed to be localised around some of the trees only. I don't know why but I spent a fair bit of time watching the flies swarm while waiting for my bus back to Banff town.
---
Lake Louise
I was taken aback by Lake Minnewanka because I didn't know what to expect. I was pleasantly surprised by how stunning it was there. Lake Louise on the other hand, I knew what to expect, kind of.
If you look on Instagram for instance, you'll see what I mean. It is a highly photographed place because it's so beautiful and people always make an effort to visit if they're in the vicinity. It's probably the most famous spot in Banff National Park.
Yours truly attempting an Instagram classic at Lake Louise, Banff. Photo taken with my iPhone 6S
---
The lake itself is known for two things. In summer, it becomes one of the most stunning sights on our planet with the glacial filled turquoise water. In winter it is an amazing skating lake, since it's frozen solid. Both times, vista is enhanced by the stunning peaks that surround the lake and their glacial caps.
Being May, it was neither solid enough for skating, nor melted enough for canoeing, which was a bit of a shame. I was hoping to do some of that. It is of a higher altitude than Minnewanka, so the lake was still partially frozen.
On the positive side, it gave an outwardly look to the lake and surreal experience to the visitor like myself.
It was the first time I had ever come in physical contact with glacial ice. I've been on mountain tops before, but they'd always been covered with snow, or the ice had melted. This time I was able to touch, hold and examine actual glacial ice. My mind was a little blow by how solid the ice was! I finally understand why the ice didn't just dissolve in the sunshine!
It was 26 degrees Celsius, everyone was in spring/summer clothes but everything around us was frozen. It just didn't really make any sense visually.
There's a beautiful hotel, the Fairmount Chateau, facing the lake which I can imagine one could stay for the full experience. It also means that the food selection there was a lot better than at Minnewanka. There is a restaurant style area where you can eat, but again, I took my own food along, which I happily consumed on a bench facing the lake.
After lunch, I embarked on the trail along the lake to the other side from whence the chateau can be observed in all its glory. Depending on how much water is in the lake, you can actually walk on the sandy (muddy) bank. People have created walking trails out of rocks but be careful not to get stuck in the mud. This is not suitable unless you've got the correct footwear.
It was at the end of the trail that I could touch rocks of ice and be baffled by them :)
The water looked so clean and clear that one could be tempted to drink from it. In fact, I saw a woman fill up a bottle with water coming down the mountain top in a stream. I can imagine that is safe to drink.
There are trails up the mountain from where you can get a better view of the area and, apparently, some coffee, but I had to catch my bus back to Banff town. This tour had a limited time in which to explore.
---
The Gondola
If you are interested in getting a truly breathtaking panoramic view of the Canadian Rockies in Banff, as well as the Bow Valley and River, then the Gondola trip is a must.
You need an entire day for this, because you need to take your time. There is also a lot of climbing, but it has been made easy by a wooden walkway with many resting places.
The station where the Gondola starts is only five minutes away from Banff town by public transport. I used the local bus which gives you a great view on the way up the hilly road.
I'd been in gondolas before, but this was the highest I'd ever been in. You get a 360 degree view of your surroundings as you slowly rise above Banff National Park. If the weather is clear like the day I went, the mountains look simply spectacular!
The gondola takes you to the top of Sulphur Mountain where there's a visitors centre with two restaurants and a shop. It also has some displays and information about the region, with fun things for children to play with. The summit is about 2281 km above sea level.
From the summit visitors centre, you can take a walk along the Banff Skywalk, which is about 1 km long up to the Sanson's Peak Meteorological Observatory. The peak is named after Norman Sanson, who apparently in the 1900's climbed up to the historical stone building to take weather measurements.Reference
The view were really stunning. I found myself taking longer breaks just to take in the amazing view. There were some sheep on the rocks, as well as squirrels and birds of different kinds. The clouds and mountains formed unbelievable patterns in the distance, while the rays of the sun beamed in different directions. It felt quite spiritual there.
Panoramic view from Sanson's Peak taken with my iPhone 6S in Panorama mode.
---
After getting to Sanson's Peak and taking the required photos, I head back to the Observatory, where I spotted those red chairs I'd seen at Minnewanka days before. I decided to take a seat there for a while and observe nature.
View from the red chair taken on my iPhone 6S in Panorama mode
---
I was there till we were told the place was closing. The sun had started to set, and the skies had turned an orange colour, which was a real feast for the eyes. The ride down on the gondola was just as beautiful as on the way up.
---
I did do a few other things in Banff, including some mini trips. I may speak of them some day, but the above three were my favourite that I highly recommend. There was one lake I couldn't make it to sadly. Maybe someday when I return to Banff, I will check that one out.
I hope you have enjoyed this post. I have one more post coming on Canada, but a much shorter one probably.
---
Peace and Love ✌🏿
Adé
All copy and photos are original content by me.
© adetorrent.com
---
▶️ DTube
▶️ IPFS