Have you ever met someone that had difficulty saying no? The person you could always turn to for help. The person that would get themselves in a bad situation if it meant helping someone else. The person that, for some reason, felt obligated to help anyone that asked but could never seem to find a way to help themselves or didn't have the ability to ask someone for help.
Years of this behaviour takes its toll on someone, in many ways … emotionally, financially and it leads people to think it's okay to take advantage of the situation. The more you do for someone, the more they expect and when you have trouble saying no, just imagine where that can lead.
I know this because I am that person and I don't know why I have had this problem my whole life. I've fought hard to change and I'm doing better than I was. There are now only two people in my life that have their fangs stuck in and completely drain me and yet I find it difficult to sever those ties. Why do I feel obligated to these people?
This is definitely something about myself that I don't really understand. I can think logically about it and realize that these people are no good for me and yet when they call… I feel obligated to answer. Knowing this about yourself is enough to drive you bat-shit crazy. Is it a matter of my mind versus my heart? I haven't figured that out yet.
It becomes a vicious cycle though. So-called friends, calling needing a helping hand. You help. You don't hear from them for a while. You call and text, get no response. See their name ringing your phone, you pick up… they need help again. On and on it goes, the revolving door you've allowed until you need help and reluctantly make a call to the person you've helped only to get "I'm sorry, I can't help you" and then you realize that you are on your own and take the steps necessary to erase that person from your life.
Relationships are a balance of give and take. If one person in that equation feels as though they give more that the other, over time, that could lead to resentment and eventually the loss of that person. For me personally, I don't give hints and I don't want to talk about it; I feel as an adult that maybe you should know better. Therefor, I just disappear. This may not be the best way to deal with these situations but it's the only way I know.
I don't usually seek out new relationships and most times if I find myself getting close to someone I put on the breaks and hit the reverse button and nip that shit in the bud. I lock myself in my bubble and I am happy there. It's peaceful and quiet and necessary for my sanity. One day I will be rid of the vultures that are left, it will just take me getting to that breaking point and then I guess I will just poof disappear and ignore the constant sense of obligation that I feel.


This has been my Drop in the Ocean post about Obligation for the awesome BuddyUP community.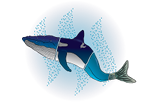 Thanks for stopping by y'all!