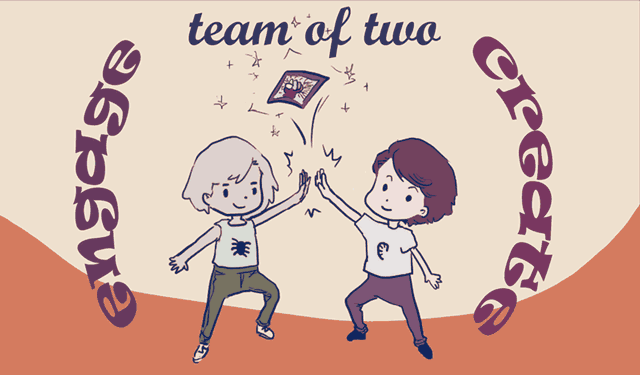 A COLLABORATIVE ENGAGEMENT CONTEST
Idea is to promote and reward authors reaching out to other authors on Steemit in the spirit of driving engagement within the blockchain. To be interested in what others are doing is the most basic step of engagement. And who doesn't want others to be interested in what they are doing? In this spirit, both authors are benefiting by connecting and finding another and forming a team!
Round 1 COMPLETED !!!
5 Teams participated in the inaugural Team of Two contest, each bringing with them their creativity, AND their bond :D Amazing teams all ! Thank you for sharing with us your friendships and teamwork, people <3
Here are the teams taking part in the first round (featured in alphabetical order)~

A collaboration made on the go, I believe they did not know of each other before the contest! And I hope they have gained some interest in each other's blog afterwards :D
Entry piece: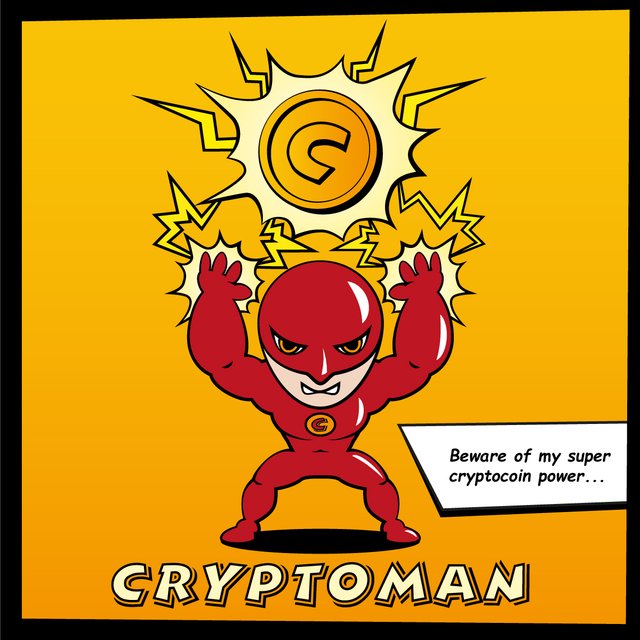 Teamwork:
@bidesign created the design and the caption:
Beware of my super cryptocoin power…
@maxijgcomm coloured the design and added character description:
Cryptoman is an antivirus and antihacker program created by a software developer to protect the crypto market. Superpower is to create super cryptocoin. With this superpower, it eliminates virus softwares and hackers.

A duo of writer and artist, these team brought two different genre to tender in an entry of an illustrated short story, complete with step by step and additional story for those hooked by the premise of Roimh Dhiaidh, the Seer Dragon!
Entry piece: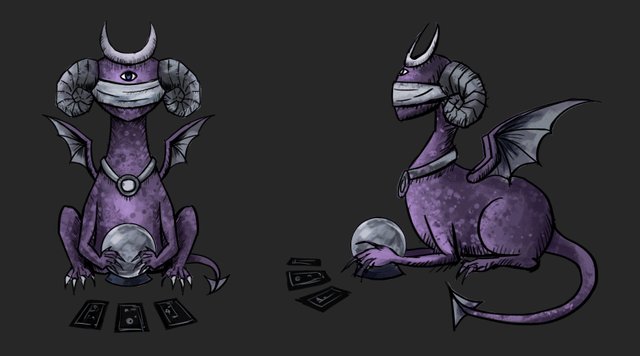 Teamwork:
@kristyglas created the illustration (from design to finished, coloured piece)
@bflanagin created the accompanying story:
"They called her Roimh Dhiaidh, The Great Seer," the old woman begins. "The last known of her kind. If she is even still alive." The woman sits in a chair beside a glowing fire, her audience of one watching her every movement. "They say there lies a cave not but a day's journey from... well ... anywhere, nestled beside a small stream always running, and whose trees are always green. Vines bare fruit the year long and flowers never drop their petals. It is here that Roimh Dhiaidh lives."
The boy shifts a little at this thought. "How can it be a day's journey from anywhere?"
"How can the trees always be green?" the woman interrupted. "Or the fruit always ripe? Magic, my love, magic." She let the last word hang in the air, weightless, ethereal. Then she continues, "The Great Seer is a curious thing, especially for a dragon."
"A DRAGON!!"
"A dragon," smiles the old woman, pleased with the boy's reaction. "But she is not a the gold-hoarding type. No. Or that kills knights for sport, or steals princesses for maids. As far as I know she has never even stolen a single cow or goat. She merely sits in her cave, her third eye always open, Watching the world pass before it does, reliving days as if they are the here and now." The woman looks off into the fire, blinking back tears. "Much like your Gran does I'm afraid."
"But, if she never leaves her cave, how do we even know she exists?"
"Because, child, when someone seeks her out by name, and if she sees fit, then the path will be made clear and the cave will be open to them. But, the future can be a terrible thing to know, any many have lost hope in the search for it."
"Gran, do you know what she looks like? Roimh Dhiaidh?"
"She is graceful and wears a great amulet around her neck that rests against her breast. They say she wears a moon shaped crown above her head that rests there without chain or claps, but that is all I know."

Two artists joining together to create an illustration of their character, complete with the background story of said character! These two have a fused style of working together, each of them worked on both the story and the character's background story.
Entry piece: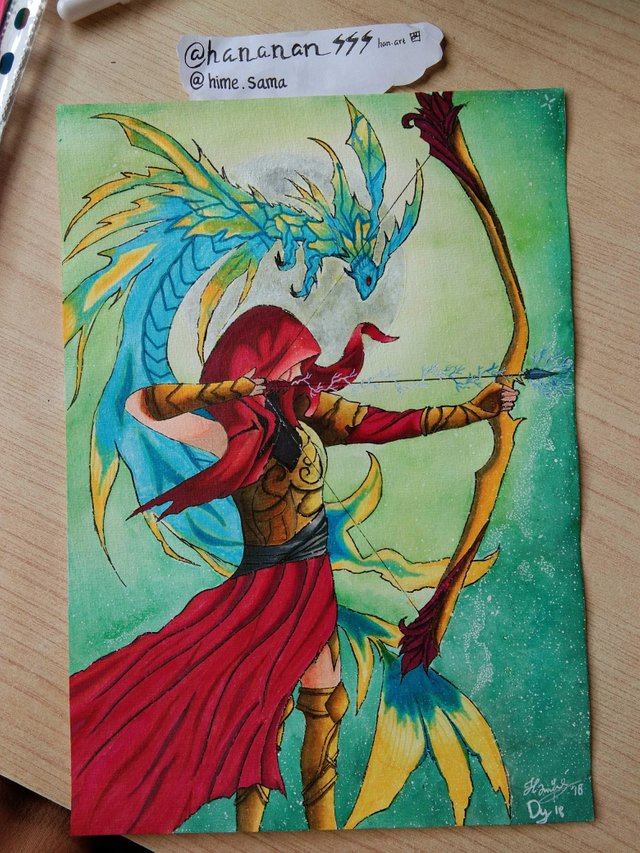 It is just another ordinary day for Andhara, a day where she has to fight monsters in order to keep the world in balance. Many times she's asking her own self about her action, why should she keeps killing those creatures that people called as monsters. Those creatures just like her, they have souls and they're striving for living. It hurts, every time she heard those monsters screaming whenever her bow hit them, she cries, and she cried even more when a soul leave its body. Many times she thinking about leaving, move to the far far away island and restart her live, but the other part of her always stopping her, because if she leaves everything behind, there will be nothing but chaos. Those monsters will run wild, killing humans viciously, leave nothing but silence. So, she get herself together, she knows she needs to kill in order to save thousands, millions or even billions of humans live. Like it or not, within the great power there lies a great responsibility. So, she takes a deep breath, calming herself and continue her fight.
Andhra is girl who blessed with extraordinary power, a power she never asked for, a blessing and a curse for her, a power to exterminate monsters. She can control earth, water, fire and wind elements, she own the bow of Kali, which power invincible, nothing in this world can beat her, she even has a fire dragon as her pet, a creature which power can turn a country into chaos in a blink of the eye, she is a monster herself. Yet, as she fights for humans no one see her as a monster, everybody regard her as a heroine, for her has bring peace in the realm of human.
Teamwork:
@hananan sketched, and coloured the background of the illustration. Also created the story of the character.
@hime.sama edited the sketch, and coloured the character. Also edited the story of the character.

Two digital artists' team ! Both maya and thilah have their own original characters (they both have a lot of original characters, really!) and they created a digital illustration of said characters !
Entry piece: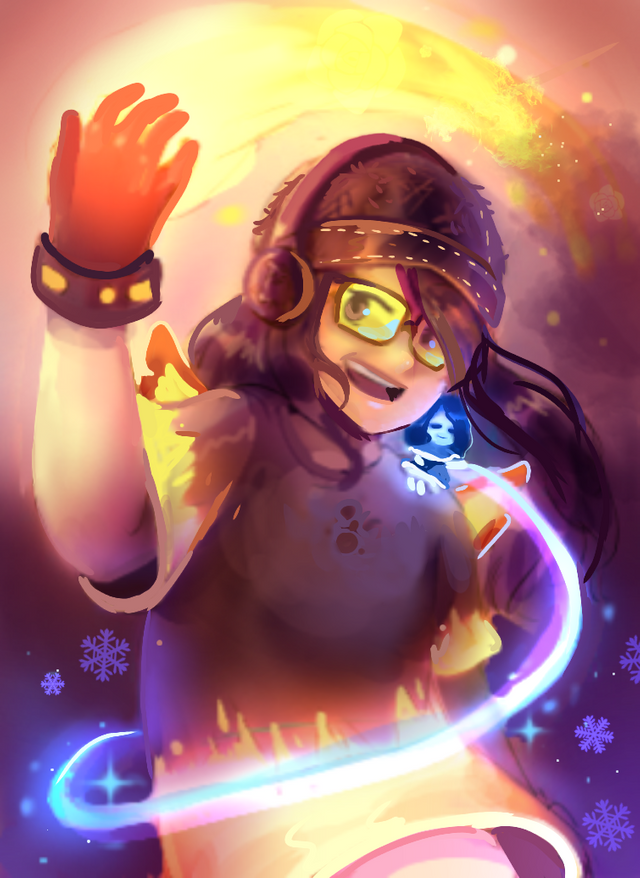 Teamwork:
@thilah created the sketch and design for the illustration
@maya525 coloured and finished the illustration

Two comic artists joined together ! A great partnership where collaboration of traditional sketch and digital finishing are demonstrated well.
Entry piece: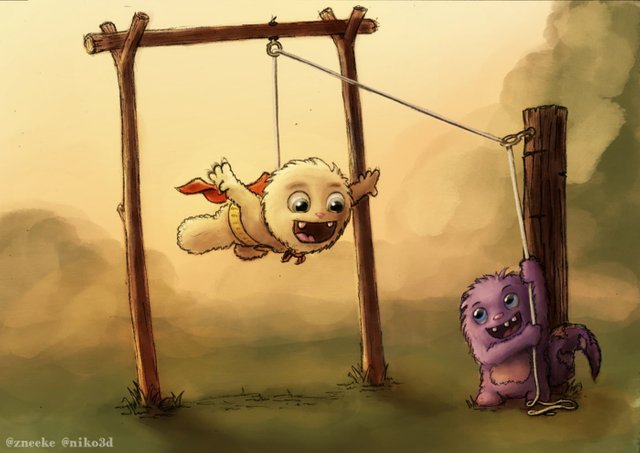 Teamwork:
@zneeke penciled the concept and created the sketch on paper
@niko3d took it to colour with ProCreate on the iPad

Judges' Comments
So, as we come to unveil the winners, I just wanna first say that both me and @scrawly are very grateful that people, very talented people, have taken the time and effort to share with us their efforts and their participation in the first Round of Team of Two Contest !
It is never easy to throw your name into the ring and it is certainly not easy to pick winners from such wonderful entries! Remember that you are all unique and really awesome in your own way, and that this contest penultimately celebrates and showcases not only your artistic contributions but also your spirits and friendships :)

WINNERS
First Place
@hananan and @hime.sama !!!
You have won first place ! 5 STEEMs will be coming to each of your way :D
An outstanding fusion of both team member in each step of the entry <3 Love how you both joined in and placed your contributions at each stage of the collaborative process... The step by step of how your entry came together is presented nicely, and the photos added so much charm !
Second Place
@bflanagin and @kristyglas !!!
You have won second place ! 3 STEEMs each for you both ! :)
Wonderful story and illustration ! The step by step is presented nicely, the character design is creative and appealing, and the finished character portraits are well coloured. The submitted story is well written, setting up a magical fairy tale to accompany the portrait well !
Third Place
Third place winners ! 1 STEEM for maya and 1 STEEM for thilah !
Beautiful pose, with both of your characters featured in a collaborative composition together :) The sketch is very nice, with dynamic pose, and the colours are striking with gorgeous high saturation style. The two of you have incredibly compatible styles!
Honorable Mention
0.5 STEEM for each of our honorable mention entry !
Adorable idea with your supermonsters, pretending that they can fly instead of having a real superpower :D Love the idea and love how respectful the colourist is of the line-artist's work. Really endearing <3 And the video is a nice addition to showcase the process :D
Thank You for Participating
@bidesign and @maxijgcomm <3
A very solid effort, and definitely my applause and gratitude to both of you for entering the contest! Cryptoman has a clean design, with good colours, and certainly has the potential to save the Cryptoworld from ruins :)

Closing
Again, thank you everyone for entering this contest \o/ We are very grateful, and we have had such a great time looking at each your posts, and reading your posts, and marveling at your talents :) This is my and @scrawly's first attempt at holding a contest here at Steemit, and boy, judging sure is a difficult thing to do, hey . ___ .;;;;;;;;;;;;;;;
But anyway, I hope everyone had had a good time, and that the contest have encouraged some of us to take active interest in what our Steemian neighbours are doing, what they are passionate about, and what they are talented in.... As I have mentioned in my comments to one of the commenters of the Contest, engagement is the name of the game for a successful blogging platform, and shouldn't we all do our parts in trying to make Steemit successful ! :D
As for the future of Team of Two Contest,
Stay tuned for now! Me and scrawls are still kind of reflecting and discussing what went well, and what could be improved, etc. If you have feedback, let us know also :D We're open to hearing inputs (since we're really new at this !!)
We will announce what's happening and when, with regards to the Second Round, sometime in the near future ! :D

INKTOBER
Alright, that's been a huge post for today... And it is also the first day of INKTOBER ! So, to those participating in it, GOOD LUCK o/
And here's my first piece for my own INKTOBERODOOM~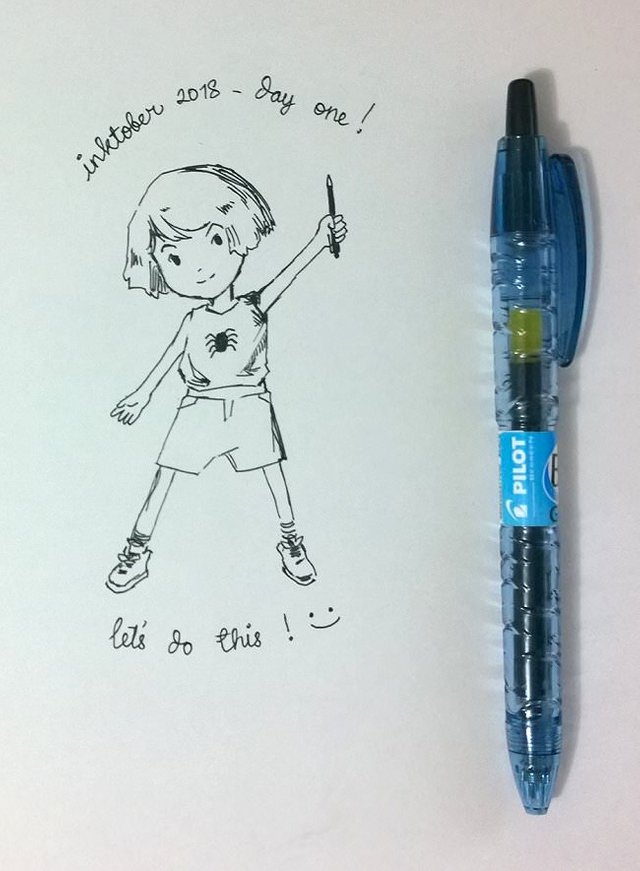 1 DOWN, 30 TO GO !!!! Get your inks out, artists !!!! \o/
copyright @veryspider. all rights reserved.

THE MESOPOTAMIANS - LEVEL UP PROJECT
This contest is borne out of the project managed and initiated by @tcpolymath, The Mesopotamians. Those of you who are active and engaged with Steemit as a blogging platform, and wish to grow your account and do your bits to help the platform succeed, you can read more about it here and here.
Basically, @tcpolymath is using his own funds to provide free upvotes to select users that he has identified to be consistent quality bloggers whose primary intentions are to give back into the platform through retention of valuable content generators and growth of said accounts. He is always on the look out for quality authors, so if you're keen to grow your Steemit, give @themesopotamians your support and reach out to @tcpolymath :)
@veryspider is at Level 3 now and @scrawly's at Level 2 :D
Any questions about The Mesopotamians, please don't hesitate to ask in the comments section :D

To all of you artists out here at Steemit! Hello~ If you ever are lost and lonesome, please join Steem Artists at our discord chat: https://discord.gg/ENN8KCb

We network with fellow artists here on Steemit and we help each other succeed :) Come and say hi~ ^ __ ^


curie curator