dPoll Weekly 43 and Witness Announcement
dPoll Report: Weekend Edition
Table of Contents
About dPoll
dPoll Witness Announcement
What happened on dPoll last week?
Our growing group of Sponsors
Some stats on dPoll
About dPoll
dPoll is a polling application on top of Steem. It utilizes an account based voting system and stores poll and voting data on the blockchain. You can find it at dPoll.io.
Here is a handy How-to for creating dPolls.
dPoll Witness Announcement
In a time where witnesses are shutting their servers because of economic reasons, dPoll is ready to support the Steem blockchain as a platform witness.
If you have a free spot in your witness list consider voting for @dpoll.witness via this handy link.

If you have any feedback, go to our issues page at Github, check out the source code at github repository. or drop by at our Discord server.
What happened on dPoll last week?
@bxlphabet reminds us via this post that HF21 changed the curation window from 15 to 5 minutes:
dPoll Did you reset your autovoting time yet?
---
Investing, trading or HODLing crypto can be quite a ride. Be it the gut wrenching volatility, changing legal frameworks, thefts, scams, loss of keys and more. @trincowski wants to know what you are most worried about:
What is your biggest fear, as a Cryptocurrency Investor?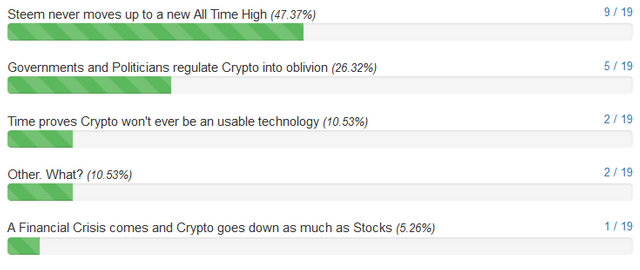 ---
Internet addiction is real. @vimukthi is wondering about Steem withdrawals during HF22:
What Did You Miss The Most While STEEM Was Down?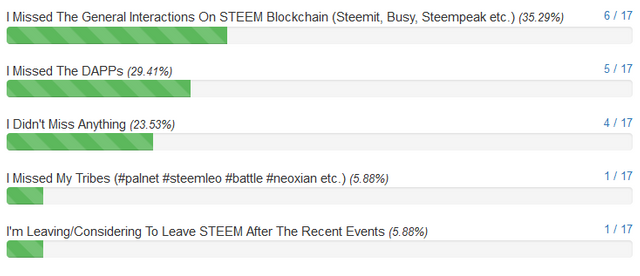 ---
Diversification anyone? @florino thinks its a good idea:
WHICH OF THE FOLLOWING CRYPTOCURRENCIES WOULD YOU RECOMMEND TO DIVERSIFY OF BITCOIN?

---
@akdx is feeling a bit down on humanity:
Is the world becoming a better place for us or is it becoming worse?

An appropriate book recommendation would be: "The Better Angels of Our Nature: The Decline of Violence In History And Its Causes" by Steven Pinker.
---
@travoved is into MMA:
How do you think who will win Khabib or Poirier?
Crowd wisdom worked this time. Khabib deservedly won and Poirier delivered a great fight.
---
@glenalbrethsen is trying to look at the bright side of life:
If The Latest HardForks Were A Type Of Movie, What Kind Of Movie Would They Be?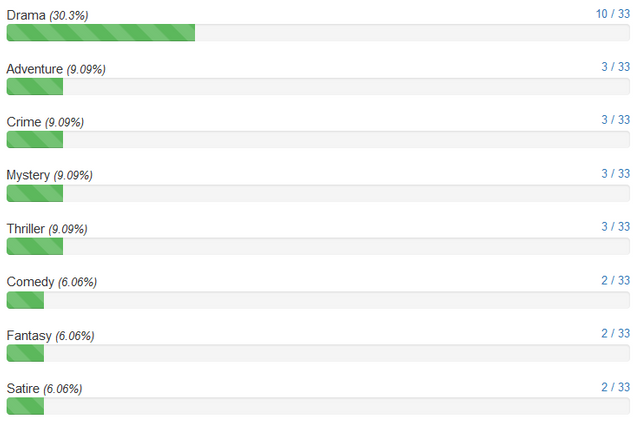 ---
Our wonderful group of supporters
28 Sponsors are supporting dPoll with a total of 19003 SP in delegations.
Thanks to our wonderful sponsors for their support of dPoll:
| Sponsor | Delegation level [SP] |
| --- | --- |
| @realself | 5'000 |
| @chitty | 4'000 |
| @pharesim | 2'500 |
| @shaka | 2'000 |
| @utopian.pay, @favcau | 1'000 |
| @voronoi | 750 |
| @ryanlj, @tolgahanuzun | 500 |
| @techslut, @boontjie | 250 |
| @espoem, @crokkon, @forykw, @cwow2, @isnochys | 100 |
| @mahsumakbas, @devann, @nerdtopiade, @akomoajong, @abbak7, @bluerobo, @axeman, @akdx | 50 |
| @hatoto, @murattatar, @tdre, @mobi72 | 25 |
Sponsors will receive a weekly reward for supporting the project. If you want to support the development and engagement on dPoll, you can delegate some Steem Power and instantly become a sponsor.
---
---
Join dPoll on Discord: https://discordapp.com/invite/ZcV8SGr
---
If you want to support @dpoll.curation, you can also delegate Steem Power.
Steem connect links to delegate: