dPet tipping bot is running!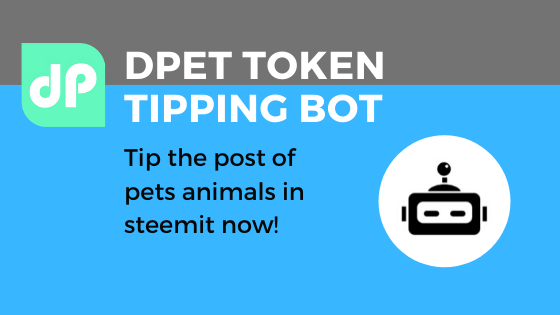 Thanks to the opensource Distribubot developed by @holger80 and @aggroed, we have built the dPet tipping bot! Now let us start to tip the adorable pets, and animals post with DPET tokens on
Steemit!
【What's the tipping bot used for?】
A while ago we created the DPET token on steem-engine.com. Now the dPet tipping bot can be used to send tokens to reward the posts that are pets and animals related, Although the value of the DPET token will fluctuate on steem-engine.com, we see this as an additional encouragement besides steem power, to reward posts about pets and animals.
【Using guide】
type !DPET x (x is the token amount, if don't type x it will default to 1) in the comment of the post you want to be rewarded

dPet will send you a message confirmation, then your token transfer will be made in the post author's steem-eninge.com wallet

You must have at least have 5 DPET token in your own wallet to call the dPet tipping bot. Each user can call the bot up to 10 times each day.
【 How to get DPET token? 】
Delegate to us to get the monthly reward. Here are the delegation links using Steemconnect:
20SP| 50SP| 100SP | 200SP | 500SP

A dPet discord server is at your service, come on over to say hi and make new friends there. Here is the link. https://discord.gg/GYrnsNm
Come join us on discord, together we are building a strong force protecting pets' well-being!

WITHOUT your delegation, our dream cannot come true!