WOW! MUCH ENDORSEMENT! John McAfee Selects Dogecoin as Coin of the Week on Twitter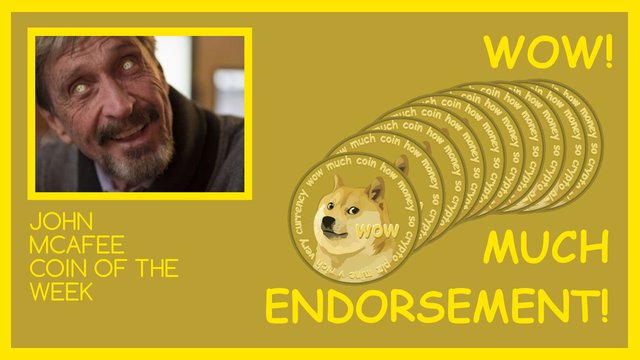 Blockchain warlord John McAfee has named Dogecoin as a coin to watch as part of his ongoing "Coin of the Week" series on Twitter, in which he draws attention to coins and tokens he believes to be worth watching. Until today, the primary focus has been on highlighting interesting ICO tokens, giving Dogecoin the distinction of being the first base cryptocurrency in the series.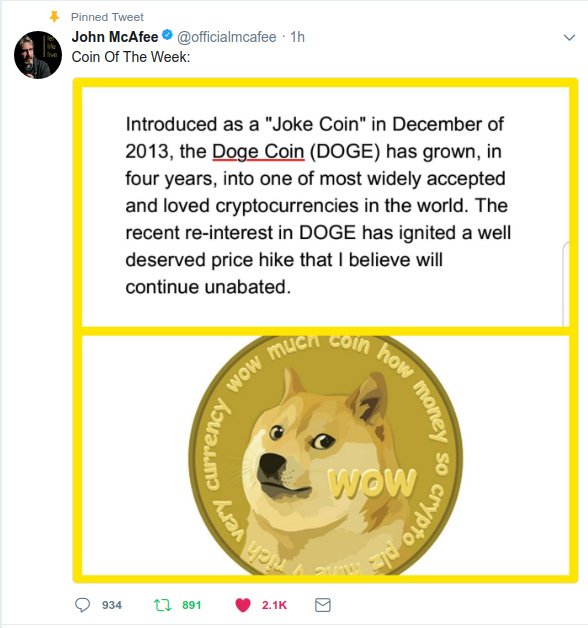 Dogecoin was unleashed upon an unprepared world in 2013 and was originally intended as an inside joke for the cryptocurrency community. The coin was based on a popular internet meme featuring the cartoon likeness of a Shiba Inu dog. Based on the Bitcoin source code, one distinctive difference is that there is no limit to the number of coins that can be mined, allowing for a wonderful utopia of an unlimited supply. There is enough Dogecoin for everyone to enjoy!
Dogecoin may have been intended as a fleeting joke that would die on the vine, but this was not to be it's fate. Instead, it was embraced by an eccentric faction of cryptocurrency enthusiasts that refused to allow the joke to die. Other coins may be better, smarter, but through sheer stubbornness and a refusal to go away, this vibrant community lovingly nurtured the coin to the point where, as of this writing, it has a market capitalization of $1,694,801,684 USD. This may be the definitive proof of the existence of a Supreme Being that mankind has been seeking since the dawn of civilization.
The only question remaining is whether McAfee paid in Doge for his new Bentley and the obligatory hookers and drugs that every Blockchain Warlord requires to live. In an earlier tweet, McAfee claims to have paid for all in cryptocurrency, though he doesn't specify which. One can only hope.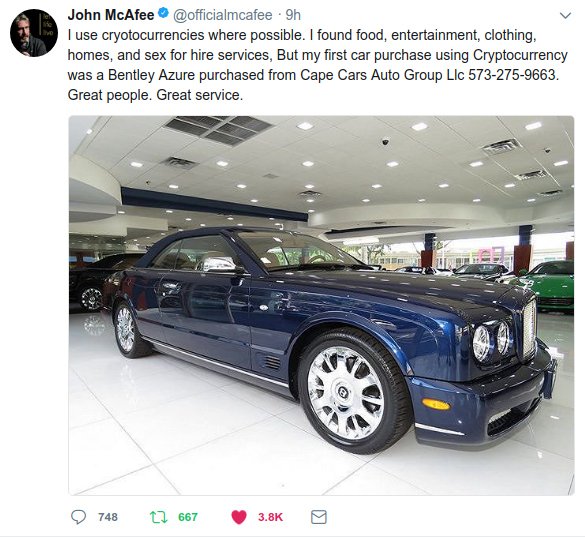 For those new to cryptocurrency, Dogecoin is a great way to learn the basics about holding and moving coins without risking anything. In fact, you can claim free Dogecoins at any number of "faucets" by completing a few simple puzzles. My favorite is the Moon Dogecoin Faucet. The official Dogecoin software works just like other coins and the knowledge you gain can be reused with higher stakes.
And while you're at it, you may want to follow John McAfee's official Twitter feed along with the 600,000+ other people tuning in for his "Coin of the Week" series and for a perspective that cannot be found elsewhere. Love him or hate him, McAfee is an original article. And though no one gets it right every time, the wisdom he is sharing is going to make a lot of people rich.
Wow! Much finished.
Content displaying this logo is published exclusively on Steemit. Why not make it easy on yourself and join up today!
Read more about Steemit Exclusive Content here.