Announcing Fundition - The First Decentralized Crowdfunding Platform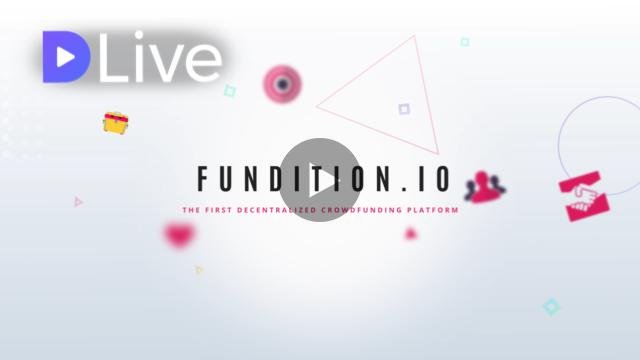 Dear Steem community,
After months of hard work, with the help of my small, but dedicated team, I am happy and excited to release the first platform of FutureShock (our apps incubator) that we believe will make a positive impact on the lives of thousands of people across the world (including yours).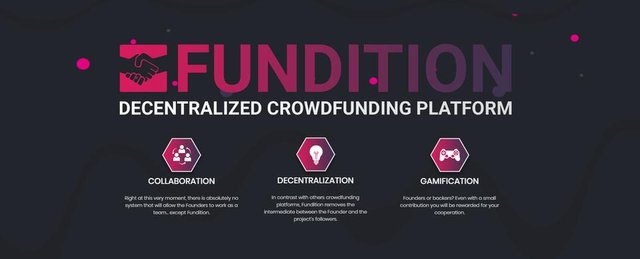 Find out more about our vision for Fundition here: https://purplepaper.fundition.io
Help us change the world: https://fundition.io
As a Creator: We call creators " Founders " for a reason. We invite you to create a Fundition campaign that will support your vision for a better future, whether an invention, a symphony, or a nonprofit organization. Now is the time. This is your chance. Start innovating on this decentralized platform; there are no fees, and all transactions are peer-to-peer. There is literally nothing standing in your way.
As a Steemian: At Fundition, we have a vision of a fairer world, where power is not only in the hands of a centralized few. We hope to instead support projects that foster real and lasting change. We have therefore carefully built into the Fundition platform a system of HEART GIVING. Much like other Steem-based apps, but unlike "likes" on other social media platforms, the "upvotes" (or what we call HEARTS) on the Fundition platform are worth Steem currency, and are supported by the Steem blockchain and its Proof of Brain algorithm. In other words, when you give a HEART to a project, that project will be given currency (Steem) for their merit-based efforts. But you do not necessarily need to reach into your (fiat) wallet to support those projects. (And you will even be rewarded with a small amount of HeartPower in exchange for your support of the project.)

Will We Fail to Change the World?
Throughout history, creators, inventors, and other geniuses have failed to change the world.
Why? – Because their ideas stayed only ideas. We aim to change that paradigm.
Crowdfunding startups have changed the ecosystem for entrepreneurs and artists already, and in recent years, crowdfunding projects have generated billions of dollars in revenue. However, corporate crowdfunding platforms continue to take substantial fees for minimal service. The coffers of these centralized platforms continue to fill up, generating massive profits for the company, without any significant innovation or development.

History shows us that it's creators who sweat and bleed for their innovations, while too often, capital supporters take their ideas and earn large profits. Unfortunately, creators are often left with little to nothing.
This is why we created Fundition. We believe in empowering and supporting artists, creatives, innovators, developers, and entrepreneurs. Directly. In a decentralized way.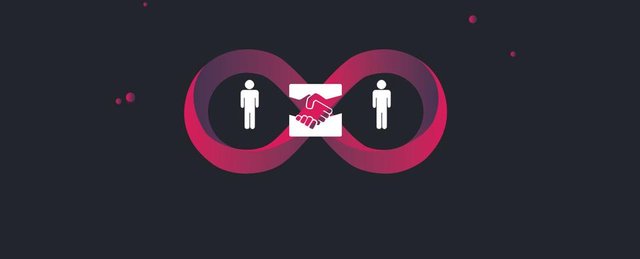 About Fundition & Our Contribution to the Community
Fundition is a next-generation, decentralized, peer-to-peer crowdfunding and collaboration platform, built on the Steem blockchain, that aims to replace extant, outmoded, centralized models such as Kickstarter, GoFundMe, Indiegogo, and Patreon; while offering a valuable solution to link creative entrepreneurs with like-minded supporters.
At Fundition, our goal is to put more time into making Steem grow, instead of trying to increase the value of our account. Our goal is to put coal in the locomotive of the Steem train instead of building a slow train of our own. Our interest is in scaling the community and value of Steem, rather than simply scaling our own endeavor.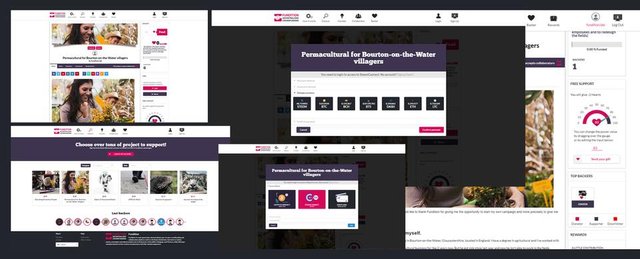 We are using a new system at Fundition called HEART GIVING. This is built upon the merit-based rewards of the Steem blockchain, and it goes one level further. Instead of rewarding projects or contributors with currency or fiat, they are given HEARTS, HEARTPOWER, and lifetime HEART SUPPORT. At the moment all of these gifts are powered by Steem, SBD, and SP, but we are working to develop an SMT (Smart Media Token) called the Heart Token, which will be released in the near future.
I have also come up with something called Proof of Merit (PoM), which is an ethical overlay for the Steem blockchain. Fundition is based on this PoM, and we have a somewhat more detailed description of PoM in our PurplePaper (with much more discussion to come): https://purplepaper.fundition.io
In brief, the idea of PoM is that plankton, minnows, dolphins, and whales should have relative parity. Steem does seek such equality for its users, though it has struggled with uneven distribution (mirroring income inequality in the fiat world). We believe that Fundition addresses both the long-time users of Steem, and the beginners, wanting to get started quickly.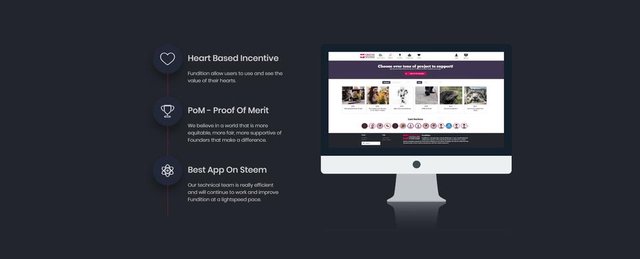 About Our Team
My name is Aytaç Ozden Cetinkaya ( @hightouch ), and I am the founder of FutureShock and the Fundition platform. Before these project, I worked to develop the DTube platform, and I have a wide knowledge of the Steem blockchain's operating system, the thinking process, and the necessity of an ecosystem. Before this work, I spent more than a decade as an engineer, specializing in the research of numerical solutions using mostly Microsoft technology. I live between Paris and Strasbourg, France, where I have worked for many famous companies in my lifetime.
Following my four months of successful work on the DTube project, I made a conscious decision to turn my work next towards building something not only useful for the community, but above all, for humanity. Today, I have no doubt about having gone the right direction.
I took on the challenge on gathering a motivated team (some of them were already active in our associations), to improve the crowdfunding world together, with the goal of building the biggest decentralized crowdfunding community over the Steem blockchain.
Credits :
Fundition Team : @candia, @theshinstory, @enisshkurti, @goyard, @addicttolife, @overmybrain, @burakakdogan, @drkent, @free999enigma, @planetenamek
Fundition Advisors & MVPs : @fredo77200, @infromthecold, @acidyo, @coldbolt, @alucare, @liveyourdream, @nannal
I'm also thankful to @fabien, @reggaemuffin, @redjepi and @cloh76 for our discussions.
And a special thanks for my friend "The Visionary Marksman" Christopher KEO aka @ekitcho who helped me to make this a reality. To be honest, this wouldn't be possible without his help.
We created this platform not only to spread humanity, but to take a position and to bring a new vision to the Steem Ecosystem.
Thank you all for your contributions!
Let's build the future, all together on the Steem ecosystem !
Contribute to our Project
Give Feedback
We are open to your valuable feedback, to be able to build a good product that you may love. If you have any feedback or ideas that you would like to share with us, please comment under this post or feel free to contact us in our Discord channel. https://discord.me/fundition
Support and Share
If you would like to help us with our project, you can support with your upvote on this post. We will be grateful for your help! (ALL rewards from this post will be used to keep the platform on track.)
For business or partnership inquiries, please feel free to email your proposal to [email protected]
You can follow @fundition & @futureshock for our futures updates.
Don't forget if you support the first Fundition's project :
https://fundition.io/#!/@fundition/m33nd7t1k
You will appear on : https://www.saveawhale.fundition.io/
Futureshock video is at DLive