DLease.io介紹 - 一個為社會大眾設計的數位資產租賃平台!
獲得被動收入一直都是許多人的目標,但實現這一個目標的機會卻很少。
區塊鏈技術與加密貨幣結合,為未來投資提供了獨特的機會。特別是應用於產業規模的區塊鏈,具有一系列可行性方案提供實用性及一流的租賃授權機會。
@BuildTeam很自豪地宣布我們的旗艦版數位資產租賃服務DLease.io正式發佈,該服務現已上線!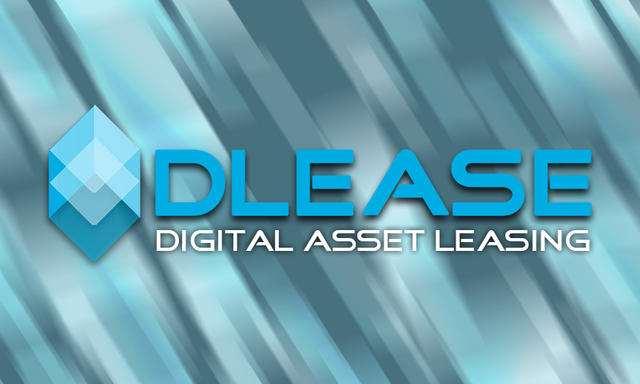 DLease.io簡介
DLease.io是一個革命性的新型專業級數位資產租賃平台。
DLease為用戶提供獲得穩定被動收入的機會,同時利用首創的代幣租賃應用程序,使出租人能夠獲得可靠的日常回報,沒有交易對手違約的風險也能夠完全控制自己對資產的所有權,至於資產託管方面,則無需負擔維修、資產惡化及管理等傳統實物資產需要付出的成本。
在STEEM數位資產租賃的情況下,只有資產的資源效用可被撤銷地被租用出去,而不是真正的資產本身。
而我們的常見問題解答頁面(FAQ)提供了DLease及房地產租賃之間引人注目的比較表。
對於我們服務可行性的信心可以基於DLease的前身MinnowBooster.net,自成立以來已經在STEEM POWER(SP)租賃中成交了近2000萬份租約,隨時都有近2,000份租約正在進行。
除了為STEEM POWER利益相關者創造被動收益之外,DLease還是Steem社群及個人租用STEEM POWER資源以滿足其在STEEM區塊鏈上的交易及社交影響力要求的工具。
對於沒有從2016年成立就在Steem網絡上活躍的新用戶而言,成為Steem上具有強大影響力的地位成本非常昂貴,然而透過DLease.io的短期租賃,為相關利益的效用租出大量股權也將花費一小部分價格。
全新的使用者介面
交易市場介面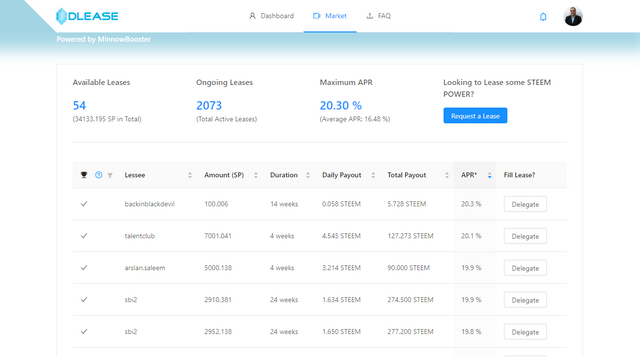 DLease中流暢的市場交易介面使用戶能夠按幾個類別對租賃的請求進行分類,包括:
1.)已發出租賃要求的帳戶
2.)要求的STEEM POWER(SP)數量
3.)請求的租約持續時間
4.)STEEM的每日派息
5.)您在租約到期時將收到的總支出
6.)提供的年度百分比率(APR)%
用戶資訊
DLease提供了令人經驗的用戶體驗,如個人頁面所示,您可以在其中找到有關您的帳戶和租賃統計等重要詳細資訊。

個人資訊頁面特別顯示了您肯定會發現有用的許多重要指標:
1.)STEEM收益(每日,每周和每月)
2.)您的活躍租賃
3.)閒置可用於租賃Steem Power
除此之外,它還可以實時控制及監控您的租約。例如,您可以查看代理SP給誰、代理給每個用戶的STEEM POWER數量,您從租賃SP中收到的APR,租約活動的總時長,甚至是每個計劃到期的時間。
有一個Expired Leases的標籤,其中包含一個計數器,提醒您代理取消時需要使用,以及完整歷史記錄標籤會顯示您的租賃歷史,包括您過去使用MinnowBooster.net的租賃歷史記錄。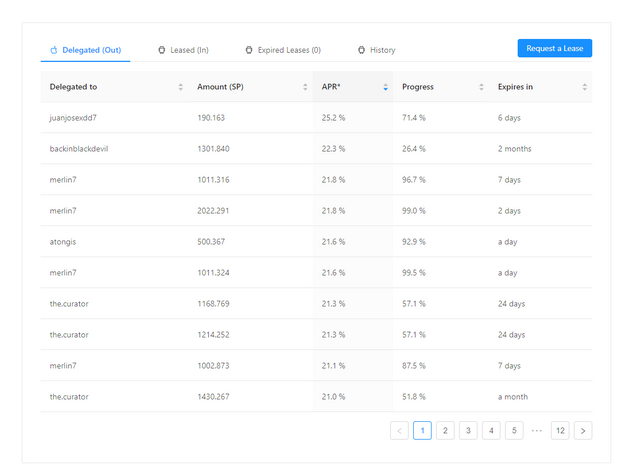 使用DLease個人資訊總覽,您可以看到所有必要的指標,讓您隨時處於最前線!
輕鬆找到您代理的人數、數量及您在代理當中收到的APR%,租賃的活動期間以及何時到期!上面有所有您需要知道的一切,以保持您的運營順利進行!
BuildTeam 通用的單點登錄機制(SSO)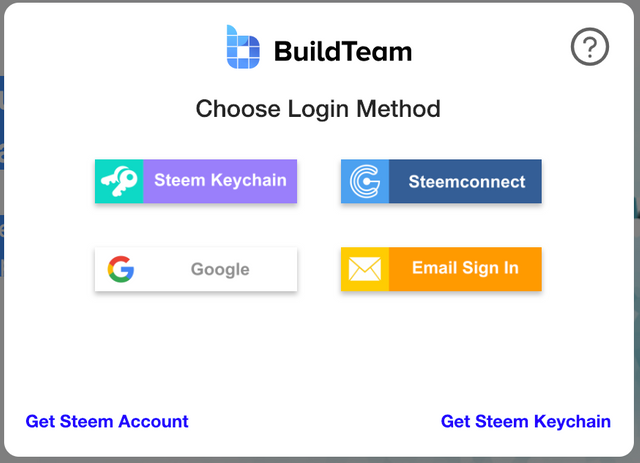 使用BuildTeam 通用單點登錄(SSO)界面輕鬆登入您的帳戶,有許多方便的選項可供選擇,包括:
1.)Steem Keychain
2.)Steemconnect
3.)Google
4.)電子郵件登入
5.)Facebook(即將推出)
BuildTeam通用單點登錄(SSO)還有助於在我們的新App Store中登入各種其他BuildTeam開發的應用程序。
DLease.io由MinnowBooster提供技術支持
您可以放心,DLease是安全且經過嚴格測試的,因為它與BuildTeam自2017年以來運營的眾所周知、值得信賴且經過實戰考驗的MinnowBoooster.net服務運行於相同的後端架構引擎。
目前將從@minnowbooster 的Steem帳戶收到交易便簽(Memo),直到DLease獲得自己的專用引擎。
請期待未來將推出的更新,這是第一個預備發布階段,我們仍然有許多功能上的優化待推出。
我們的下一個任務是讓DLease支援移動設備,請與我們一同等待那天的到來。
幫助我們推廣有關DLease.io的資訊,這是一款具有外部投資者吸引力的創新型Steem應用程序!
你還在等什麼?
---
Go to DLease.io today and take it for a spin!
---
Find DLease in the BuildTeam App Store!
---

| Visit our website for more! | Subsribe to our YouTube Channel |
| --- | --- |
| | |
Set it up today and contribute to building a better tomorrow!


( Want an easier way? Use our SteemConnect proxy link! )
Get support and connect with us and other BuildTeam fans!



Disclaimer: This is a commissioned Chinese translation post authored by @alvin0617. Although this content has been checked with Google Translate, we cannot confirm it is 100% accurate, please feel free to verify against our original Steem post in English.
---
关于WhereinConnect集成的提案 | Proposal for Integration of WhereinConnect
BuildTeam意识到Steemit.com已在中国被封锁,而且SteemConnect可能也一样被封锁了。我们希望收到关于SteemConnect是否实际被阻止的反馈。鉴于此,我们强烈考虑将 WhereinConnect添加到我们的BuildTeam单点登录(SSO)中,方便华人社区登录。请让我们知道这个结合是否是@wherein社区希望看到的事情。
BuildTeam is aware that Steemit.com has been blocked in China and potentially SteemConnect has also. We would be interested receive feedback as to whether SteemConnect was actually blocked. In light of this we are strongly considering adding WhereinConnect to our BuildTeam Single Sign-in (SSO) in order to facilitate access to the Chinese community, please can we have feedback as to whether this would be something the @wherein community would use and like to see happen.
Sincerely,
@thecryptodrive
BuildTeam CEO