Passion Leaf Tea - DIY attempt!
Hey friends, so it finally hit me - the reason I've been so unsuccessful in posting regularly is the pressure to form a good post. At least it is for me. I am constantly starting photo "logs" of whatever project I am working on but fail to continue to document anything after the first five minutes. So, I have have told stories through photos just clogging up my storage space.
Today's post is a little different. I started a new project but its going to take awhile so....one step at a time, I'll post a short entry about it, and then I should be able to remember (be held accountable) for finishing the series as it goes. No pressure to form the "perfect" story telling post with all the steps in one.
So..have you heard of the health benefits from the Passionfruit Leaf? Neither had I until a local passion fruit farmer approached me about marketing a tea made from his harvest. Let's just set the record straight here - I am a coffee drinker. Tea is nice, but coffee is life. I was a little hesitant to get involved just based on that fact about me right there. I did a little (like, really small, 10 second google search) and all the hits that came back basically said the same:
helps with insomnia
helps lower blood pressure
can reduce symptoms of asthma, digestive issues, anxiety, and a whole slew of other ailments
Ok, that's good news. And most of the widely known passion teas on the market dont actually contain the leaf. But a quick check on Etsy showed me a handful of organic farmers offering what I am trying to make so....let's continue.
I harvested two types of leaves from the grove - Lata and Edulis. No idea what that means in terms of tea, so we'll come back to that during taste test.
I had a tea expert on deck to do this part for me and create a custom blend to make it yummy....but once she saw the size of the leaves, she bailed. So, back to google for direction but in all honesty, I just skimmed a few tips and decided to wing it on my own.
This is what I came up with so far:
Lata leaves are strung up on tomato twine and currently hanging in the sun. Edulis leaves are in the tray, too small for me to string up. (This was done last night around 10pm in the dark. When inspiration hits, I just have to get it done RIGHT THEN.).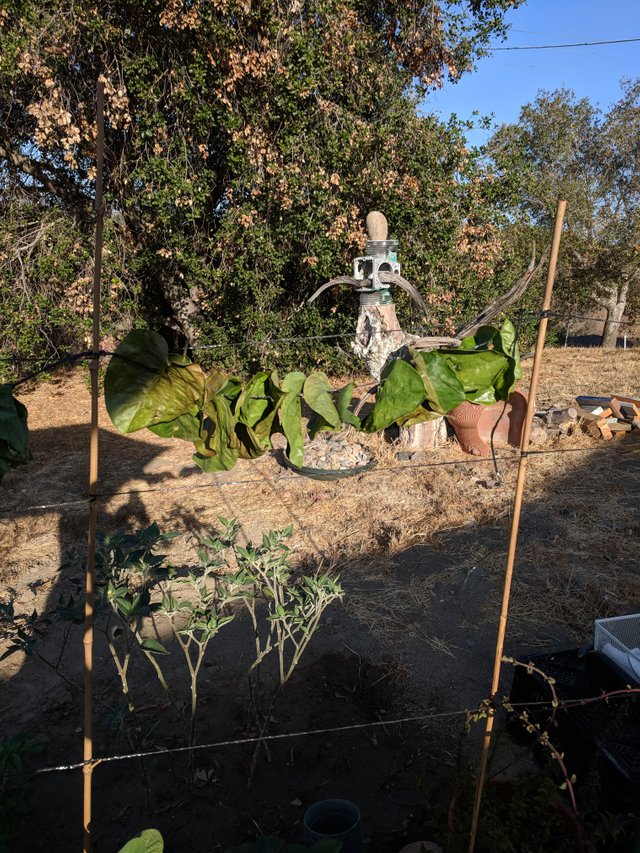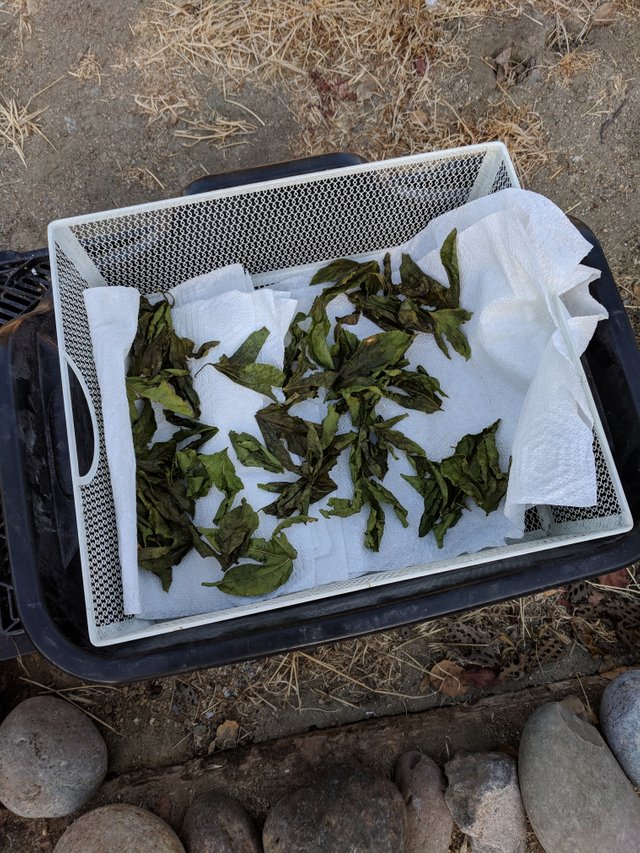 And thats it! I read a few suggestions about baking them in the oven, but we've got a heat wave coming in so I'm hoping the sun will do the job so I can keep my kitchen cool.
If you've ever made tea before - I'm open to your suggestions!
While these dry, I'm on the hunt for some organic lemon verbena or really strong mint plant since the farmer told me that this tea must be blended or sweetened for mass markets.
I hope you all go out and get your hands dirty today!
xo, Christie

#SoCalSteemit is building and supporting the Steemit community of Southern California. If you are from SoCal and are into creating quality content here on Steemit, we'd love for you to follow us @SoCalSteemit and join our group on Discord