Hey friends of DIY content on @dtube !
---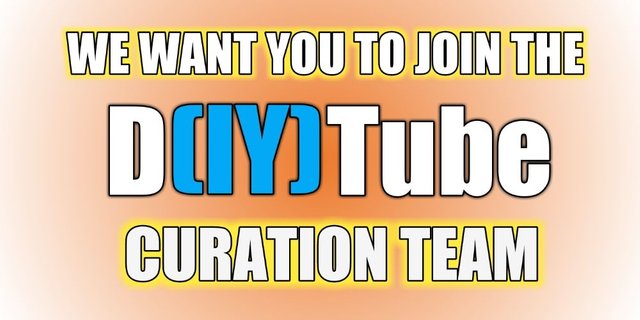 Recently this idea came to my mind and it is growing and growing.
I am planing to create an CurationBot which is reacting on a specific tag from specific users - aka the curation team - under valuable content.
The plan is to grow this account here to a impactful SP that we are able to provide a good curation of DIY - Content on @dtube.
---
Now we are searching for you to find valuable content and comment with a tag included which is coming soon.
The rest will be done by that automatisms :)
Please comment below if you are interested!
I will check your content, voting and engagement habits and
will let you know if you are accepted or not as a response to your comment.
In my opinion the communication can be transparent on the blockchain! We have nothing to hide!
---
What do you think about such a curation service ?
Would you support this project by a delegation of SP?
Would you like to support this project in any other way ?
For example we need a logo, promotion and many more things :)
Thanks in advance,
@tibfox

If you are new here and like to support this service, feel free to:
upvote and resteem this post (all rewards are used to power up)
follow our channel @diytube
delegate some SP to raise the voting value
(25SP 50SP 100SP 250SP 500SP)
Read more:
Join the Team
Guideline: How we curate awesome DIY content on d.tube
Q&A: Please ask your questions here!
We need your suggestions!