Small update to steem-verifier CLI tool
steem-verifier is a CLI application by @hernandev, released one year ago. I needed that app today to check a specific transaction.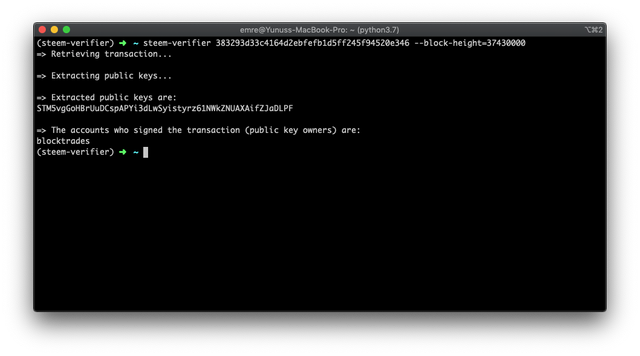 However, steem-verifier uses get_transaction RPC call, which is not supported on most public nodes, anymore. (Due to rocksdb replacement in steemd)
Created a fork and updated the project with a version that you can check transaction ids with tx id + block height pair. If you know the block height along with the transaction ID, you can use get_block and filter out the related transaction.
Installation
 $ virtualenv -p python3.6 steem-verifier-env
 $ source steem-verifier-env/bin/activate
 $ git clone https://github.com/emre/steem-verifier.git
 $ cd steem-verifier
 $ pip install -e .

---
Then you can use it like this:
$ steem-verifier <tx_id> --block-height=<block_height>

---
Props to @hernandev for the initial development.