Steem-Verifier: Easy transaction signature verification.
Repository
https://github.com/hernandev/steem-verifier
New Project: Steem-Verifier
What is the project about?
Steem-Verifier is a command line tool, which helps Steem users to audit a given transaction for the public keys which signed the transaction, and to link such discovered public keys with the owning accounts.
Use cases
The tool is useful for accounts which multiple authority key and / or authority applications, allowing the discover of which one of the authorities was responsible for signing the transaction.
Also, when recursive authorization happens (account A authorizes account B, which authorized account C, which authorizes account D). Allowing to pin point which of the recursive authorities was the one actually signing the transaction.
Installation and Usage
This tool can be installed through pip:
pip install steem-verifier

The usage, is simple:
steem-verifier [-h] [--node NODE] transaction

transaction  The transaction ID (hex) to verify the signatures.
-h, --help   show this help message and exit
--node NODE  HTTPS RPC node to connect, defaults to https://steemd.privex.io

Example: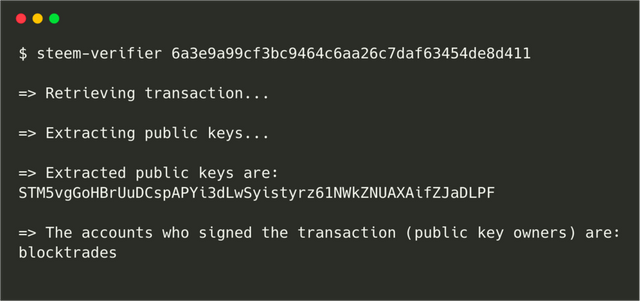 Technology Stack
The command line tool was written with Python, leveraging the incredible steem-python client.
Roadmap
Include some automated tests and exception handling.
How to contribute?
Contact on Discord (hernandev#5834), on the Github repository or on this post.
P.S.
Since Utopian frontend is currently unavailable and it will be way harder to set as beneficiary manually, I'll transfer utopian.pay 15% of the payout, upon release.