Hallo mein lieben Leute.
Heute zeige ich euch wieder schöne Oldtimer.
Heute ist eine Indian 750 OHV dran aus dem Jahr 1926.
Hello my dear people.
Today I show you again beautiful vintage cars.
Today is an Indian 750 OHV turn from 1926.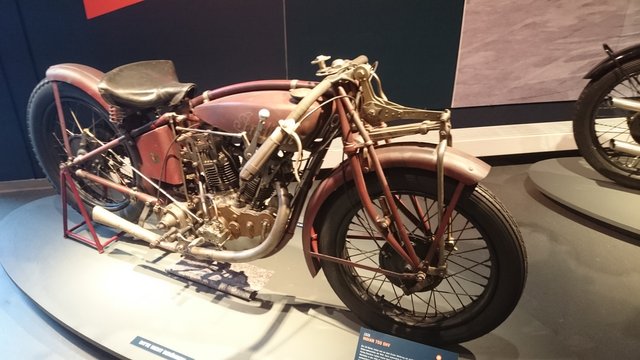 Die US-Marke Indian war vor dem Ersten Weltkrieg der größte Motorradhersteller der Welt. Doch automobile Konkurrenz und Harley-Davidson hatten Indian beiseitegeschoben. Das Motorrad überlebte in den USA als Sportgerät und Indian duellierte sich werbewirksam mit Harley-Davidson. So wurde der erste FIM anerkannte Weltrekord am 14. April 1920 von Gene Walker auf einer 1000er OHV Indian mit 168 km/h erzielt. Diese OHV-Technik gelangte 1926 auch in die super sportliche Indian "45 cui-V 2 OHV", die kaum etwas mit Großserien-Indian gemein hatte. In erster Linie für die populären "Hillclimb"-Wettbewerbe entstanden circa 26 Motoren dieses Typs. Hillclimb-Motorräder besaßen einen speziellen, langen Rahmen. Die gezeigte Maschine wurde als Rennmotorrad in die Tschechoslowakei geliefert. Eine dieser Maschinen erreichte — alkoholgefüttert — 203 km/h. Der FIM anerkannte Rekord von Brough stand zu diesem Zeitpunkt bei 192 km/h!
Technische Daten:
Typ: 45 cui OHV
Motor: 2 Zylinder V, OHV
Hubraum: 737 ccm
Max. Geschwindigkeit ca.: 200 km/h
The US brand Indian was the largest motorcycle manufacturer in the world before the First World War. But automobile competition and Harley-Davidson had pushed Indian aside. The motorcycle survived in the US as a sports equipment and Indian dueled advertising effective with Harley-Davidson. So was the first FIM recognized world record on the 14th
April 1920 by Gene Walker on a 1000 OHV Indian scored 168 km/h. This OHV technique also came in 1926 in the super sporty Indian "45 cui-V 2 OHV", which had little in common with high-volume Indian., In the first place for the popular "Hillclimb" competitions created about 26 engines of this type. Hillclimb-Motorcycles had a special, long frame. The machine shown was delivered as a racing motorcycle in Czechoslovakia. One of these machines reached - alcohol-fed - 203 km / h. The FIM recognized record of Brough stood at this time at 192 km/h!
Technical data:
Type: 45 cui OHV
Engine: 2 cylinder V, OHV
Displacement: 737 cc
Max. Speed ​​approx .: 200 km / h
---
---
Das nächste gute Stück ist die BROUGH SUPERTOR SS 100 PENDINE aus dem Jahre 1929.
The next good piece is the BROUGH SUPERTOR SS 100 PENDINE from 1929.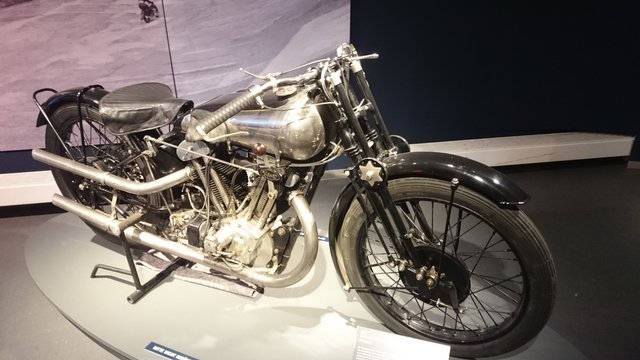 Die legendärste und schnellste Serienmaschine der Zwischenkriegszeit ist zweifellos die englische Brough Superior SS 100. Die "100" in der Typbezeichnung verweist auf eine garantierte Höchstgeschwindigkeit jenseits der 100 mph-Grenze; also mehr als 161 km/h. George Brough produzierte in seiner Manufaktur edelste "Maßkonfektion". Des von JAP gelieferte Triebwerk der gezeigten Maschine war eine komplette Neukonstruktion. Diese 1000er JAP-OHV-Motoren standen bis in die 1940er Jahre an der Spitze käuflicher Motoren und predigten lange den Kampf um Rekordgeschwindigkeiten,Die Brough SS 100 war zugleich vielseitig im Sport, Aus dem ersten Modelljahr 1925 sind Siege beim 2,5-Meilen-Sprint am Strand von Pendine, Goldmedaillen bei Zuverlässigkeitsfahrten wie dem Land End Trial oder den Scottish Six Days Trial dokumentiert Am 25, August 1929 fuhr Herbert Le Vack mit 208 km/h in Arpajon einen absoluten Weltrekord mit einer SS 100. am dieser wurde kurz darauf von Ernst Hemne auf BMW überboten.
Technische Daten:
Typ: Pendine Racing
Motor: 2 Zylinder V, OHV
Hubraum: 1000 ccm
Leistung: 55 PS
Max. Geschwindigkeit ca.: 200 km/h
The most legendary and fastest production machine of the inter-war period is undoubtedly the English Brough Superior SS 100. The "100" in the type designation points to a guaranteed maximum speed beyond the 100 mph limit, ie more than 161 km / h George Brough produced in his factory noblest "customized clothing".
The JAP supplied engine of the machine shown was a complete redesign. These 1000 JAP-OHV engines were at the top of commercially available engines until the 1940s and preached the battle for record speeds for a long time. The Brough SS 100 was also versatile in sports. From the first model year 1925, victories at 2.5-
On the 25th of August 1929, Herbert Le Vack set an absolute world record with an SS 100 at 208 km / h in Arpajon shortly thereafter surpassed by Ernst Hemne on BMW.
Technical data:
Type: Pendine Racing
Engine: 2 cylinder V, OHV
Displacement: 1000 cc
Power: 55 hp
Max. Speed ​​approx .: 200 km / h
---
---
Jetzt stelle ich euch die Zenith-Temple vor. Ihr Designe ist schon etwas ungewöhnlich aus dem Jahr 1930.
Now I introduce the Zenith Temple to you. Her designs are a bit unusual from 1930.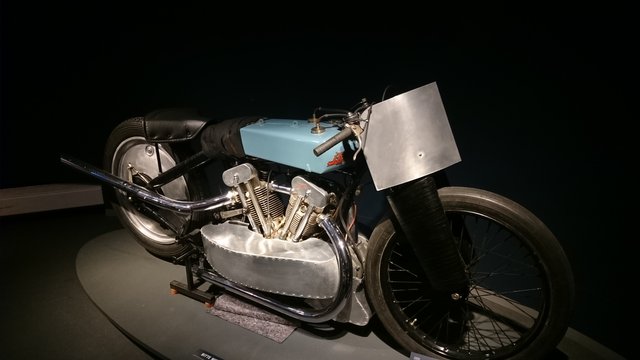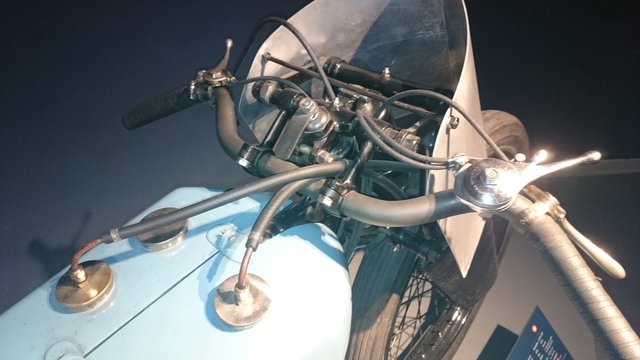 Die britische Brooklandsbahn diente als permanente Rennstrecke und der Industrie als Testfeld, aber auch Rekordjäger gaben sich oft ein Stelldichein. Einer von ihnen war der Maurer Joe Wright, dessen Karriere auf Zenith-Maschinen begonnen hatte. Gemeinsam mit Claude Temple, der als Fahrer und Techniker zu überzeugen wusste, trat er für Zenith mit dieser JAP-motorisierten Rekordmaschine 1926 in Brooklands an und dominierte die Konkurrenz. Zur Saison 1929 wurde das Motorrad mit Rahmenverstärkungen und neuem Zwei-Vergaser-Motor versehen. Doch bevor Temple 1930 einen Drehkolben-Verdichter einbauen konnte, ging Zenith in Konkurs. Bei den Fahrten im irischen Cork, die Wright am 6. November mit der Duplex-OEC absolvieren wollte, fiel diese aus und die Zenith kam zum Einsatz. Mit 243 km/h fuhr Wright prompt neuen Weltrekord, der aus Werbegründen der OEC zugesprochen wurde. Das Ganze flog auf und führte zu Diskussionen, änderte aber nichts an der Leistung des Duos Wright und Temple.
Technische Daten:
Typ: Temple
Motor: 2 Zylinder V, OHV mit Kompressor
Hubraum: 1000 ccm
Leistung: ca.: 90 PS
Max. Geschwindigkeit ca.: 243 km/h
The British Brooklands railway served as a permanent race track and the industry as a test field, but also record hunters were often a rendezvous. One of them was the bricklayer Joe Wright, whose career had started on Zenith machines. Together with Claude Temple, who knew how to convince as driver and technician He joined Zenith with this 1926 JAP motorized record machine in Brooklands, dominating the competition. For the season 1929 the motorcycle was provided with frame reinforcements and new two-carburetor engine. But before Temple was able to install a rotary compressor in 1930, Zenith went bankrupt. During the rides in Cork, Ireland, the Wright on November 6, wanted to complete with the duplex OEC, this fell out and the Zenith was used. With 243 km / h Wright drove promptly new world record, which was awarded for advertising reasons the OEC. The whole thing flew open and led to discussions, but did not change the performance of duo Wright and Temple.
Technical data:
Type: Temple
Engine: 2 cylinder V, OHV with compressor
Displacement: 1000 cc
Power: approx. 90 hp
Max. Speed ​​approx .: 243 km / h
Das waren noch nicht alle. Morgen kommen noch mal 3 Stück.
That was not all. Tomorrow will come again 3 pieces.
Hoffe der Beitrag hat euch gefallen!
PS: Gehabt euch wohl und denkt an mich.
Euer @Hansschmidt
PS: Be well and think of me.
Your @Hansschmidt