Application for Delegation - SteemPlus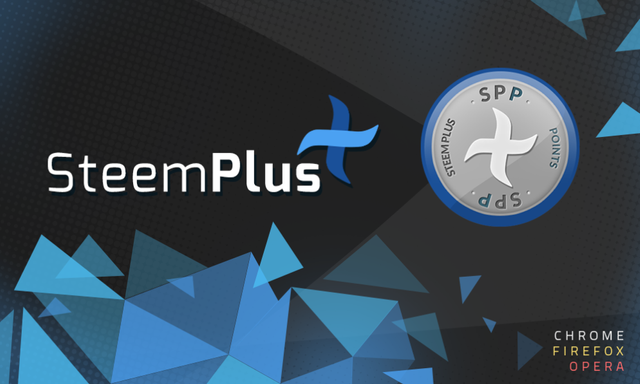 Last week, Steemit Inc. made a great move and announced their new delegation program, along with guidelines for the application.
This is a great opportunity to foster growth in the ecosystem and we don't want to miss this chance to keep growing SteemPlus.
We are therefore applying for the Mid-Tier delegation (500k SP), since we are way beyond test tier but still want to be cautious with a sudden increase of our Voting Power. The plan is to obtain this delegation first and then work on reaching Top-Tier 6 months later.
Our application is confined to the scope of the application guideline, but we will be happy to answer any questions from either our users or the independent commitee in the comments / on Discord / on Slack.
Project Information
Project name: SteemPlus
Place of Incorporation : I'm looking into incorporating in Hong Kong
Token name: SteemPlus Points (SPP)
Token Type: Utility token. Will migrate to Steem-Engine in Q4.
Market
What problem is the product / project solving?
SteemPlus has three main focuses:
Becoming a must-have in the Steem ecosystem, by adding a plethora of features to the existing Steem frontends.
Giving incentives to users to try and invest on Steem dApps.
Retaining users on Steem by giving them daily upvotes based on their SPP stake.
Core Team Details
Holding two MSc in Aerospace Engineering and one IMBA, Quentin is a serial entrepreneur with a mixed background.
Quentin also has years of experience in fullstack development, mainly through freelance work. As SteemPlus funder and lead developer, Quentin works mostly on improving SteemPlus software and managing partnerships.
Cedric is a french computer science engineer. Since he started to learn programming, he has developed his expertise in many different languages. He worked on SteemPlus for a more than a year and helped developing lots of features. He was also in charge of the development of our landing page https://steemplus.app/.
He likes to always research and learn new technologies.
Steem Community
SteemPlus being opensource, we've leveraged Utopian.io to get some help, notably in the Graphics category. Big thanks to @fabiyamada and @nateaguila in particular.
Minimum Viable Product
Less than two years after its inception, SteemPlus brings over 30 features to Steem users, on 3 different front-ends (Steemit, Busy, Splinterlands) and server 3k+ users across 3 supported browsers (Opera, Chrome, Firefox).
SteemPlus has established partnerships with Splinterlands, DTube, Utopian, SteemHunt, PostPromoter, MinnowBooster and Fundition, and has distributed over 1,4M SPP to 1,778 users as incentives to use these dApps.
Relevant links:
SteemPlus landing page
Chrome Store
Github page
Business Strategy
Revenue Strategy:
Through our partnerships with diverse dApps of the Steem ecosystem, we are receiving affiliate rewards for giving incentives to our users to use these projects. These rewards, beneficiaries rewards and direct sales of SPP consist in our core revenue. Except from beneficiaries, all these rewards are liquid.
Fiat Revenue Projections in $/user every month: [E.g. $10]
If we consider our 451 active SPP holders (users who earned SPP within the past 30 days), we are a generating slightly more than $2.5/user.
How will this increase the amount of STEEM being powered up?
Some of the ways to earn SPP (through delegation, or setting up beneficiaries), are strongly impacted by SP and can be incentives for power ups.
What financial incentives are you willing to provide to Steemit, Inc.? [E.g. project tokens, revenue-share, etc.]
100,000 SPP per week will be sent to one of Steemit accounts. On top of this, we will work on a solution that gives incentives to Steemit + SteemPlus users to browse Steemit without AdBlocks. Nobody is a fan of ads, I get it, but it is an important step for Steemit to be sustainable and reduce the programmatic sales, so we will help from the best of our capacity.
How will you become financially sustainable once the delegation is removed?
SteemPlus is already profitable today with >52k SP delegated from its users, revenue generated via referrals to other dApps, and support from Utopian and Fundition.
KPI Progress Measurement
Suggest at least 3 KPI's with which to measure the progress of your project in its current phase. KPI's must be measurable and objective (a percentage or numerical value), or binary (yes / no or completed / not completed).
KPI1 description: Active SPP Holders (Users earning SPP in a given month)
KPI1 target: + 20% / quarter
KPI2 description: Revenue per user
KPI2 target: + 10% / month
KPI3 description: Roll out SPP as Steem Engine Tokens before end of Q4.
KPI3 target: completed
Token Offering
Token Launch date: September 22nd, 2018
Total Token Supply at launch: 200,000,000
Fundraising target (in order to fund expansion into the operational / project growth phase / mass market adoption): N/A, tokens are distributed as reward
Yearly inflation: N/A
Percentage of total token supply that will be airdropped to ALL Steem stakeholders (a/k/a SP holders) in proportion to their SP: N/A, SPP are distributed as rewards.
How many tokens will you offer Steemit Inc. in exchange for the delegation? 100,000 SPP/ week + anti AdBlocks incentives
Do you plan to launch an IEO, ICO, or other public token offering? No
Do you plan to raise money from other investors? No
% token distribution to: Distribution based on dApps usage, beneficiaries, purchase and delegations only.
Delegation Request
How much of a delegation are you requesting? Limit your requests to one of the three tiers: Mid-Tier.
Specify the desired time frame for the delegation in 6 month increments: 6 months, then application for Top-Tier.
Which one of the following answers best describes how the delegation will be used to add direct value to Steem: D,E
A. It will be used to create new accounts
B. It will be used to give new accounts 15 SP to give them the resources needed to use Steem and purchase goods and/or services through our platform
C. It will be used to incentivize the creation of content that promotes Steem on external platforms
D. It will be used to provide limited trial or discount services to clients to encourage them to hold Steem and delegate in the future
E. It will help retaining existing users by giving them incentives to invest more on the different actors of the ecosystem.
We agree that our business will continue to leverage the Steem blockchain as long as we are receiving a delegation and 1 year following the removal of the delegation. During this time we also agree to promote the Steem blockchain as a valuable technological protocol that delivers unique value. We are willing to sign a legally binding contract with Steemit, Inc. to this effect.