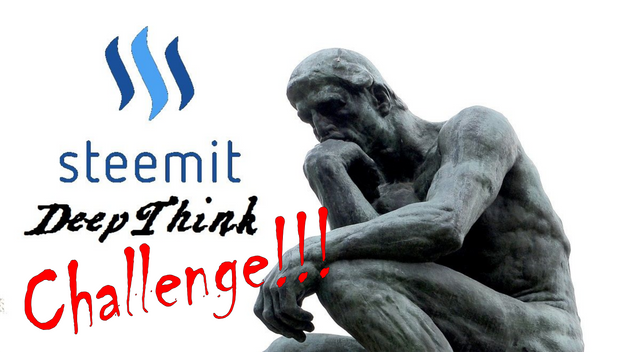 Congratulations to the winners of our first Deep Think Challenge!
1st Place: @soo.chong163 for their entry For Greater Glory (of the Few)
2nd Place Tie:
@rieki for their entry A Tech-'NO'-Topia: Imagining Our Future Paradise!
@eco-alex for their entry How do you perceive your ideal self in the technological future?
I am happy to see that all entrants made a bigger payout for their posts than the prize pool for the challenge could offer. We look forward to the growth of Deep Think on steemit so that future challenges will have bigger prize pools. It is especially pleasing to see that so many bases were covered including religious/sacred concerns, Star Trek canon, genetic engineering, future imperialism, and cyborgs!
You all wrote epic pieces worthy of being deemed Deep Think!
Keep an eye out for future challenge posts. We are a little low on human power on our end at the moment, so if you would like to contribute, please join us on the challenge channel of the Deep Think discord and contribute to the discussion of what topics you would like to see in future Deep Think Challenges.


Come join us on Discord! https://discord.gg/7qyarFD