gob is big problems he is close combat whit two ogers and a wolf. but he been here has turn the tide of the encounter the colonists are slowing killing the ogers. out from the forest @cyber.explorer and Maxwell blaze is entering the area. they has been following gob wondering way he was suddenly here. now they can see the truth they wasting no time and running at his aide killing one of the ogers. @happyme ses what is happening he is coming from the flank killing the wolf and the last oger.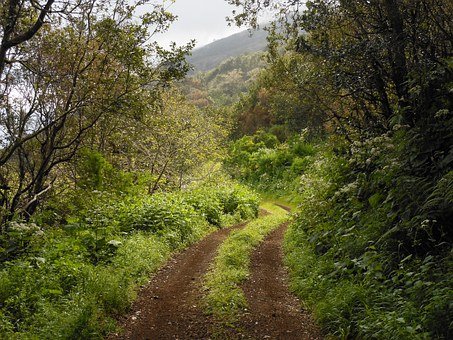 @methus is concentrate his attack on one of the ogres ho is coming this way easily he killing it. and wounding a wolf. @hhayweaver is stnading up from cover trying to shoot the oger archer but he cant get his aim in. @stever82 is laying in wait on a perfect ambush. gob felin more safe now he take a big sip of his armor potion and give his Greater Healing potion to maxwell. they casting his berserk spell on on wolf he can see. they wolf is doing a 160 and killing his ally. then attacking the oger. the nettels wall is strong all of the colonists except .@stever82 is using it for cover.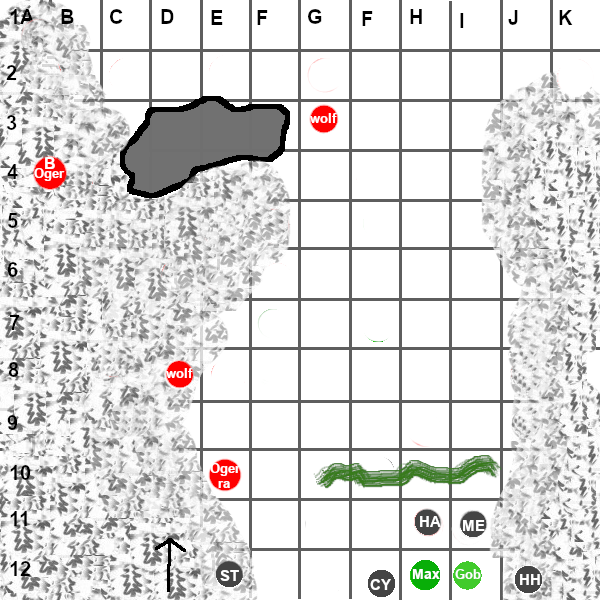 the chief oger is moving to a better position he is summing a new wolf the last oger is running farvard..he get in potision the first enemy he can see it the pesky human maxwell. he was sure he killed him but it sems no he fire his crossbow its hits. maxwell are staring at the oger...the oger is a big but he feels he is on borrowd time. like he only whant to kill a few goblinds and have a good meal but this goblinds are to tough he things they are not good at frying but maby in a stew..the oger is just standing there thinking how its best to prep maxwell for a meal.
you all are in combat no snike attack
green line "nettels wall blocking line of sight lasting two turns
Darkland wiki
https://steemit.com/rpg/@darklands/how-to-do-darkland-tutorial-wiki-regions-and-quest-rules-update-1-0#comments
Overview over all Colones and Quest Rules.
https://docs.google.com/spreadsheets/d/1yVIjhPnBVNHxymHEYQU-8-VolVaiTn8Us9iJWmcHaqU/edit?usp=sharing
●▬▬▬▬▬▬▬▬▬▬▬▬▬▬▬▬▬▬▬▬▬▬▬▬▬▬▬▬▬●
@cyber.explorer (ale,sausage,wolf pelt,wolf tooth amulet, 10 (the dam added to the weapons)
weapons (+5 two-handed iron hammer /w gem 8 dam)
4 hit points (17 of 28 Armor)(wounded)
1 healing potion
player

"Chief of Security" Maxwell (ale,amulet) 8 to hit. with Blaze w/spiked collar(+2 dam)
weapons (+5 one-handed iron hammer w/gem 5dam)
4 hit points (14 of 20 armor)/gob gave you his Greater Healing potion it restored you to full health)
1 healing potion
player

●▬▬▬▬▬▬▬▬▬▬▬▬▬▬▬▬▬▬▬▬▬▬▬▬▬▬▬▬▬●
@happyme (ale,ring, Moose sausage, Eye of accuracy) 8 (dam and range hit added to weapons)
weapons (+7 bow gem 7 dam)(+5 iron sword gem 7 dam)
4 hit points (30 of 30 armor)
0 Greater Healing potion (given to @methus)
player

●▬▬▬▬▬▬▬▬▬▬▬▬▬▬▬▬▬▬▬▬▬▬▬▬▬▬▬▬▬●
@stever82 (boar fangs amulet,+1 dam bear cub) 7
weapons (+5 bow 3 dam)(+5 iron sword/ gem 4 dam)
4 hit points (10 of 15 armor)(wounded)
2 health potions
player

●▬▬▬▬▬▬▬▬▬▬▬▬▬▬▬▬▬▬▬▬▬▬▬▬▬▬▬▬▬●
@hhayweaver (Ring,bear amulet) 8 (ranger helmet has added it to the bow)
weapons (+5 Bow 4 Dam)(+5 Sword 2 dam)
4 hit points (11 of 11 armor)
player

●▬▬▬▬▬▬▬▬▬▬▬▬▬▬▬▬▬▬▬▬▬▬▬▬▬▬▬▬▬●
@methus (ring,amulet) 7 (wizard armor + added to the staff)
weapons(+9 dark staff 2 melee damage and +2 spell dam)(+4 armor iron Shield)
4 of 4 hit points (18 of 18 armor) drank a Greater Healing potion from @happyme
2 healing potions
Player

Spells: Dark Missile, Dark Heal, Fireball
●▬▬▬▬▬▬▬▬▬▬▬▬▬▬▬▬▬▬▬▬▬▬▬▬▬▬▬▬▬●
Gob (cape of knowledge.amulet) 8
weapons (+9 dark staff 2 melee damage and +2 spell dam)
4 of 4 hit points (10 of 15 armor) (wounded)+8 armor after drinking a armor potion
0 Greater Healing potion (gave it to maxwell)
1 Armor potions (-1 used)
berserk, Netties wall , dark heal , Dark Missile
Player


●▬▬▬▬▬▬▬▬▬▬▬▬▬▬▬▬▬▬▬▬▬▬▬▬▬▬▬▬▬●
summon wolf 7 (+2 charge attack distance)
weapons (+5 teeth 3 dam)
6 hit points
player

chief ogre (+2 dam added to the wepond barbarian ale) 7 (Cleric)
weapons (+7 Cleric staff gem 8 dam)
20 hit points (25 of 25 armor)
1 Greater Healing potion
spells: heal,summon wolf 3 of 3, rock shield, bless
player

oger archer (ale,amulet,ring) 9 (ranger)
weapons (+5 cross bow 8 dam)
20 hit points (7 of 10 armor) (wounded)
player