CENT: BLOG AND EARN ANYDAY, ANYWHERE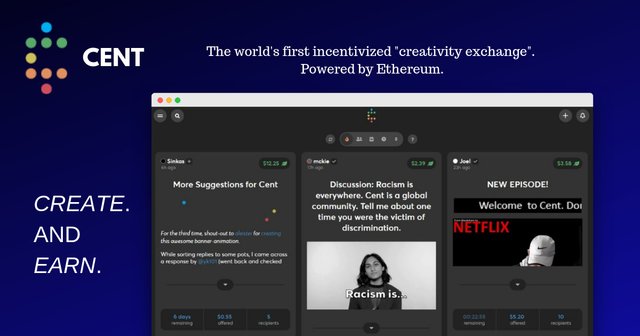 Source
Hello there!
So today I bring you yet anther review of a social media platform. Our focus this time is on Cent, a social platform launched sometime in 2017. Cent is a social platform built on the ethereum blockchain network where users can earn bits of dollars in the firm of ether for varios activities.
Cent operates with a mechanism somewhat similar to steemit - i.e. with respect to incentivizing contributors for their actions such as creating contents, making comments, responding to bounties, etc. However, unlike steemit and most other social dapps which operate with their own platform tokens, Cent's uniqueness lies in the fact that it uses ethereum in incentivizing its users and this is done by way of tipping. That is, users/bounty owners directly tip other users for their posts, comments or responses to their bounties. Now this is a platform you wouldn't want to miss - if only to experience the uniqueness. So let's see how you can get started here.


GETTING STARTED
Firstly, visit the cent web dapp at https://beta.cent.co. This takes you to the sites homepage: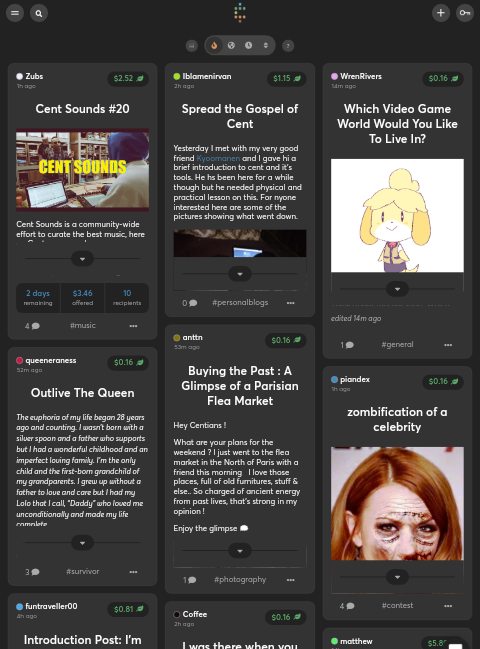 Sign-up on the site by clicking on the key icon at the top right corner of the page.


Provide your email and password in the signup page. Click on Join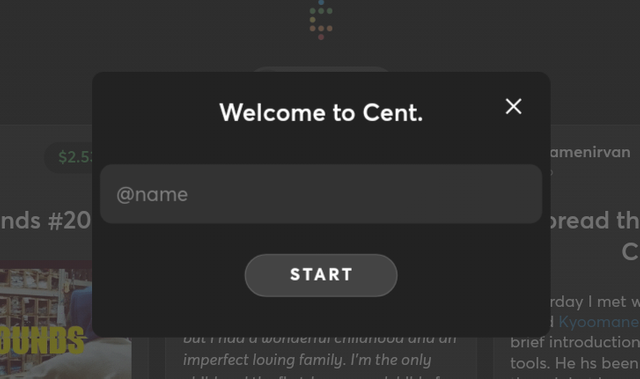 In the next page, enter a username you'd be known on the platform and click on smStart

Follow the link sent to you to verify your email.
Congratulations! Your cent account is ready for use.
But before you are tempted to begin posting right away, you have to first of all set up your wallet to enable you receive payments and also pay others. For the moment, setting up your account entails installing web3 supported browsers like metamask if you are on PC or coinbase wallet and Trust wallet for mobile devices. You can find detailed instructions on setting up your cent wallet in this article
Once your wallet has been successfully set up, you can perform any action you wish on the platform.


MAKING POSTS/PLACING BOUNTIES
Ideally, your first post on a social community as cent should be an introductory post - in which you tell the community briefly about yourself. This is not a law however. So any post you choose to create at any given time is welcome.
To make a post,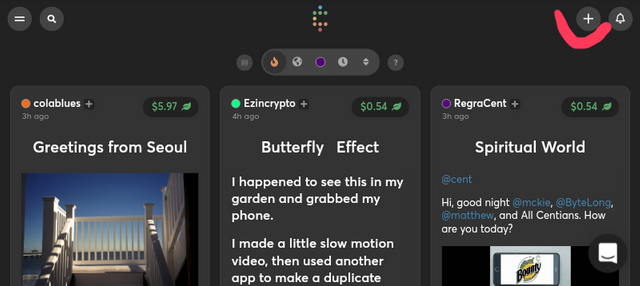 Click on the plus (+) sign at the topmost right corner of the page beside the notification button.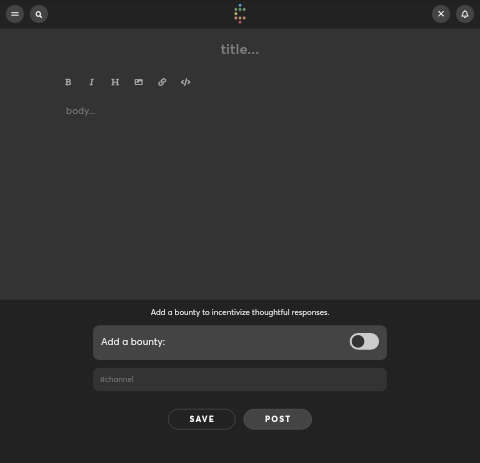 In the writing page which displays, enter your caption where you have title and your main text in the wider writing section bearing body
You must have noticed by now that the writing page has editing tools you can use to format your work. You can Bolden and italicize your work, include headers and pictures, as well as embed normal links and video links like Youtube.
Just below this section is the space to include your bounty if you have any. Specify every detail of what you require from your hunters in your bounty as well as the rewards you would offer them.
When all has been done, hit post to publish it or save button to publish it at a later time.


FEATURES OF CENT DAPP
Below are some of the features of cent dapp:
Bounty
A leaderboard
Drafts
Feedback page
notifications
Search tool
Bounty:. This is one aspect of cent dapp that makes it distinct from other social media dapps. This bounty feature enables anyone to place any kind of bounty on the platform. The bounty owner in return tips these who respond to it in eth.
Leaderboard: This is ranking system that lists users in descending order based on their earnings on the platform.
Drafts: With this feature, users can save their unfinished posts which they can edit and post in future.
Feedback page: Should you have any suggestion or issues to report to the cent team, remember this page page readily available. Feel free to express your opinions/view points.
Notifications: This feature alerts you on all transactions relating to your account such as when others respond to your bounty or comment in your posts.
Search bar: This enables you to easily find any post using specific keywords.


My Take
Cent is a unique social and bounty platform designed to simplify content sharing and bounty hunting. It provides a good avenue for users to earn bits of dollars while doing what they love. Since payments are done in peer to peer manner here, the platform saves bounty hunters the long wait they would normally undergo on other bounty sites before receiving payments. This singular aspect makes the dapp a go-to any day for bounty hunters.
Some Minor Issues And Recommendations
I find no down sides so far with the cent dapp, although the process of setting up user accounts by installing a web3 enabled app/extension might seem daunting to many. Also since the usage rate is rather low - as seen from available data on stateofthedapps, I think some marketing campaigns aimed at creating awareness would do the platform a lot of good.


Rating
Cent merits 4.5 of 5 stars for its simplicity, uniqueness, and earning opportunity for users.


Here are some useful links on cent:
Cent on state of the dapps: https://www.stateofthedapps.com/dapps/cent