Interview with playboy and elite runner Lee grantham
VH - How old are you?
LG - Are we not conducting this interview in Norwegian? I was prepared for that but OK, let's try in English. I am 34 and a half.
VH - Usually we dont allow British humor on this show, but i it seems i have no other option than to make an exception.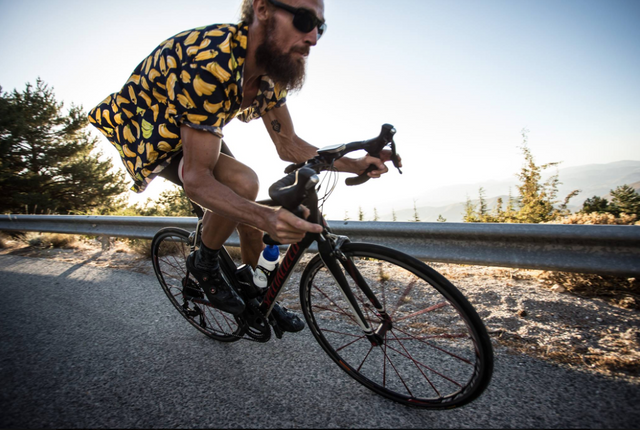 VH - Where are you from?
LG - Originally from Manchester, UK but living outside for nearly 10 years. Mostly in Spain, Barcelona and Granada.
VH - Why do you come to Chiang Mai?
LG - For three reasons. To experience people taking pictures of fruit. To watch the Chinese tourists compete on who can fit the most dried fish into a supermarket basket. To ride the southern highway to check if anything's changed from the previous day.
VH - How do you like the culture and climate in Thailand?
LG - I love the climate but the people not so much. They are docile and unsuccessful in their attempts to be sneaky. Most are happy, always ready to have fun and be kind. I wonder whether this is genuine or if they fear a cruel after life?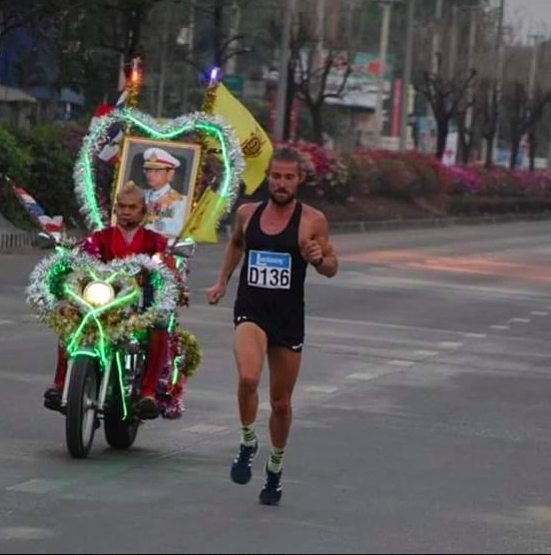 VH - You are a very accomplished runner, when did you start running and why?
LG - Thank you. I started young. I played a lot of football as a kid and the coach was big on running.
VH - What are your records on Marathon and other achievements? I know you won the 100km British Championships as well right?
LG - I'm not so good in the marathon (2:21 in 2017) and shorter distances but I have potential in the mountains and in 100km on the road.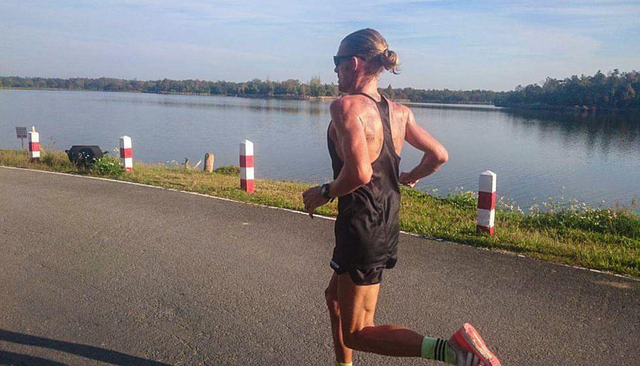 VH - There is a famous ultra runner in Norway, Bjorn Tore, do you know him?
LG - I've never heard of him, but he probably knows me.
VH - He is not as super-fast as you but he is very good in long distance stuff, his record on 24 hour race is 257km, the world record is about 300km, do you think you will ever try yourself on that, I think you would do very good?
LG - The world record is 303km, held by Yiannis Kouros. Nearly 13kph. It's an insane record which has stood for 20 years. He's a brilliant man outside sport too. Of course I know BT, his consistency is incredible. To run 257km is world class and he's done that more or less for 6/7 years I think, representing Norway many times. People like Bjorn have a special skill to endure suffering.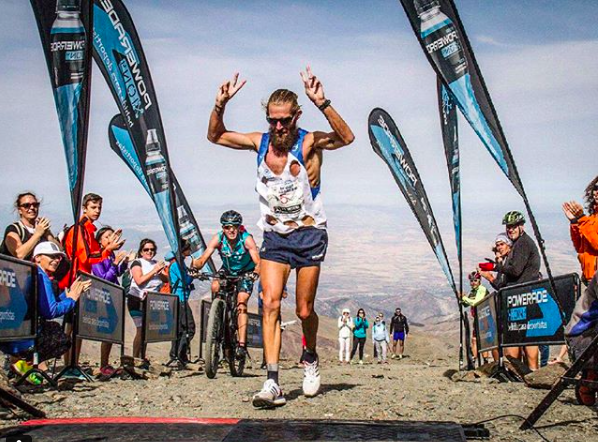 VH – I find ultra running fascinating, so we have to mention Jim Walmsley, what do you think of him?
LG - Jim's probably the best in the world right now from 50-100 miles when the course is fast. I admire his approach to racing, the sport needs more of him. People who aren't afraid to voice their goals and go for them. Runner's in general are introverted with type B personality traits. Nice people but wouldn't fill a stadium.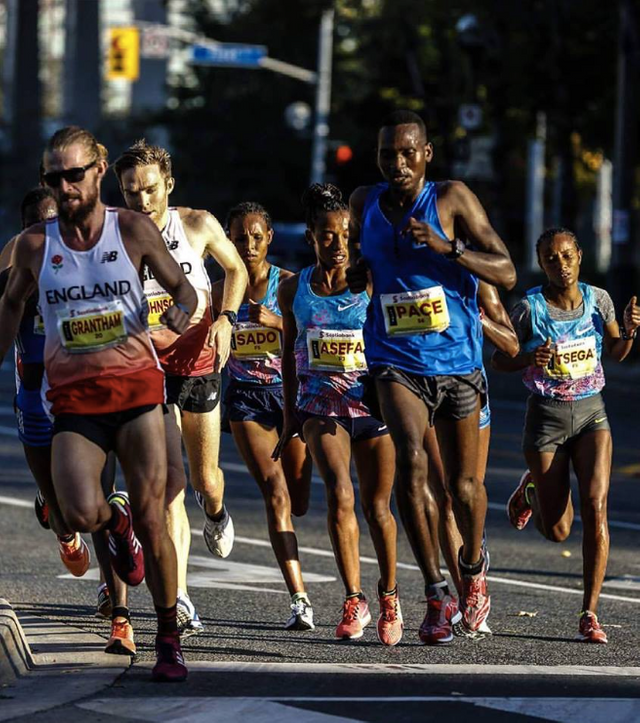 VH - You are mainly a runner but also do a lot of cycling as cross training right?
LG - I rode my bike a lot as a kid and then picked it up again, late 2015 to build my engine. Then you introduced me to Strava.
VH - what do you like about cycling in Chiang Mai?
LG - I like the coconut syrup you can pick up at 7/11 for 14 baht. It takes you from bonked to wired. The tropical routes through jungle really do it for me, not knowing what you might see around the next corner. It's a chilled place, there are few rules but on the whole people pretty much leave you alone.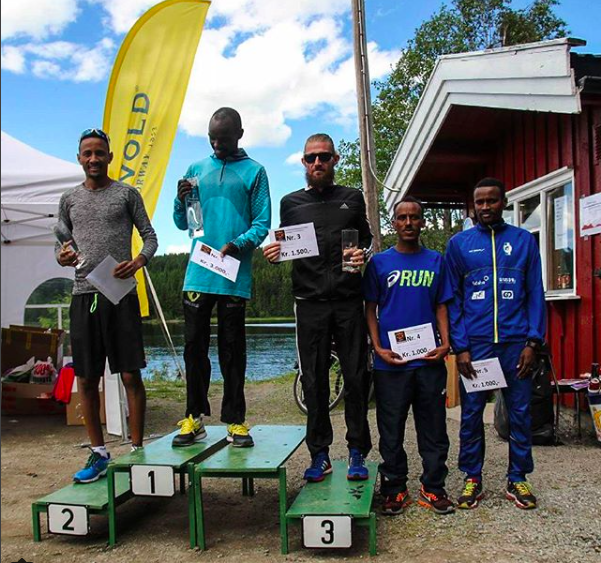 VH - Have you been cycling anywhere else that can compare to Thailand?
LG - Yes. There are plenty of places in Europe that compare but the scenery is dramatically different. Granada is epic, check out La Vuelta stage 15 from last year for 2 or 3 of my favourite climbs. Girona of course is well known. Tenerife is special also. Like Doi Inthanon, Granada and Tenerife each have 40km climbs. I want to try Gran Canaria and Mallorca too.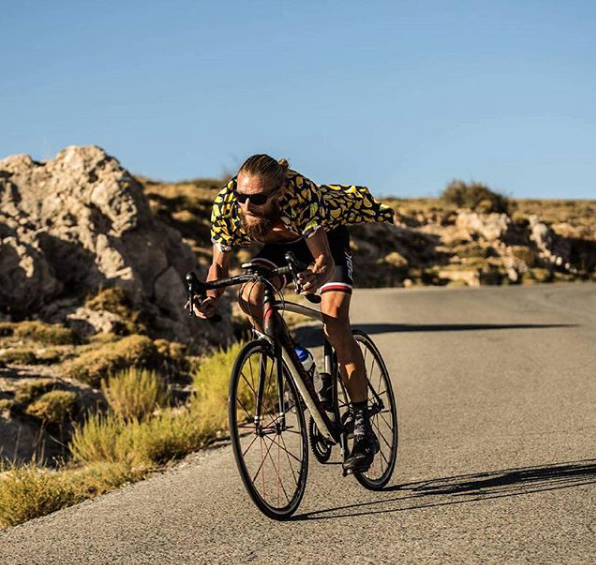 VH - Whats your favorite climb in Thailand?
LG - Mon Chaem is a killer to ride, Doi Ankhan has some really steep bits that take your legs away especially after the long ride there but as with any gradient you can kill yourself anywhere if you pace it wrong. For running Suthep and Doi Pui are great workouts because they're so accessible.
VH - Whats your favourite KOM, running and cycling?
LG - I don't know, I have so many. Veleta (Spain) running is my favourite course record. Very similar to the Inthanon run which is probably my favourite here. The one that I really want though is Dylan's downhill Suthep and Pui. You have to pick the right day and get lucky with tourist traffic.
VH - Well that ends the interview, but its important to remember that even Dylan got unlucky once..... Anyways thanks for the interview Lee Grantham.
LG - Your pleasure.